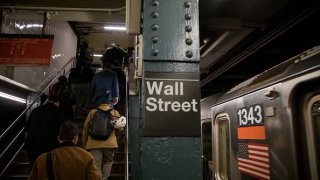 Business leaders are still debating whether culture, innovation, and productivity can survive if people don't ultimately get back to the office more or less full-time.
Ellevest CEO Sallie Krawcheck, a long-time female leader on Wall Street, says pre-pandemic work arrangements didn't work for everyone and a new way forward is required.
Three years after the Covid-19 pandemic turned life and work upside down, business leaders are still trying to figure out when and how often employees should be in the office.
The fully remote arrangements that kept workers home, and the economy humming, have given way to debates over whether culture, innovation, and productivity can survive if people don't ultimately get back to the office more or less full-time.
Banking CEOs such as JPMorgan's Jamie Dimon were among the first leaders to claim that companies and cultures work best when people are in person and criticized remote and hybrid work as a long-term arrangement.
Yet, even as layoffs in tech and beyond mount, employees are pushing back against leaders who issue return-to-office mandates. Slowing growth and recession fears may have workers worried about their jobs, but not enough to give up the flexibility they had during the pandemic. Which side prevails in this RTO tug-of-war remains to be seen. Yet, the bigger question, according to some leaders, is why there's still a struggle at all.
Count Sallie Krawcheck in this latter group. The Ellevest co-founder and CEO and former Citi CFO and head of global wealth management at Bank of America believes flexibility is the new currency. Companies that look to recreate a pre-pandemic way of working are going to be left behind when it comes to keeping and attracting the best talent.
Speaking to a group of CFOs last month at a private event in New York City hosted by the CNBC CFO Council, Krawcheck said she heard loud and clear that corporate culture and cohesiveness depends on people being in the office. She summed up what she heard from peers in a subsequent interview with CNBC: "In other words, they were saying we have to get back to the way it was."
The problem with that thinking, Krawcheck said, is that the work environment that existed pre-pandemic "worked for white men, not everyone, and certainly not women and under-represented groups."
At the CFO meeting, she told a majority male group of finance leaders to look around the room. "Who's missing from here?" she asked them. "If we want to go back to the way it was, then acknowledge that you know it works mainly if you're a man and have a wife at home."
Pushing back against office 'truths'
The most progressive leaders are not looking to return to pre-pandemic ways, Krawcheck said, but instead are striving to offer arrangements that work for all employees. She pushes back against the idea that culture can exist only when people are in the office, or that to get ahead, full-time in-office attendance is required.
"Leaders make these statements as if they're true," she said. "That's like saying you can only have a conversation if you're face to face with someone. And believe me, if being in the office was going to work to get more women and people of color promoted, it would have happened already. It's not like we didn't try hard enough."
At women-centric financial platform Ellevest, Krawcheck said employees are fully remote and that in-person events take place when she and her team feel they'll be more effective. "Our culture revolves around our really strong shared mission of getting more money into the hands of women," she said. "There's no confusion about our mission and culture and it has nothing to do with people being in the office or not."
Krawcheck said her team is "perfectly capable of training people over Zoom and what we hear is that not having to commute into an office every day is tremendously stress-relieving."
Of course, she acknowledges that fully remote is not right, or even possible, for every company, but flexibility and autonomy are well within reach. As for leaders who tell her that they're still trying to figure out a hybrid/remote/in-office arrangement, she's sanguine.
"At least that represents intellectual curiosity," she said. "They're testing things to see what works. I much prefer that than a blanket demand that everyone get back to the office and that's how we're going to grade loyalty and commitment."
She cautions leaders that are betting too heavily on layoff worries as a means of forcing people back into the office. "Good luck with that. There's one thing I know: you do not bet against the U.S. economy," she said.
Krawcheck has been through enough business cycles to understand that the economy will grow again and businesses will be started. "If you've punished people over the past two or three years by demanding they be in the office five days a week when it's clear they can do their job without that requirement, then when things turn back up again, they're going to be gone."
Copyright CNBCs - CNBC