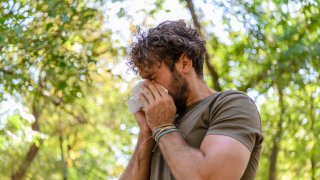 Seasonal allergies can be tough to deal with, but you can typically soothe symptoms like a runny nose, itchy throat and head congestion with over-the-counter medications, or take steps like optimizing your bedroom which can help prevent allergies from negatively impacting your sleep.
Still, your location may play more of a role in how severe of an allergy season you experience than you realize. In fact, there are some cities that are more challenging to live in for people with pollen allergies.
The Asthma and Allergy Foundation of America sifted through data of "the 100-most populated U.S. Metropolitan areas" to determine the "Allergy Capitals" of America in 2023.
Some factors the organization considered for the ranking include:
Tree, grass and weed pollen scores
Availability of board-certified allergists and immunologists
How often over-the-counter allergy medicine is used
Here's a closer look at the top 10 densely-populated cities where it may be harder for residents with allergies to avoid flare-ups.
2023 'Allergy Capital' of America: Wichita, Kan.
In Kansas, sunflowers grow all throughout the state in large numbers, which makes it less surprising that residents are experiencing increased allergy symptoms.
Wichita, specifically, has plenty of sunflower fields, and fewer board-certified allergists and immunologists than most other cities.
"The Sunflower State" may be great for photo ops, but it isn't the best place for people with seasonal allergies.
Tree and grass pollen levels are also worse than average in Wichita, and allergy medicine use is extremely high.
Top 10 'Allergy Capitals' of America 2023
Wichita, Kan.
Dallas, Texas
Scranton, Pa.
Oklahoma City, Okla.
Tulsa, Okla.
Sarasota, Fla.
Cape Coral, Fla.
Orlando, Fla.
Des Moines, Iowa
Greenville, S.C.
Dallas claimed the second spot on the list for its high levels of pollen and worse-than-average allergy medicine use.
Scranton, Pa. came in third place, and it's surprisingly not because of its pollen scores, which were pretty average. Despite average pollen levels, residents of Scranton use allergy medicine more than residents of other cities, and there aren't many allergy specialists in the area.
High levels of pollen also seem to be a big issue in Oklahoma areas like OKC and Tulsa. And, Florida made the top 10 three times, including Orlando, due to worse-than-average pollen scores and allergy medicine use.
DON'T MISS: Want to be smarter and more successful with your money, work & life? Sign up for our new newsletter!
Check out:
Copyright CNBCs - CNBC