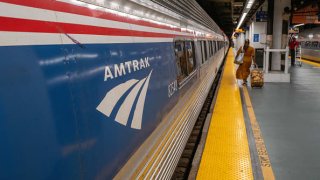 Amtrak unveiled $5 to $20 late-night train fares for some of its Northeast routes.
The cheap prices will be available for select routes between Washington, D.C., and New York running from 7 p.m. to 5 a.m.
The new low fares come as travel demand stays high and flights and train tickets grow more expensive.
Night owls (or extra early birds) will now pay less to ride Amtrak.
The company on Thursday announced a slate of $5 to $20 train fares for routes running between 7 p.m. and 5 a.m. on select Northeast lines.
The cheaper routes will serve stations in its Northeast Corridor like New York, Washington D.C., Baltimore, Philadelphia and more. A late-night train from New York to Newark, New Jersey, for example, will cost as little as $5.
The discounts are aimed at "travelers returning from concerts, plays, sporting events or those who prefer later or earlier departures," the company wrote in a Thursday announcement.
The new late-night price tier could relieve some cost pressure on travelers who continue to spend even as inflation squeezes their wallets. Flight bookings, for example, have stayed strong as consumers put a premium on travel after the pandemic hiatus.
Amtrak's Northeast route in particular has become more expensive to ride in the past year, sometimes even outpacing airline tickets, as the corridor is popular among commuters and connects major cities across the region.
Copyright CNBCs - CNBC