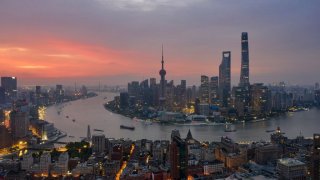 This is CNBC's live blog covering Asia-Pacific markets.
Stocks in Asia rose as China officially announced overnight it will end quarantine for inbound travelers on Jan. 8 — symbolizing an end to its zero-Covid policy that it's held for nearly three years.
The nation also downgraded Covid to a less strict Category B, health authorities said, from its current top-level Category A. Health officials are slated to hold a press briefing on Covid at 3 p.m. Beijing time.
The Shanghai Composite rose 0.98% to close at 3,095.57 and the Shenzhen Component gained 1.16% to 11,106.50 while markets in Hong Kong, Australia and New Zealand were closed for Christmas holiday.
In Japan, the Nikkei 225 rose 0.16% to 26,447.87 and the Topix gained 0.4% to 1,910.15 as the nation saw retail sales up for the 9th consecutive month led by tourism. The Kospi in South Korea gained 0.68% to 2,332.79 and the Kosdaq climbed 1.37% 704.19.
In the U.S., Wall Street ended last week with some gains for the S&P and Nasdaq Composite while posting a weekly loss as recession fears continued to batter investor sentiment. The core personal consumption expenditures price index for November came in at 4.7%, slightly hotter than expectations on an annualized basis.
Japan to require negative Covid tests for travelers from China
Travelers visiting Japan from mainland China will be required to submit a negative Covid test upon arrival as of Dec. 30, Japanese Prime Minister Fumio Kishida told reporters on Tuesday.
Kishida added that travelers from China who test positive will face a mandatory quarantine period of seven days, Reuters reported.
Travel-related stocks in Japan continued to trade higher on Tuesday – Japan Airlines rose 2.2%, ANA Holdings gained 1.45%, and H.I.S. rose 1.94%. Online travel agency Airtrip also climbed 3.48% in Tokyo's afternoon session.
– Jihye Lee
China to hold Covid press briefing at 3 p.m. local time
China's health authorities are scheduled to hold a press conference at 3 p.m. local time, according to state media.
The briefing is set to cover newly introduced measures that changed the designation of Covid-19 as a "Category B" virus from its previous classification of "Category A." 
The measures, released late Monday, also said China would scrap quarantine for inbound travelers as of Jan. 8, 2023.
Representatives from the National Health Commission and the National Bureau of Disease Control and Prevention are set to take questions, the notice said.
– Jihye Lee, Evelyn Cheng
South Korean defense stocks rise after North Korean drones travel south of border
Shares of South Korean defense companies rose after North Korean drones flew into South Korean air.
South Korean President Yoon Suk-yeol in a Tuesday statement ordered the nation's military to establish a "drone unit," saying that national defense personnel had "lacked preparedness and training."
Shares of Firstec, a company that produces aerospace military weapons, rose more than 17% in Tuesday's afternoon trade. Hanwha Aerospace also rose 3.6%, Korea Aerospace rose 2.8%, and LIG Nex1 gained 3.55%.
– Jihye Lee
U.S. winter storm to move global oil markets, says analyst
The severe winter snowstorm, which swept across the U.S. over the last few days, will have spillover effects onto the global energy market, said Andy Lipow, President of Lipow Oil Associates.
Crude oil production in North Dakota was cut by 300,000 barrels a day as a result of the blizzard, Lipow said, adding that there was a decline of 10% to 15% of the country's natural gas production due to the cold weather phenomenon.
"That's going to impact the world oil markets as [the U.S. is] exporting significant amounts of gasoline diesel, especially into Europe and South America," said Lipow.
He added that LNG exports to other countries have been hindered as a result of temporary shutdowns of some ports along the Texas Gulf Coast due to high winds.
However, Lipow said that weather is "always a temporary phenomenon," and that gasoline supplies remain in "good shape."
Brent crude futures rose 0.6% to $84.42 a barrel, while the West Texas Intermediate futures similarly inched up 0.6% at $80.04 a barrel.
—Lee Ying Shan
Japan unemployment rate falls to 2.5% in November
Japan's November unemployment rate was 2.5%, in line with expectations from analysts polled by Reuters.
The reading marks a modest drop from October's reading of 2.6%.
Japan's jobs-to-applicants ratio for the month was 1.35, slightly missing estimates of 1.36 and unchanged from the previous month, when it saw the highest in availability of jobs since March 2020.
– Jihye Lee
Underweight on China in 2023 is wrong decision, says Santa Lucia Asset Management
Investors that are planning to be underweight on China in 2023 are making the wrong decision, said James Morton, chief investment officer at Santa Lucia Asset Management.
"We are more overweight today than I think we've ever been, because we're more confident that's the right call for 2023." Morton said on CNBC's "Squawk Box Asia" on Tuesday.
Although there's going to be "a little bit of pain" in the next few months as Covid cases are expected to rise from China's reopening, corporate profits are expected to be "significantly better" year-on-year in the second quarter of 2023, he said.
— Charmaine Jacob
Japan's retail sales see ninth consecutive month of growth
Japan's retail sales grew 2.6% in November, marking the ninth month of growth, according to data released by the Ministry of Economy, Trade and Industry.
The reading missed expectations for growth of 3.7%, according to economists polled by Reuters – and marks the slowest growth since July.
The government's lifting of Covid border restrictions and a domestic travel subsidy boosted wider consumer demand, as the economy saw an unexpected contraction in private consumption recovery.
– Jihye Lee
CNBC Pro: Tesla shares have fallen 35% this month — and short-sellers piled on
Short sellers raised their bets against Tesla this month, as the electric car maker's shares fell by a further 35%.
More than 3% of Tesla shares currently trading are sold short, according to S3 Partners. Only Apple faces a bigger short bet.
CNBC Pro subscribers can read more here.
— Ganesh Rao
China's year-to-date industrial profit data falls further
China's total profits of industrial enterprises for January to November fell further to -3.6% compared with a year ago, according to data from the National Bureau of Statistics.
November's print marks the fifth-straight negative reading after falling below 0 in July, and marks the worst performance since August 2020, when it saw a loss of 4.4%.
– Jihye Lee
CNBC Pro: Will 2023 be a better year for the chip sector? Wall Street pros weigh in and give their top picks
Once an investor favorite, chip stocks have sold off this year amid a flight to safety.The pros reveal what's next for the sector and name their top stock picks.
Pro subscribers can read more here.
— Zavier Ong
Stocks close higher to end the week
Stocks ended in the green on Friday.
The Dow Jones Industrial Average closed 176 points higher, or 0.5%, to 33,203.93. The S&P 500 rose 0.6% to 3,844.82, while the and Nasdaq Composite added 0.2% to close at 10,497.86.
— Tanaya Macheel
Fed preferred inflation indicator rises slightly more than expected
The core personal consumption expenditures price index, the Federal Reserve's preferred gauge of inflation, rose slightly more than economists expected on a year-over-year basis.
Core PCE climbed 4.7% in November from the year-earlier period, while economists polled by Dow Jones expected a gain of 4.6%. Month over month, the index advanced 0.2%, matching expectations.
— Fred Imbert
Copyright CNBCs - CNBC