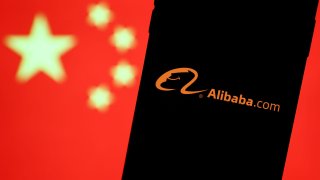 This is CNBC's live blog covering Asia-Pacific markets.
Asia-Pacific markets were mostly higher on Wednesday as Alibaba's Hong Kong-listed shares spiked at the open after the Chinese tech giant announced it will split into six business groups.
Hong Kong's Hang Seng index gained 2.03% and the Hang Seng Tech index climbed by 2.4%. Shares of Alibaba jumped 13.7%.
In mainland China, the Shanghai Composite was down 0.16%, closing at 3,240.05 while the Shenzhen Component rose 0.13% to end at 11,579.91.
Australia's S&P/ASX 200 rose 0.23% to close at 7,050.3, as its February consumer price index rose 6.8%, lower than expected.
In Japan, the Nikkei 225 rose 1.33% to finish at 27,883.78 and the Topix rose 1.46% to end the day at 1,995.48. South Korea's Kospi closed at 2,442.92, up 0.37% and the Kosdaq rose 1.25% to close at 843.94.
Overnight in the U.S., all three major indexes fell, with the tech-heavy Nasdaq Composite losing 0.45%, the S&P 500 falling 0.16%, and the Dow Jones Industrial Average shedding 37.83 points, or 0.12%.
Bond yields rose, with the rate on the 2-year U.S. Treasury note climbing back above 4%. Rising rates make future profits, like those promised by growth companies, less attractive.
— CNBC's Tanaya Macheel, Samantha Subin and Arjun Kharpal contributed to this report.
Alibaba's overhaul could be followed by technology peers: KraneShares
Alibaba's major shakeup could be followed by its Chinese technology peers, according to KraneShares' CIO Brendan Ahern.
"I think investors are saying what we saw in Alibaba, really the leader in China tech, that their plans might be utilized by others," Ahern said, pointing to the ADR moves seen in Tencent, JD.com, and Baidu overnight.
Shares of Tencent rose 2.5%, Meituan gained 4.6%, Baidu rose nearly 2% and Kuaishou gained 3.8% in Hong Kong's morning trade.
He added the company's announcement showed that Alibaba founder Jack Ma, who was recently spotted in China after spending months abroad, was involved in the process.
"It's very clear he played a role in this new structure that is really around what the company said in the press release, it's about unleashing the shareholder value," said Ahern.
– Jihye Lee
Alibaba move seen as China government's support for private sector: Kingston Securities
The latest overhaul in business announced by technology giant Alibaba is seen as a move by the Chinese government to further support its private sector, Kingston Securities Executive Director Dickie Wong said.
"The Chinese economy is back to growth mode. The Chinese government, they have to do something, therefore, introduced a lot of new policies to support the private sector.. especially the tech sector," he said on CNBC's Street Signs Asia.
He added the government is incentivized to meet its economic growth target of around 5% by creating new jobs in the technology sector – and Alibaba's reform is seen as part of those efforts.
"Creating new jobs is one of the most important job[s] that [the] Chinese government needs to do," said Wong, adding that he expects to see jobs created in cyber security or online gaming.
– Jihye Lee
Alibaba's HK-listed shares open 15% higher after announcing major shakeup
Shares of Chinese tech giant Alibaba jumped 15% on Wednesday in early trade, mirroring moves in its U.S.-listed shares overnight.
This comes after Alibaba announced a reorganization of the company overnight that will see the company split into six different units.
The stock was the largest gainer on the Hang Seng Index, along with e-commerce name JD.com and subsidiary Alibaba Health Information Technology


— Lim Hui Jie
Australia inflation pace slows more than expected to 6.8% in February
Australia's monthly inflation pace for February came in at a slower pace at 6.8% compared to the same period a year ago.
This is lower than January's figure of 7.4%, and also lower than the 7.1% economists expected.
Data from the country's statistics bureau revealed that the most significant price rises were in the housing, followed by food and non-alcoholic beverages, then in transport.
The inflation data, as well as the retail sales data released on Tuesday, will be key to the Reserve Bank of Australia's decision in April on whether to hike rates.
— Lim Hui Jie
Alibaba jumps 11% after tech firm announces split
Alibaba jumped more than 11% during midday trading Tuesday after the e-commerce giant said it will split its company into six business groups.
It's the most significant restructuring in Alibaba's history, with each of the six firms set to be managed by its own CEO and board of directors.
The move is "designed to unlock shareholder value and foster market competitiveness," according to a company statement.
Separately, Morgan Stanley named it a research tactical idea following the announcement, saying the "share price will rise in absolute terms over the next 60 days."
— Arjun Kharpal, Sarah Min
Bank stocks pull down market following Senate hearing
Banks led the stock market lower Tuesday afternoon, following a hearing in which three regulators said they would favor more stringent regulations in smaller institutions.
Federal Reserve Vice Chair Michael Barr, FDIC Chair Martin Gruenberg and Nellie Liang, the Treasury Department's undersecretary for domestic finance, each said they would back tougher requirements for banks with more than $100 billion assets.
The remarks came during a Senate Banking Committee hearing on the recent failure of three regional banks. Sen Elizabeth Warren (D-Mass.) asked each if they would favor tougher rules for banks other than those identified as systemically important and if they would support reversing deregulatory changes made in 2018.
"I certainly think it's appropriate for us to go back and review those actions in light of the recent episode and consider what changes should be made," Gruenberg said.
The SPDR Regional Banking and the SPDR Bank ETFs dropped more than 1% each in afternoon trade.
—Jeff Cox
CNBC Pro: As volatility persists, this is what investors can expect in the second quarter — according to history
Stock markets have been on an upward trend in the first quarter of 2023, with the S&P 500 and MSCI World Index on track to post more than 4% in total gains.
This is particularly notable after a year of negative returns.
Here, CNBC Pro subscribers can read how markets have performed in similar conditions historically.
— Ganesh Rao
Regulators speak in favor of tighter rules for regional banks
All three regulators testifying before the Senate Banking Committee on Tuesday said rules need to be toughened for regional banks.
"I anticipate the need to strengthen capital and liquidity standards for firms over $100 billion," said Michael Barr, the Federal Reserve's vice chair for supervision, in response to questions from Sen. Elizabeth Warren (D-Mass.).
Barr's fellow authorities echoed his sentiments as they spoke about the recent failures of Silicon Valley Bank, Signature Bank and Silvergate Bank.
FDIC Chair Martin Gruenberg noted that he voted against deregulatory moves in 2018 and said, "My views haven't changed."
Nellie Liang, the undersecretary for domestic finance, said she agrees "that we need to prevent these types of banking failures."
Bank stocks were slightly higher following the exchange.
—Jeff Cox
CNBC Pro: Here's where to invest $10,000 right now, according to the pros
Markets have been hit by volatility over the past month leading some retail investors to question where to park their money.
If you had $10,000 to invest, where should you put it amid the uncertainty, and how much should you allocate to each asset class? CNBC Pro speaks to portfolio managers and investors to find out.
CNBC Pro subscribers can read more here.
— Weizhen Tan
Consumer confidence index rises more than expected
The consumer outlook brightened a bit in March, despite the crisis in banking, according to a Conference Board index released Tuesday.
The board's Consumer Confidence Index edged higher to 104.2, from 103.4 in February and ahead of the 100.7 Dow Jones estimate.
In addition, the expectations index, which measures the short-term outlook, rose to 73, from 70.4. However, the index remains below the 80 level that is consistent with recessions. The inflation index also remained elevated, at 6.3% for the outlook over the next 12 months.
—Jeff Cox
Copyright CNBCs - CNBC