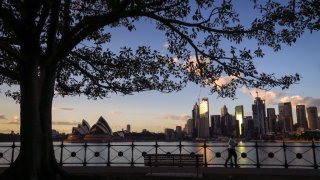 This is CNBC's live blog covering Asia-Pacific markets.
Stocks in Asia-Pacific mostly fell on Monday as investors look ahead to a week of crucial economic data releases, including the U.S. consumer price index that will determine the Federal Reserve's path forward.
Japan's Nikkei 225 closed 0.88% lower to 27,427.92 and the Topix was down 0.47% at 1,977.67 as the Japanese yen continued to remain volatile after a report that Japan will nominate Kazuo Ueda as its next central bank governor.
The yield on the 10-year Japanese government bond stood at 0.5%, hovering around the BOJ's upper ceiling of its tolerance range. In South Korea, the Kospi shed 0.69% to end its session at 2452.7, while the Kosdaq climbed marginally, ending the day at 772.55.
In Hong Kong, the Hang Seng index fell fractionally while the Hang Seng Tech index rose 0.5%. In mainland China, the Shanghai Composite rose 0.72% to 3,284.16 and the Shenzhen Component gained 1.14% to 12,113.6.
In Australia, the S&P/ASX 200 fell 0.2% to close the session at 7,417.8, and the S&P/NZX 50 finished 0.85% lower at 12,075.18 as New Zealand braced for further impact from tropical cyclone Gabrielle.
Stocks on Wall Street ended the week on Friday with the S&P 500 up 0.2% and the Nasdaq Composite down 0.61% — both indexes posting the worst week since December after a slew of corporate earnings and Federal Reserve speakers reiterated their hawkish messages that there is more work to be done to tame inflation. The Dow closed nearly 170 points higher.
— CNBC's Alex Harring, Hakyung Kim contributed to this report
DBS has a 'very good' profitability outlook for 2023 after fourth quarter results
DBS says it has a 'very good' overall profitability outlook for 2023, after a better-than-expected 68% increase in profits in the fourth quarter of 2022.
"[The results are from] the structural transformation over the decade, the building of a very solid liability book and transactional businesses which kicked in really impressively in a rising interest rate environment," Piyush Gupta, CEO of DBS Bank, said on CNBC's "Capital Connection" on Monday.
"Our loans actually came off in the quarter, which is unusual, and that's because it's a short-term average and a lot of people are paying down opportunistic loans they have taken," said Gupta.
He added that Singapore and DBS have benefited a lot from an inflow of money.
"Net new money was the strongest we have seen. We do think there's the capacity for us to help people put money to work in the coming months and quarters," said Gupta.
- Sheila Chiang
India's market regulator to meet finance minister on Feb. 15: Reuters
The Securities and Exchange Board of India will meet India's finance minister Nirmala Sitharaman on Feb. 15, Reuters reported, citing people familiar.
The board of India's market regulator will brief the minister on the "surveillance measures" that it has taken during the market rout of Adani group companies' stocks, the report said.
SEBI will also update the minister on ongoing investigations into Adani group's offshore funds, the people were quoted as saying.
The companies have shed more than $100 billion in market cap due to plunging stocks since the release of short seller firm Hindenburg's report.
Shares of Adani Enterprises and Adani Port and Special Economic Zone were flat in the first few hours of India's trading session. Adani Green Energy, Adani Power and Adani Transmission all shed nearly 5% on Monday.
— Jihye Lee
China lags behind the U.S. in A.I. chatbot technology, says analyst
Chinese tech giants Baidu, Alibaba, JD.com and NetEase are joining Microsoft and Google in developing chatbots similar to ChatGPT, but one analyst said that China's artificial intelligence (A.I.) technologies will take some time to catch up.
"In terms of large language models and A.I. chatbots, China is currently a little bit lagging behind these technologies in terms of three key aspects," Wei Sun, senior consultant of Counterpoint Research, told CNBC's "Squawk Box Asia" on Monday.
"The first is the lack of innovation in foundation models. If we look at the larger language models, they're mostly created by Google, open AI and the leading companies in the U.S.," said Sun.
Two other challenges are "limited computing resources in China since the U.S. ban of AI chips to China" and difficulty "to collect large and high quality data sets to train the AI models", she said.
"But China does have a lot of other advantages. There is an enormous unmet market demand in terms of chatbots. All the tech giants are shifting their pivots to AI chatbots and [generative testing]. There will be a lot of resources and AI talents poured into this kind of development," she said.
Shares of Alibaba fell 0.10%, JD.com dropped 7.71% and NetEase shed 0.36% on Monday.
- Sheila Chiang
China tightens requirements on classifying banks' asset risks
China's central bank announced to tighten risk management requirements for banks, according to a notice published on Saturday.
Banks will be required starting July 1 to classify financial-asset risks in a "timely and prudent" manner, the notice said, adding the move is targeted at better assessing credit risks for the lenders.
The notice said assets, including loans, bond investment, interbank lending and off-balance sheet assets, must be classified into five categories ranging from "normal" to "loss."
Shares of Chinese banks fell on Monday, with Ping An Bank leading the losses and trading 2.5% lower.
Agricultural Bank of China's share price dropped 0.68%, China Construction Bank shed 0.53%, and shares of Bank of China also fell 0.34%.
— Lim Hui Jie
CNBC Pro: A corner of tech is up 50% from its 2022 lows — and strategists recommend these stocks to play it
Tech stocks have enjoyed a strong rally this year, and the recent buzz around artificial intelligence has bolstered the feel-good sentiment.
But as investors turn their attention to Big Tech names, one corner of the sector has quietly rebounded from its 2022 lows. Market pros reveal why they are bullish on the sub-sector and name their top stock picks to play it.
Pro subscribers can read more here.
— Zavier Ong
Singapore's economy grew 3.6% in 2022, down from 8.9% in 2021
Singapore reported 3.6% GDP growth for 2022, less than the 8.9% growth in 2021.
In the fourth quarter, the city-state's economy grew 2.1% on an annualized basis, compared with 4% in the previous quarter. That was slightly less than a Reuters estimate for a 2.3% expansion.
The country's trade and industry ministry kept its GDP forecast for 2023 at 0.5% to 2.5%, saying the growth outlook for aviation and tourism related sectors in Singapore has improved.
The recovery in international air travel and inbound tourism is expected to accelerate, following the faster-than-expected relaxation of China's border restrictions.
On the other hand, the growth outlook for other outward-oriented sectors remains "weak," the ministry said, given the broader slowdown in the global economy.
It pointed at sectors like semiconductors, which is expected to be affected by weaker global demand, while precision engineering is projected to be weighed down by spending cutbacks by semiconductor manufacturers.
At the same time, growth in the wholesale trade, water transport, as well as finance and insurance sectors will be dampened by the slowdown in major external economies.
The Singapore dollar weakened marginally against the U.S. dollar, trading at $1.33 on Monday.
— Lim Hui Jie
DBS earnings show profit soared nearly 70% in fourth quarter
DBS' fourth-quarter net profit rose nearly 70% to 2.34 billion Singapore dollars ($1.76 billion) compared with a year ago, the Singaporean bank said in a release.
Its full-year net profit rose 20% to a record S$8.19 billion, it said, adding that its return on equity rose to 17.2%.
Higher interest rates boosted its net interest income while offsetting a drop in non-interest income on worsened conditions for the global economy, it said.
— Jihye Lee
Week ahead: Japan GDP; Australia and South Korea's jobs data; China housing index
Here are some key economic data expected to be released this week.
Japan will release its gross domestic product on Tuesday. Economists polled by Reuters expect to see the economy grow 2% in the fourth quarter compared to a year ago, and 0.5% on a quarterly basis.
All eyes will be on the government's nomination for the Bank of Japan's next governor expected to be announced to the parliament on Tuesday as well.
On the same day, Singapore's government will present its draft budget for the fiscal year of 2023.
On Wednesday, South Korea will publish its unemployment rate for the month of January after seeing a 3.3% jobless rate in December. The country will also release revised trade data — the economy saw a trade deficit of $12.7 billion in the previous month.
Trade figures for Japan will be released as well on Thursday. Economists polled by Reuters are expecting to see a 0.8% growth in exports and a 18.4% jump in imports.
Australia's unemployment rate slated for release on Thursday will be a key factor for the Reserve Bank of Australia's path forward. A Reuters poll showed economists are forecasting to see a 3.5% jobless rate.
Hong Kong will release its latest population estimates for 2022 on this day as well, a key indicator to see the impact of its stringent Covid rules and the passage of a draconian national security law that resulted in many leaving the financial hub.
The Philippines' central bank is scheduled to announce its benchmark interest rate decision on Thursday as well — Bangko Sentral ng Pilipinas is expected to raise its rates by 0.5% to 6.0%.
China's housing price indexes for January is expected to be released on this day as well.
Globally, the Munich Security Conference kicks off in German on Friday — where officials will hold talks until Sunday, nearly one year since Russia began its war on Ukraine.
— Jihye Lee
CNBC Pro: JEPI and more: Here are 5 ETFs that offer a yield of over 10% right now
Yield-hungry investors have more options after the Federal Reserve continually raised interest rates over the past year.
As a number of U.S. Treasury bonds now offer more than 4% in yields, equities and corporate credit funds have raised their returns in an effort to attract investors.
CNBC Pro has identified five ETFs that offer cash dividends of 11-15% — including the JPMorgan Equity Premium Income ETF, known by its ticker JEPI, which has seen over $14 billion in net inflows over the past year.
Subscribers can read more here.
— Ganesh Rao
CNBC Pro: 'Play offense, not defense': Analyst says buy the dip in these stocks
Markets are set to have "better than average" returns this year, after stocks posted their worst year in 2022 since the financial crisis, according to one analyst.
However David Katz, chief investment officer at Matrix Asset Advisors, said that he'll be "buying on the dip not chasing the rallies."
"We generally find that we're successful buying fallen angels or growth stocks that have long trajectories at value prices," he told CNBC's "Street Signs Asia."
He named four stocks that he says are quality businesses at attractive prices right now.
CNBC Pro subscribers can read more here.
— Weizhen Tan
Moody's cuts outlook for some Adani Group companies
Moody's lowered its outlook for four Adani Group companies on Friday, the ratings agency said in a notice.
It cut its outlook for Adani Green Energy from stable to negative, alongside Adani Green Energy Restricted Group, Adani Transmission Step-One and Adani Electricity Mumbai.
"These rating actions follow the significant and rapid decline in the market equity values of the Adani Group companies" after the release of a short-seller report, Moody's said.
The report highlighted "governance concerns in the group," the agency added.
Meanwhile, Moody's maintained the current outlook for four other Adani group companies, including Adani Ports and Special Economic Zone and Adani International Container Terminal.
— Jihye Lee
Softbank's Arm cuts up to 95 jobs in China joint venture: Reuters
The China joint venture of Arm, SoftBank's chip technology firm, cut up to 95 jobs last week, on challenging business outlook for the year, Reuters reported, citing people familiar with the situation.
Arm China has a total of roughly 700 employees prior to the recent layoffs, the report said, adding that there were no job cuts last year despite its parent cutting up to 15% of its global staff.
The latest moves come as Softbank seeks to publicly list Arm later this year.
— Jihye Lee
All eyes are on inflation data next week
Looking ahead to next week, investors are already readying for the latest consumer price index reading to see if inflation once again cooled.
The January reading for the index, which follows the prices of a wide basket of goods as a gauge of inflation, is due Tuesday. Economists polled by Dow Jones forecast a 0.4% increase in headline CPI on a monthly basis and a 6.2% gain from the prior year.
"Next week is really all about one thing, and that one thing is CPI," said Scott Ladner, chief investment officer at Horizon Investments.
Market observers also expect the CPI reading to help dictate the Federal Reserve's next move on interest rates. The central bank last implement a 25 basis point interest rate hike, while Fed Chair Jerome Powell noted inflation was starting to come down but had a ways to go.
Emmanuel Cau, an analyst at Barclays, said inflation data will likely be a market catalyst going forward.
"More than the central banks' rhetoric, we think it is the inflation data that will dictate the direction of travel for markets from here," he said in a note to clients Friday.
CNBC Pro subscribers can read more about what to expect in the coming week here.
— Alex Harring
Alphabet loses roughly $165 billion in market cap over two days
It's been a tough week for Google-parent Alphabet, as the company's recent moves in AI fail to impress investors. The stock is down about 9% week to date, on pace for its biggest weekly drop since November.
In the last two days, the company lost roughly $165 billion in market cap.
"While the near-term move may be overdone and Alphabet will have a very strong foothold in the A.I. race (stock ticking up in the pre' market), it is harder to imagine this overhang goes away anytime soon as Chatbots & A.I. do open up some hard to answer questions," Goldman Sachs traders said in a note Friday.
— Fred Imbert, Michael Bloom
Consumer outlook improves in February, though inflation outlook up as well
Consumer sentiment has risen in February but so have short-term inflation expectations, according to a closely watched gauge.
The University of Michigan Index of Consumer Sentiment's preliminary reading was 66.4 for the month, up from 64.9 in January and ahead of the Dow Jones expectation for 65.1. The current conditions index jumped to 72.6 from 68.4 in January, while the future expectations index edged lower to 62.3, down from 62.7.
On the inflation side, the one-year inflation expectations gauge increased to 4.2%, up from 3.9% in January. However, the five-year outlook was unchanged at 2.9%.
—Jeff Cox
WTI had its strongest week since October
WTI closed on Friday with its best week since October.
It rose 8.63% this week, marking its strongest week since Oct. 7, when WTI gained 16.54%. This was also its first positive week in three weeks.
WTI settled up 2.13% at $79.72 and hit a session high of $80.33. This was the highest level since Jan. 30, when it traded as high as $80.49.
— Gina Francolla, Hakyung Kim
Copyright CNBCs - CNBC