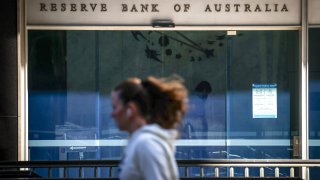 This is CNBC's live blog covering Asia-Pacific markets.
Shares in the Asia-Pacific traded mostly higher on Tuesday as Australia's central bank raised interest rates again.
Mainland China's Shanghai Composite added 1.36% to 3,243.56 and the Shenzhen Component was 1.037% higher at 11,799.81 after officials signaled more economic support.
Japan's Nikkei 225 was about flat at 27,626.51, and the Topix index was 0.11% lower at 1,926.58. The Japanese yen weakened sharply and hit a 24-year high. It last changed hands at 141.55 per dollar.
The Hang Seng index in Hong Kong was trading about flat in the final hour of trade.
The Kospi in South Korea was up 0.26% at 2,410.02 and the Kosdaq gained 1.04% to 779.46.
In Australia, the S&P/ASX 200 pared gains to close 0.38% lower at 6,826.50.
The Reserve Bank of Australia raised rates by a half point to 2.35%, as expected by analysts polled by Reuters. The Australian dollar weakened and last traded at $0.6779 following the move.
MSCI's broadest index of Asia-Pacific shares outside of Japan was about flat.
On Monday, the People's Bank of China announced it would cut the foreign exchange reserve requirement ratio, or the amount of FX reserves that financial institutions must hold, to improve the ability of financial institutions to use foreign exchange funds.
Starting Sept. 15, the RRR will be 6%, down from 8%.
"This cut should help increase FX liquidity and thus lower depreciation pressure for CNY. While the actual impact on FX liquidity is small … this cut serves as a strong policy signal that the PBOC is uncomfortable with the rapid depreciation of the currency," analysts at Goldman Sachs Economics Research wrote in a note late Monday.
On Tuesday, the PBOC set the yuan's midpoint against the dollar at 6.9096, the weakest since Aug. 25, 2020, according to Wind Information.
U.S. markets were closed overnight for a holiday.
In oil markets, U.S. crude extended gains from the previous session, while Brent crude declined slightly.
— CNBC's Evelyn Cheng contributed reporting.
OPEC+ decision to cut output is a 'political snub,' says analyst
OPEC and its allies' decision to implement a small production cut is a signal that the alliance "is going to go its own way," said Andy Lipow, president of Lipow Oil Associates.
"It's more of a political snub to President [Joe] Biden as well as the European Union, signaling that OPEC is going to go its own way and they want to protect those higher prices," he told CNBC's "Squawk Box Asia."
The cut itself was "quite paltry," he said.
Ellen Wald, president of Transversal Consulting, also suggested that the supply adjustment was not significant.
"The symbolic meaning of this cut is, I think, much more important for the market," she said.
— Lee Ying Shan
Interest rates in Australia likely to increase more slowly going forward, KPMG says
The Reserve Bank of Australia is likely to slow the pace of its interest rate hikes in the months to come, though another half-point hike is not off the cards, said Sarah Hunter, senior economist at KPMG.
"I wouldn't rule out, necessarily, another 50 basis points, just based on today, but slower for sure going forward, because naturally they'll get to a point where they can slow down," she told CNBC's "Capital Connection."
The central bank will be monitoring consumer spending and the factors that drive it, which will be a "key determinant of how fast and how far they go with rates," Hunter added.
She predicted that interest rates will reach 3% or 3.1% by the end of this year or early next year, but likely won't go as high as 4%.
— Abigail Ng
China's central bank shores up currency ahead of upcoming political events, capital outflow concerns
For a second time this year, the People's Bank of China announced Monday it would reduce the amount of foreign currency banks need to hold.
The move comes as the yuan has tumbled to two-year lows against the U.S. dollar. The greenback has gained significantly against the euro and Japanese yen this year.
In China, upcoming political events and concerns about capital outflows prompted the PBOC's latest move to slow the yuan's pace of depreciation, analysts said.
— Evelyn Cheng
The Chinese yuan won't weaken far beyond the 7 level, Capital Economics says
China's yuan is likely to break the 7 level against the greenback based on yield differentials in the two countries, according to Julian Evans-Pritchard, senior China economist at Capital Economics. But the currency won't weaken far beyond that, he told CNBC's "Squawk Box Asia."
"They're clearly stepping up intervention, aiming to sort of defend that threshold," he said. "I don't mean that it won't necessarily go through 7 temporarily, but I don't think it will go far beyond that, certainly sort of beyond the 7.2 that we saw during the trade war."
China is reluctant to allow that to happen, Evans-Pritchard said.
"If it goes beyond that level, then expectations for the currency risk becoming unanchored, you risk seeing much larger scale capital outflows. And that's clearly something that they'd like to avoid at the moment," he said.
The Chinese yuan was last trading at 6.9498 against the dollar.
— Abigail Ng
Australia's central bank hikes rates by half a point
The Reserve Bank of Australia hiked rates by 50 basis points, in line with analyst forecasts in a Reuters poll.
That's the fifth increase in a row since the central bank started raising rates in May.
Inflation in Australia stood at 6.1% in the June quarter, above the target range of between 2% and 3%.
— Abigail Ng
Russian energy minister says price cap will lead to shipping more Russian oil to Asia
Russian energy minister Nikolai Shulginov said the country will ship more oil to Asia in response to price caps on its oil exports, Reuters reported.
"Any actions to impose a price cap will lead to deficit on (initiating countries') own markets and will increase price volatility," he told reporters at the Eastern Economic Forum in Vladivostok, according to Reuters.
Last week, the G-7 economic powers agreed to cap the price of Russian crude to punish Moscow for its unprovoked invasion of Ukraine. Before the invasion, Russia exported approximately half of its crude and petroleum product exports to Europe, according to the International Energy Agency.
— Natalie Tham
Japan real wage growth to remain negative amid rising inflation: Economist
Japan's earnings growth for July compared with a year earlier has fallen to 1.8% from 2% in June, new data released on Tuesday showed.
This is mainly due to a slowdown in bonuses, Capital Economics Japan economist Darren Tay said in a note.
Earnings should continue to moderate amid tight labor market conditions and a planned 3.3% hike to the minimum wage over coming months, Tay said.
"With inflation on track to breach 3% by year-end, this means real wage growth is likely to remain negative over coming months, but consumers will be able to draw down on pandemic savings to finance consumption," he said.
— Su-Lin Tan
Inflation in New Zealand may have peaked, but rates need to rise higher: ANZ
New Zealand's inflation has peaked at 7.3%, reached in the second quarter of the year, due in part to oil prices falling from recent highs, ANZ Research said in a note.
"But we also think bringing inflation back to 2% will be a long journey, requiring the [Reserve Bank of New Zealand to lift the official cash rate] to 4% by year end, and keep it there for several years," ANZ Research economists Finn Robinson and Sharon Zollner said.
The RBNZ raised rates to 3% in August.
Despite having peaked, the economists say the risk of it rising again is present. For example, if labor costs rise, then inflation will not likely return to the RBNZ's 1% to 3% target band without the cash rate rising above 4%.
"Global inflation risks abound too, with extremely tight labor markets, climate change, geopolitical tensions, energy shortages, and trade disruption all having the potential to generate a sustained period of high global inflation going forward," they said.
"That would also make the RBNZ's job getting inflation back to target much harder."
— Su-Lin Tan
Reserve Bank of Australia expected to lift rates again for a fifth time in a row
The Reserve Bank of Australia is expected to raise interest rates Tuesday by another 0.5 percentage points on the back of a "fully employed labor market, a massive inflation overshoot and the fact that financial conditions are still highly accommodative," Goldman Sachs chief economist for Australia and New Zealand Andrew Boak said.
Boak told CNBC's "Squawk Box Asia" markets do not expect the central bank to soften its position on reining in inflation when it announces its rate decision at 2:30 p.m. Australian Eastern Standard Time.
"I think markets will be particularly sensitive to any sort of signal the RBA is thinking about stepping down the pace of tightening to say 25 basis point increments," Boak said.
"I think key language will be retained around expecting to tighten further over the coming months. But also the caveat that policy is not on a preset path."
There are risks with continued interest rate lifts such as the "disorderly unwind in the housing market" but Boak says "that is not our central scenario."
— Su-Lin Tan
CNBC Pro: Forget the volatility. Buy this ETF for a long term growth story, analyst says
Investors should navigate the ongoing market volatility by getting into ETFs with a long-term growth story, according to one portfolio manager.
"The idea of owning ETF instead of one specific player — you have the whole basket and ride the wave of more capital investment into the cyberspace," John Petrides, portfolio manager at Tocqueville Asset Management, told CNBC.
He names his favorite cyber security ETF, along with two others.
CNBC Pro subscribers can read more here.
— Weizhen Tan
Brent crude futures pare gains following OPEC+ production cut
Brent crude futures slipped 1.07% to $94.72 per barrel after climbing nearly 3% on Monday.
The moves on Monday followed news that OPEC and its allies agreed to a small production cut.
U.S. benchmark West Texas Intermediate crude futures were at $88.43 per barrel, 1.8% higher from Friday's close. There was no settlement Monday due to a holiday in the U.S.
— Abigail Ng
Correction: This post has been updated to accurately reflect U.S. crude futures are higher compared with Friday's close.
CNBC Pro: Hold cash as it's beating the market, say the pros
Strategists are urging investors to allocate more of their portfolios to cash during these volatile times, as interest rate hikes mean it's now offering higher yields.
"Cash was king" last month, Bank of America said in a Sept. 1 note, as most asset classes — such as stocks, bonds and even commodities — posted losses.
Here's how to add it to your portfolios, according to the pros.
CNBC Pro subscribers can read more here.
— Weizhen Tan
Sign up for CNBC's newsletter here:
Copyright CNBC