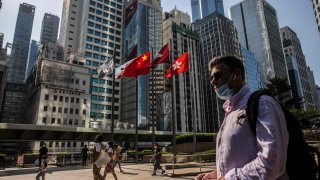 This is CNBC's live blog covering Asia-Pacific markets.
Asia-Pacific markets traded higher on Wednesday, after stocks on Wall Street saw a second day of gains on an inflation print that came in cooler than expected.
The Hang Seng index in Hong Kong rose 0.6% in its final hour of trade. In mainland China, the Shenzhen Component fell 0.2% and the Shanghai Composite was also down 0.1% as traders watched for updates on a key economic policy meeting that has reportedly been delayed on a surge of Covid infections.
In Japan, the Nikkei 225 gained 0.72% to 28,156.21 while the Topix was 0.6% higher to 1,977.42. South Korea's Kospi also rose 1.13% to 2,399.25. In Australia, the S&P/ASX 200 was 0.67% higher to 7,251.3.
Investors are also anticipating the Federal Reserve's next interest rate decision at the conclusion of its two-day policy meeting. Traders are largely pricing in a 50-basis point increase, a slight decline from the previous four hikes.
The U.S. dollar index last stood at 104.06 and the Japanese yen slightly strengthened to 135.38 against the greenback.
Morgan Stanley raises China 2023 GDP growth on reopening
Morgan Stanley raised its 2023 outlook for China's economy in a note released Wednesday morning in Asia.
"We lift our already above-consensus GDP growth forecast to 5.4%," strategists and economists including its chief Asia economist Chetan Ahya said in the report. The firm had previously set its growth forecast for next year at 5%.
"Investor positioning in China's assets is still low and this recovery is not fully priced in equity and FX markets," the note said, adding the revision reflects a rebound in activity predicted to come earlier than expected.
"We had previously expected a rebound in activity to materialize from late 2Q23. Now we are projecting mobility to improve from early March," it said.
The report said further easing of restrictions will likely lead to a significant rise in Covid cases, though the firm says the impact of the surge will be short-lived.
— Jihye Lee
New Zealand expects its economy to enter a recession in 2023
The New Zealand Treasury is expecting the economy to enter a technical recession within 2023, according to its Half Year Economic and Fiscal Update report.
The report predicted three consecutive quarters of contraction in 2023, slightly longer than a technical recession, which is commonly defined as two consecutive quarters of declines.
"While the precise timing is uncertain, our base case is that real GDP growth is forecast to slow materially through 2023, with a contraction of 0.8% over the three quarters to end 2023 before a slow, gradual recovery in 2024 and beyond," it said.
Separately, the nation's budget statement for 2023 specified that the recession will likely be a shallow one.
"The Government will carefully manage fiscal policy to take pressure off inflation, and return spending to normal levels following the emergency pandemic response," it said, adding that such budget proposals must be balanced with "preparations to support Kiwis through a shallow 'speedbump' recession forecast for 2023."
The country's fiscal policy through its 2023 budget will maintain a contractionary stance, the release said.
— Jihye Lee
Japan's factory sentiment worsens in fourth quarter
Sentiment at Japan's large manufacturers worsened in the fourth quarter, according to the Bank of Japan's quarterly tankan business sentiment survey.
The headline index for large manufacturers' sentiment came in at 7, a decline from the previous quarter's reading of 8. The index for small manufacturing slightly improved to -2 in the fourth quarter from -4 in the previous quarter.
The same survey showed Japanese companies project 2.7% in annualized inflation in one year, 2.2% in three years, and 2% in five years.
— Jihye Lee
Asian Development Bank revises growth estimates
The Asian Development Bank lowered its economic growth forecasts for the region, citing a worse global outlook.
The region is predicted to see growth of 4.2% this year, according to the ADB's December estimates — down from its September forecasts for growth of 4.3%. It also trimmed its 2023 outlook to 4.6% from previous estimates of 4.9%.
For the Chinese economy, the ADB also lowered its 2022 growth forecasts to 3.0% from its previous projection of 3.3%. In 2023, the ADB expects China's economy to expand 4.3%, also lower than its September estimates for growth of 4.5%.
— Jihye Lee
Dollar falls on inflation data
The dollar index, which weighs the U.S. dollar among a basket of foreign currencies, dropped following the cooler-than-expected CPI data. It was last down 1.4%.
The dollar declined as expectations for inflation eased on the report, while Treasury rates tumbled at the same time. Meanwhile, gold and oil prices both rose.
The falling greenback could help multinational stocks with business oversees. Caterpillar and Boeing both rose in premarket trading, adding 2% and 3%, respectively.
— Alex Harring
CNBC Pro: Dan Niles is positive on this corner of tech, names two global stocks to buy
Dan Niles, founder and senior portfolio manager of the Satori Fund, told CNBC that he recently bought these tech stocks, and explained why he likes them.
According to Niles, the Satori Fund is up this year, beating the S&P 500 which has declined around 15% over the same period.
CNBC Pro subscribers can read more here.
— Weizhen Tan
Inflation rise less than expected in November
The consumer price index, a widely followed measure of inflation, rose less than expected in November, raising hope that inflationary pressures in the U.S. could be abating.
The index rose 7.1% year over year, less than a Dow Jones estimate for a 7.3% gain. Excluding food and energy, prices rose 6% on a year-over-year basis, less than an estimate for 6.1%.
— Jeff Cox
CNBC Pro: Morgan Stanley's Mike Wilson says his S&P 500 call is more bearish than most
Morgan Stanley Chief U.S. Equity Strategist Mike Wilson, who accurately called the 2022 sell-off, reiterated his call on the bear market bottom and said he was even more confident of his forecasts now.
Wilson, a prominent market bear this year, explained his reasoning in his latest report to clients on Dec. 12.
CNBC Pro subscribers can read more here.
— Ganesh Rao
Copyright CNBCs - CNBC