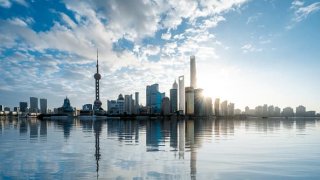 This is CNBC's live blog covering Asia-Pacific markets.
Asia-Pacific shares were mostly higher as investors look ahead to the U.S. consumer price index report Thursday. Economists expect inflation to have cooled in December, which could signal to the Federal Reserve that previous interest rates hikes have had their intended effects.
Australia's S&P/ASX 200 closed 1.18% up at 7,280.4 after the release of the country's November trade balance.
The Nikkei 225 closed flat to stand at 26,449.82 while the Topix climbed 0.36% to 1,908.18. South Korea's Kospi edged up 0.24% to 2,365.1 while the Kosdaq dipped 0.15% to 710.82.
Hong Kong's Hang Seng index declined fractionally, reversing earlier gains. Mainland China's Shanghai Composite added 0.051% to close at 3,163.45 and the Shenzhen Component was up 0.23% to 11,465.73. China's consumer price index rose 1.8% in December from a year ago, in line with Reuters' expectations.
India's inflation data for December is also slated for release.
Overnight on Wall Street, major stock indexes closed higher. Economists surveyed by Dow Jones expect the inflation print to show that prices cooled by a modest 0.1% in December from November.
China reopening to be 'booster' for Hong Kong's property market, high street retail to lead recovery
Hong Kong's property market is set to recover in 2023 — in light of China's reopening and easing Covid rules, according to property consultancy Colliers Hong Kong.  
The retail market in particular, will reap the "best benefit," Hannah Jeong, Colliers' head of valuation and advisory services, told CNBC's "Squawk Box Asia."
"We are looking at about an 8% increase year-on-year in terms of the retail rental performance," she added. 
The high street shop segment — will be the "first runner" in the post-Covid recovery with both rents and prices, said Colliers in its latest report.
In the office sector, Grade A office rents will bounce back by 3% this year, it added — thanks to "pent-up demand from Chinese and overseas companies." 
— Goh Chiew Tong
Bank of Japan to review side effects of monetary easing, local newspaper reports
The Bank of Japan will examine the side effects of monetary easing at its policy meeting next week, local newspaper Yomiuri reported.
"This is because the market interest rate remains distorted even after the policy revision at the end of last year," Yomiuri wrote.
The central bank last month widened its yield curve tolerance for 10-year JGBs to 0.5% on either side of its 0% target, up from the previous range of 0.25%.
The Japanese yen last strengthened 0.63% to stand at 131.65 against the greenback.
—Lee Ying Shan
China's consumer price index rises 1.8% in December
Inflation in China accelerated 1.8% in December compared with a year ago as food prices rose, data from the National Bureau of Statistics showed.
"The prices of fresh vegetables and fresh fruits rose by 7.0% and 4.7%, respectively," the report said.
The CPI figure was in line with Reuters' expectations and higher than the previous month's reading of 1.6%.
The reading was also flat with November's, improving from a 0.2% decline.
China's producer price index dipped 0.7% in December versus last year, worse than expectations of a 0.1% drop.
— Lee Ying Shan
CNBC Pro: This global stock exchange is under-valued and offers a 'very good' entry point for investors, outperforming fund strategist says
Shares of a global stock exchange are trading at a "very good" entry point for investors after a recent decline in the company's stock, according to a fund strategist.
Hannah Gooch-Peters, global equity investment analyst at Sanlam Investments, said the stock exchange had performed well in the past year due to the volatility in the fixed-income markets and the high spot prices of commodities.
Gooch-Peters, who's part of the team behind the outperforming Sanlam Global High-Quality Fund, said the company was an attractive long-term investment due to its large recurring business model.
CNBC Pro subscribers can read more here.
— Ganesh Rao
Australia's trade surplus for November beats expectations
Australia reported a trade surplus of 13.2 billion Australian dollars (about $9.1 million) for November, beating a Reuters forecast for AU$10.4 billion.
The November figure also marks an increase from October's trade surplus of AU$12.74 billion.
Australia's imports fell by 1.5% in November from October, while exports dipped 0.4%.
—Lee Ying Shan
CNBC Pro: Morgan Stanley names its 'top pick' in Chinese tech — and gives it over 70% upside
China's tech sector has come under pressure in recent years, thanks to a regulatory crackdown and the fallout from the country's zero-Covid policy.
But Wall Street is giving Chinese tech stocks some love again, and Morgan Stanley has named its "top pick" in the sector.
Pro subscribers can read more here.
— Zavier Ong
Cryptocurrencies trade higher as Binance announces hiring spree
Cryptocurrencies gained after crypto exchange Binance announced it is planning to increase its staff by between 15% and 30% in 2023.
Bitcoin was 2.78% higher at $17,932.69, according to data from Coin Metrics. Ether last traded 3.86% higher to stand at $1,388.98.
Binance's move stands in contrast to rivals like Coinbase, Kraken and Huobi, which have laid off huge swathes of staff amid a crypto downturn.
—Lee Ying Shan
Stocks close higher as investors gear up for Thursday's inflation reading
Stocks finished higher Wednesday as investors optimistically positioned ahead of Thursday's CPI report.
The Nasdaq Composite gained 1.8%, notching a four-day streak. A rally with that length has not been seen in the tech-heavy index since September.
The Dow ended up more than 260 points, or 0.8%.
The S&P 500 added 1.3%. All 11 of the broad index's sectors ended the day up, led by real estate with a 3.6% gain.
— Alex Harring
Natural gas hits low not seen since 2021
Natural gas hit a low in Wednesday trading not seen since 2021.
The commodity slid 1.1% to $3.598.
It fell at one point to $3.442. That's a low not seen since June 24, 2021, when natural gas dropped to $3.415.
Natural gas has fallen 18.9% since the start of 2023.
— Gina Francolla, Alex Harring
Fed gauge shows inflation could be running hotter than the Street expects
Thursday's consumer price index report could show inflation running at a hotter pace than Wall Street expects, according to a Cleveland Fed gauge.
The central bank's Inflation Nowcasting tracker is pointing to headline CPI increasing at a 0.1% monthly pace, while core, excluding volatile food and energy prices, is indicating a 0.5% gain.
Both numbers are ahead of the Dow Jones consensus estimates for a decrease of 0.1% on headline and gain of 0.3% on core.
On an annual basis, the Cleveland Fed model is pointing to a 6.6% headline gain and 5.9% for core, compared to respective Dow Jones estimates of 6.5% and 5.7%.
—Jeff Cox
Copyright CNBCs - CNBC