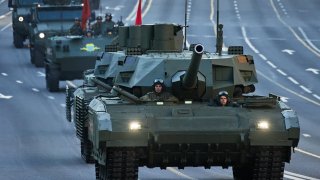 This has been CNBC's live blog covering updates on the war in Ukraine. [Follow the latest updates here.]
Russia's progress in eastern and southern Ukraine is being closely monitored as its forces appear to have escalated assaults on those regions.
Having re-focused its attacks away from northern Ukraine and the capital Kyiv, Russian forces are now looking to take full control of the Donbas region in eastern Ukraine in order to create a land bridge from Russia to Crimea, territory it annexed in 2014.
In the latest update from the Ukrainian military, its spokesman said Russian forces "are focusing their efforts on blocking and trying to destroy Ukrainians units in the Azovstal" steelworks where soldiers and civilians have been holed up for up to two months.
"With the support of aircraft, the enemy resumed the offensive in order to take control of the plant," Ukraine said in its update Thursday morning.
Another 344 civilians were evacuated from the city and suburbs of the southern port city of Mariupol and are on the way to the Ukraine-controlled city of Zaporizhzhia, President Volodymyr Zelenskyy said in his nightly address.
Pentagon spokesman John Kirby said the Russians have made uneven progress in the Donbas region, following weeks of resupply and repositioning efforts. Nonetheless, the U.S. and its allies are rushing to send additional security assistance amid an intensified Russian assault in eastern and southern Ukraine.
George W. Bush and Zelenskyy meet virtually
Former U.S. President George W. Bush and Ukrainian President Volodymyr Zelenskyy met via an online video conference, where Zelenskyy invited Bush to visit Ukraine.
Bush in turn conveyed his support for the president and the people of Ukraine.
"Your courage is very important for further success. If you continue to do what you do, you will always have our support if you continue to fight as you do now," he said, according to the Ukrainian president's office.
Bush also called Zelenskyy "the Winston Churchill of our time," according to a statment from the George W. Bush Presidential Center.
Zelenskyy expressed his appreciation for support from the U.S. and Americans.
"Americans are sincere, open-minded people, and I feel it. We have common values. I feel that it is from the heart," Zelenskyy said, according to the president's office.
— Chelsea Ong
U.S. intel helped Ukraine sink Russian flagship Moskva, officials say
Intelligence shared by the U.S. helped Ukraine sink the Russian cruiser Moskva, U.S. officials told NBC News, confirming an American role in perhaps the most embarrassing blow to Vladimir Putin's troubled invasion of Ukraine.
A guided-missile cruiser carrying a crew of 510, the Moskva was the flagship of Russia's Black Sea Fleet. It sank on April 14 after being struck by two Ukrainian Neptune anti-ship missiles, U.S. officials said. Moscow said the vessel sank after a fire. 
The attack happened after Ukrainian forces asked the Americans about a ship sailing in the Black Sea south of Odesa, U.S. officials told NBC News. The U.S. identified it as the Moskva, officials said, and helped confirm its location, after which the Ukrainians targeted the ship.
The U.S. did not know in advance that Ukraine was going to target the Moskva, officials said, and was not involved in the decision to strike. Maritime intelligence is shared with Ukraine to help it defend against attack from Russian ships, officials added.
Read the full story here.
— Ken Dilanian, Courtney Kube and Carol E. Lee, NBC News
Russia's war 'must end,' UN chief says he told Putin and Zelenskyy
United Nations Secretary-General Antonio Guterres said he told both Ukrainian leader Volodymyr Zelenskyy and Russian President Vladimir Putin that the Kremlin's invasion must end for the sake of the entire world.
"Throughout my travels, I did not mince words," Guterres told the United Nations Security Council, following separate trips to the capitals of Russia and Ukraine.
"I said the same thing in Moscow as I did in Kyiv which is exactly what I have repeatedly expressed in New York. Namely that Russia's invasion of Ukraine is a violation of its territorial integrity and of the charter of the United Nations. It must end for the sake of the people of Ukraine, Russia, and the entire world," he said.
Guterres said that one goal of his trip was to broker the safe passageway of Ukrainians trapped in a steel plant in Mariupol. He said that so far, nearly 500 civilians have been evacuated after living under relentless shelling and scarce availability of food and water.
Guterres said that a third evacuation was underway but declined to elaborate in order to "avoid undermining possible success."
— Amanda Macias
UN says more evacuations are underway from bombarded Mariupol
The United Nations says a new "safe passage operation" is underway in and around the bombarded Ukrainian city of Mariupol.
Humanitarian spokesman Saviano Abreu tells The Associated Press the U.N. is working in coordination with the parties to the conflict and the International Committee of the Red Cross.
He says they will "share more information when the situation allows." It is not clear how many people are part of the evacuation and Abreu would not say whether people at the Azovstal steel plant are involved.
A similar joint evacuation effort brought 101 civilians out of the plant over the weekend. Another brought out people from Mariupol and other communities on Wednesday.
— Associated Press
Pentagon denies sharing intelligence on location of Russian military leaders
Pentagon spokesman John Kirby denied that the U.S. military is giving Ukraine information on the location of senior Russian military leaders.
"We do not provide intelligence on the location of senior military leaders on the battlefield," Kirby said during a daily press briefing.
Kirby said that the U.S. shares intelligence with Kyiv, but does not participate in the targeting process on the battlefield, a decision that only Ukrainian troops on the ground are able to make. Kirby added that multiple allies share information with Ukraine and that Ukrainian forces have a capable intelligence network of their own.
The New York Times previously reported that the U.S. was giving Ukraine data that helped it strike key Russian officers. CNBC and NBC News have not verified that reporting.
Following the publication of the piece by The New York Times, National Security Council spokeswoman Adrienne Watson said that while the U.S. provides "battlefield intelligence" to the Ukrainians, it does not do so with the "intent to kill Russian generals."
— Amanda Macias
Demining continues at an airport in the town of Hostomel
Demining and cleaning works continue at Antonov Airport in Hostomel.
-Dogukan Keskinkilic | Anadolu Agency | Getty Images
Germany's Scholz and Biden speak on additional support to Ukraine
German Chancellor Olaf Scholz and U.S. President Joe Biden spoke about the ongoing Russian war in Ukraine.
"They agreed that Ukraine must continue to receive substantial and ongoing support in exercising its legitimate right to self-defense," according to a German government spokesman providing a readout of the call.
"They condemned in the strongest possible terms recent statements by the Russian leadership to discredit the democratically legitimized Ukrainian leadership."
The White House said that Biden and Scholz spoke for 30 minutes Thursday morning.
— Amanda Macias
UN agency calls for Ukraine ports to reopen for food shipments
The United Nations' food aid agency is appealing for Black Sea ports in Ukraine to be open again to permit shipping of wheat and corn exports, which many poor nations depend on.
The Rome-based World Food Program noted in its appeal that before the war launched by Russia, 98% of Ukraine's grain exports had moved through those ports.
It said in a statement that a month after the war began on Feb. 24, export prices for wheat had risen by 22% and maize by 20% — that's on top of already steep rises in 2021 and earlier this year.
The U.N. agency says the ports, in Ukraine's south, which has suffered from heavy shelling, must resume operations "to protect Ukrainian agricultural production and enable exports that are critical to Ukraine's economy and global food security." It cited war-ravaged, impoverished Yemen, which imports more than half of its wheat from Ukraine or Russia, and which depends on shipping for its food imports.
— Associated Press
U.S. announces nearly $387 million in humanitarian aid to Ukraine
The U.S. Agency for International Development is providing nearly $387 million in additional humanitarian assistance to Ukraine.
The aid, which is part of the more than $1 billion President Joe Biden previously said the U.S. was prepared to commit, will go to providing food to people in hard-to-reach areas inside Ukraine. The money will also help to provide safe drinking water, sanitation, and hygiene, along with critical medical supplies and health care, USAID said.
"The United States is the largest single-country donor of humanitarian assistance in Ukraine. Since Russia's further invasion began on February 24, the United States has provided more than $688 million in humanitarian assistance to respond to the needs of people in Ukraine and those who have fled to neighboring countries," the USAID statement added.
— Amanda Macias
First lady Jill Biden to visit Slovakia-Ukraine border crossing on Mother's Day
First lady Jill Biden will visit the border of Slovakia and Ukraine on Sunday, Mother's Day, the White House said.
Biden will travel to the "Slovakia-Ukraine border crossing in Vysne Nemecke, Slovakia, where Ukrainian refugees can enter Slovakia and receive basic services before moving on to processing centers or transit hubs further inside the country," according to the White House.
The visit is part of a bigger trip the first lady is making to Eastern Europe. She will depart Thursday. The purpose of the travel is to highlight the plight of refugees from Ukraine, thank American service members stationed in NATO-allied countries and express gratitude for the work of volunteers and aid agencies, the White House said.
— Christina Wilkie
Zelenskyy speaks to UK's Johnson about longer-range weapons for fight against Russia
British Prime Minister Boris Johnson spoke to Ukrainian President Volodymyr Zelenskyy on the 70th day of Russia's war.
"The leaders discussed developments on the battlefield and the Ukrainian armed forces' requirements, including the provision of longer-range weaponry to prevent the bombardment of civilians," according to a Downing Street readout of the call.
Johnson also reiterated the importance of a "robust and independent international judicial process to ensure those responsible for atrocities in Ukraine are held to account." The British leader also told Zelenskyy that the U.K. will continue to support war crimes evidence-gathering in Ukraine.
— Amanda Macias
Ukrainians attend a lesson on recognizing munitions and explosives in Lviv
A group of people, many refugees, attend a lesson on recognizing munitions and explosives, organized by the Main Directorate of the State Emergency Service of Ukraine in Lviv, Ukraine. 
Many of those in attendance intend to return to their homes in the east and south of Ukraine. They hoped to teach themselves and their children what to look out for in the areas Russia has assaulted during its invasion.
Lviv has served as a stopover and shelter for the millions of Ukrainians fleeing the Russian invasion, either to the safety of nearby countries or the relative security of western Ukraine. 
— Leon Neal | Getty Images
Garland meets with counterparts from exclusive Five Eyes intel sharing group
U.S. Attorney General Merrick Garland met virtually with his Five Eyes counterparts and Ukraine's Prosecutor General Iryna Venediktova to coordinate efforts to hold to account Russia and those who enable war crimes in Ukraine.
Venediktova briefed Garland and other top prosecutors from the 'Five Eyes' intel alliance, which includes the U.S., U.K., Canada, Australia and New Zealand.
Garland updated the group on the Justice Department's task force KleptoCapture aimed at tracking, identifying and seizing Russian assets belonging to sanctioned individuals.
The nation's chief law enforcement officer also discussed the $33 billion supplemental budget request to support Ukraine would enhance the Justice Department's ability to hold the Kremlin and Russian oligarchs accountable for the ongoing war in Ukraine.
"There is no hiding place for war criminals," Garland wrote in a statement. "We will be relentless in our efforts to bring to justice those who facilitate the death and destruction we are witnessing in Ukraine," he added.
— Amanda Macias
UN says 3,280 killed in Ukraine since start of war, warns death toll is likely higher
The United Nations has confirmed 3,280 civilian deaths, including at least 231 children, and 3,451 injuries in Ukraine since Russia invaded its ex-Soviet neighbor on Feb. 24.
The Office of the UN High Commissioner for Human Rights said the death toll in Ukraine is likely higher, because the armed conflict can delay reports.
The international body said most of the civilian casualties recorded were caused by the use of explosive weapons with a wide impact area, including shelling from heavy artillery and multiple launch rocket systems, as well as missiles and airstrikes.
— Amanda Macias
Fiji seizes $300 million superyacht belonging to Russian oligarch Suleiman Kerimov
Fijian authorities seized a superyacht owned by sanctioned Russian oligarch Suleiman Kerimov, the Department of Justice announced Thursday.
The Justice Department estimates that Kerimov's yacht is worth $300 million or more. The Cayman-flagged motor yacht is reported to have an interior layout that sleeps up to 16 guests in 8 cabins and is equipped with a helipad.
The move to confiscate the nearly 350-foot motor yacht Amadea in Lautoka, Fiji comes as Western governments intensify efforts to track, identify and seize assets around the globe belonging to sanctioned Russians with ties to the Kremlin.
The Treasury Department's Office of Foreign Assets Control, or OFAC, sanctioned Kerimov in 2018.
— Amanda Macias
Mariupol in ruins as Russia continues its attack on the city
Russian attacks continue in Mariupol, leaving damaged buildings and destruction.
Residents of the besieged city are trying to survive on their own and in evacuation camps.
— Getty Images
Ukrainians fleeing war face onerous process to enter the U.S.
Svitlana Rogers had been trying for weeks to bring her sister's family — who had escaped Ukraine and was now living in Warsaw — to live with her and her family in Princeton, New Jersey.
Her congressional representatives all told her their hands were tied. Then came news from the White House: President Joe Biden announced a new process for Ukrainians to enter the U.S. via sponsorship by Americans.
"I immediately texted my sister when I heard the news," Rogers said. "She was very happy."
But when the website launched on April 25, they both realized how much work lay ahead and worried they wouldn't be able to provide all the documentation that the government required. Not only did Rogers have to prove her own income, she had to show her sister's family was healthy and on a good financial footing as well. 
Unlike the traditional route for bringing refugees to the United States, where taxpayer money partially offsets living costs for the first few months, the Biden administration chose a model for Ukrainians fleeing the country's war with Russia that only allows those who can be supported financially to come to enter the country.
Read the full story here.
— Julia Ainsley, NBC News
Kremlin denies Russian troops tried to storm the Azovstal steelworks
The Kremlin has denied that Russian troops tried to storm Mariupol's Azovstal steel plant, seen as the last stronghold for Ukrainian fighters in the southern port city, insisting that humanitarian corridors were still in operation there for civilians.
Ukrainian media reported last night that Russian troops had attempted to storm the plant, citing comments from a Ukrainian lawmaker. Several hundred civilians are believed to still be trapped in the steelworks, as well as soldiers.
Kremlin spokesman Dmitry Peskov told reporters Thursday that Russian President Vladimir Putin had not issued any new orders regarding the plant and that a previous instruction to blockade the plant, rather than to attack it, still stands.
"You were witnesses: publicly the President and the Commander-in-Chief [Putin] issued an order to refrain from the assault. No other orders were given," Peskov said in response to a question from a reporter on whether Putin's previous decree had been canceled, state news agency Tass reported.
On Wednesday, Peskov insisted that Russian troops were not storming the plant's territory, "but were suppressing attempts by militants blocked there to reach firing points," Tass reported.
— Holly Ellyatt
President Zelenskyy appeals for ceasefire to rescue Mariupol's trapped civilians
Ukraine's President Volodymyr Zelenskyy has appealed for a ceasefire to rescue civilians who are still trapped beneath the Azovstal steelworks in Mariupol, saying they need to be dug out by hand.
"We hope to continue rescuing people from Azovstal, Mariupol. There are still civilians. Women, children," Zelenskyy said in his morning address to the nation.
To save them, he said, there needs to be a cease-fire, with Ukraine ready to agree to one.
"It takes time to just lift people out of those basements, out of those underground shelters. In the current conditions, we cannot use special equipment to clear blockages," he said, adding: "Everything is done manually."
Two Russian villages shelled by Ukraine, governor claims
Two villages in Russia's Belgorod region bordering Ukraine have been shelled by Ukraine, the region's Governor Vyacheslav Gladkov claimed on Thursday.
"There is shelling from the Ukrainian side on Zhuravlyovka and Nekhoteevka," he said, Reuters reported. Gladkov said there were no civilian casualties.
Russia had previously accused Ukraine of shelling towns within Russian territory, specifically those near the border.
Ukraine has not publicly admitted to targeting positions within Russia, although one of President Volodymyr Zelenskyy's top advisors described such attacks several weeks ago as "karma."
— Holly Ellyatt
Russia says it has killed 600 'nationalists' in Ukraine
Russia has claimed to have "destroyed" 600 Ukrainian fighters it described as "nationalists" in its latest military update on Thursday. The term "nationalists" is routinely used by Russia to refer to Ukrainian soldiers, and is seen as a way to denigrate the country's armed forces.
Russia's Defense Ministry posted on Telegram that it had also destroyed aircraft equipment at the Kanatovo military airfield in the Kirovograd region, a large ammunition depot in the city of Nikolaev and a fuel storage facility for Ukrainian military equipment in the Nikolaev region.
Two warehouses of military equipment at a military airfield near Kramatorsk were also hit, it claimed.
CNBC was unable to immediately verify the information.
— Holly Ellyatt
Russia could use Belarusian military drills to divert Ukrainian forces, UK says
Russia is likely to use snap military drills by its ally Belarus as a way to divert Ukrainian forces away from Donbas in eastern Ukraine, the focus of Russian assaults, as it seeks to seize the entire region, according to the British Ministry of Defence.
"Russia will likely seek to inflate the threat posed to Ukraine by these exercises in order to fix Ukrainian forces in the North, preventing them from being committed to the battle for the Donbas," the ministry said in its latest intelligence update on Twitter this morning.
Belarus announced it was beginning combat-readiness drills yesterday, saying the purpose of the exercises was "to assess the readiness and ability of personnel to quickly respond to possible crises." The move raised speculation that Belarus might join Russia's war effort in a potential renewed assault on northern Ukraine. Belarus insisted there was no threat to its European neighbors.
The U.K.'s Defence Ministry said Thursday that Belarusian land forces "have been observed deploying from garrison to the field, for exercises" and that this is in line with seasonal norms as Belarus enters the culmination of its winter training cycle in the month of May. 
"Deviation from normal exercise activity that could pose a threat to allies and partners is not currently anticipated," the ministry added.
— Holly Ellyatt
Russian forces renew attacks to seize Ukraine's last stronghold in Mariupol
Russian forces have reportedly renewed their assault on the Azovstal steelworks complex, a last stronghold for Ukrainian fighters in the southern port city of Mariupol, in what is widely seen as a bid to bring the standoff to an end.
In the latest update from the Ukrainian military, its spokesman said Russian forces "are focusing their efforts on blocking and trying to destroy Ukrainians units in the Azovstal" steelworks.
"With the support of aircraft, the enemy resumed the offensive in order to take control of the plant," Ukraine said in its update Thursday morning.
CNBC was unable to immediately verify the information.
Hundreds of civilians, including the elderly and children, have been sheltering in the network of underground tunnels and bunkers underneath the steelworks. After a number of failed attempts to evacuate civilians, several hundred have been evacuated to the relative safety of the Ukrainian-controlled Zaporhizhia in recent days.
— Holly Ellyatt
Russia is striking civilian targets to 'weaken Ukrainian resolve,' British government says
Moscow is trying to "weaken Ukrainian resolve" by striking civilian targets in Ukraine, the British government said on Wednesday night.
"As Russian operations have faltered, non-military targets including schools, hospitals, residential properties and transport hubs have continued to be hit, indicating Russia's willingness to target civilian infrastructure in an attempt to weaken Ukrainian resolve," the U.K. Ministry of Defence said.
The U.K. ministry said in an intelligence update that Russian ground operations are focusing on the eastern part of Ukraine, but missile strikes continue across the country because Moscow wants to disrupt the Ukrainians' ability to resupply their troops in the east.
The press office of the Russian Defense Ministry did not immediately respond to a request for comment.
Moscow has repeatedly denied that it strikes civilian targets, though such attacks have been widely documented. Russian instead accuses Ukraine of attacking civilian targets.
The British ministry said Russia is attacking cities including Odesa, Kherson and Mariupol in order to take over Ukraine's Black Sea coastline and cut off its sea line of communication and maritime trade.
WATCH: Russian troops breach steel plant in Mariupol
— Ted Kemp
More than 340 civilians were evacuated from Mariupol, Zelenskyy says
Another 344 civilians were evacuated from the city and suburbs of Mariupol and are on the way to Zaporizhzhia, a city in Ukraine, President Volodymyr Zelenskyy said in his nightly address.
This is the second batch of people rescued from the besieged Ukrainian city following the evacuation of 156 women and children from the Azovstal steel plant who arrived in Zaporizhzhia on Wednesday.
"All of them will receive the most caring treatment from our state," Zelenskyy said.
Russia's attempt to take over Mariupol has led to grim conditions in the city where thousands are running out of food, water and medical aid, as civilians and soldiers are holed up in the Azovstal steel plant – the last stronghold for fighters in the heavily bombarded city.
— Chelsea Ong
Russian forces largely stalled in eastern and southern Ukraine, Pentagon says
Pentagon spokesman John Kirby said the Russians have made uneven progress in the Donbas region of Ukraine, following weeks of resupply and reposition efforts.
"Russians have not made the kind of progress in the Donbas and in the south that we believe they wanted to make," Kirby said during a daily Pentagon press briefing. "We do believe they're behind schedule. We do believe it has been slow at every turn and they have met a stiff Ukrainian resistance," he added.
Kirby's comments come as the U.S. and its allies rush to send additional security assistance ahead of what was believed to be an intensifed Russia surge in eastern and southern Ukraine. On Tuesday, President Joe Biden called on Congress to quickly pass $33 billion in additional U.S. security assistance to Ukraine.
Biden's latest military aid package of $800 million announced on April 21, the eighth such installment of security assistance, brings U.S. commitment to $3.4 billion since Russia's late February invasion.
— Amanda Macias
Copyright CNBCs - CNBC