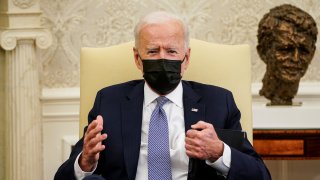 President Joe Biden said he is "prepared to negotiate" the size of his infrastructure plan and how to pay for it.
The president met with lawmakers from both parties about the more than $2 trillion proposal as they returned to Washington following a recess.
Biden said he and lawmakers will have to agree on whether broadband and utilities are considered infrastructure.
President Joe Biden said Monday that he is ready to bargain with lawmakers about changes to his more than $2 trillion infrastructure plan.
"I'm prepared to negotiate as to the extent of my infrastructure project as well as how we pay for it. ... I think everyone acknowledges we need a significant increase in infrastructure. It's going to get down to what we call infrastructure," the president said ahead of an Oval Office meeting with House and Senate members from both parties.
The president has said he will engage with Republicans skeptical of his proposal and try to win their support for the package. Still, Biden has stressed he will move forward without GOP votes because he considers a jobs plan necessary as the country recovers from the coronavirus pandemic.
The Democratic-held Congress returns to Washington this week from recess with infrastructure at the top of its agenda. Lawmakers will likely take months to craft and pass massive legislation that would affect everything from roads, bridges, airports and trains to broadband, housing, utilities and job training.
It would also hike the corporate tax rate and seek to deter offshoring of corporate profits. The proposed tax hikes have irked Republicans.
In a statement following the meeting, the White House said Biden and lawmakers "had a good exchange of ideas, and the President asked for their feedback and follow-up on proposals discussed in the meeting, while underscoring that inaction is not an option."  
Democrats want a large-scale package that addresses policies not considered traditional transportation infrastructure, including an expansion of broadband access and improvements to drinking-water systems and electric grids. Many Republicans have argued an infrastructure bill should only tackle transportation.
Before the meeting, Biden said water systems and broadband should be considered infrastructure.
"It's not just roads, bridges, highways," he said.
Senate Minority Leader Mitch McConnell, R-Ky., again criticized Democrats on Monday for what he called fitting unrelated priorities into the plan.
"They are embarking on a campaign to convince everybody that any government policy whatsoever can be labeled infrastructure," he said.
The attendees at Monday's meeting included Senate Commerce Committee Chair Maria Cantwell, D-Wash., and ranking member Roger Wicker, R-Miss. The panel has broad jurisdiction over communications technology, highways and aviation, among other areas.
Wicker is not among the Senate Republicans seen as most likely to broker a deal with the Biden administration. Biden also noted that Rep. Don Young, an Alaska Republican and the longest currently serving House member, attended the meeting Monday.
Biden administration officials briefed senators from both parties on the proposal last week, NBC News reported. House Transportation and Infrastructure Committee Chair Peter DeFazio, D-Ore., also started to reach out to representatives about projects they would like to see included in the bill, according to NBC.
Republicans have signaled they will support an infrastructure bill only if Biden slashes the scope and price tag of his proposal. GOP lawmakers have also criticized Biden's plan to increase the corporate tax rate to 28% to offset the investments. Republicans cut the rate to 21% from 35% in 2017.
If Democrats choose to pass the bill by themselves through budget reconciliation, Biden will have to navigate dissent within his own party. Sen. Joe Manchin, D-W.V., has urged Biden to raise the corporate rate to 25% rather than 28%.
At the same time, progressives have pushed the president to take more aggressive action to combat climate change and transition to green energy.
Copyright CNBCs - CNBC