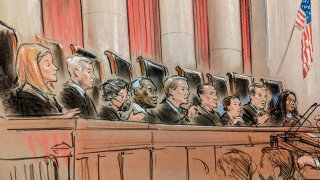 Questions on fairness and the scope of the president's power emerged as the Supreme Court justices debated Biden's student loan forgiveness plan.
Here were some of the most heated exchanges during the arguments.
There were many tense moments Tuesday as the nine Supreme Court justices grilled the plaintiffs challenging the Biden administration's student loan forgiveness plan and the government attorney defending the policy.
The Supreme Court agreed to hear two challenges against President Joe Biden's unprecedented plan to cancel up to $20,000 in student debt for tens of millions of Americans. Six Republican-led states brought one lawsuit against the forgiveness plan, and conservative advocacy organization, the Job Creators Network Foundation, backed the second. Both accuse the president of overstepping his authority.
While the justices heard oral arguments, hundreds of student loan borrowers from around the country gathered outside the court in support of the president's plan, with signs bearing messages such as "Death to student debt" and "Student debt cancellation is legal."
The justices are expected to issue a decision by the end of June.
Here were three of the most heated exchanges during the arguments.
Response to a 'once-in-a-century pandemic'
The Heroes Act of 2003, which the Biden administration is using as its legal justification to carry out its student loan forgiveness program, authorizes the education secretary to "waive or modify" student loan programs during national emergencies to avoid borrower distress.
Some of the justices expressed skepticism that that law permits the president to carry out the kind of sweeping debt relief his forgiveness plan entails. At an estimated cost of about $400 billion, Biden's plan is one of the most expensive executive actions in history.
"You think...Congress shouldn't have been surprised when half a trillion dollars is wiped off the books?" asked Chief Justice John Roberts.
More from Personal Finance:
Biden's student loan forgiveness plan heads to Supreme Court
How to decide if you should go back to school
The cheapest states for in-state college tuition
In response, Solicitor General Elizabeth Prelogar, the lawyer representing the Biden administration in front of the nine justices, said she recognized it was a big action.
"But that's in direct reaction to the COVID-19 pandemic, which itself was a really big problem," Prelogar said.
"There hasn't been a national emergency like this in the time that the Heroes Act has been on the books that's affected this many borrowers," she said. "And so I think it's not surprising to see in response to this once-in-a-century pandemic."
Whether student loan forgiveness is 'fair'
Supreme Court Justice Samuel Alito became frustrated with Prelogar at one point, accusing her of not answering his question on the fairness of the forgiveness plan.
"I'll try one more time," Alito said. "Why was it fair to the people who didn't get arguably comparable relief?"
Prelogar replied that Congress had already made the decision to allow the Secretary of Education to provide borrowers relief when they're impacted by a national emergency.
"And you could make this critique of every prior exercise of Heroes Act authority," the solicitor general said. "There too, you could say, 'Well, that only benefits the specific enumerated affected individuals,' but it's Congress who defined those individuals, and the secretary acted properly here in giving them relief."
A top U.S. Department of Education official recently warned that the public health crisis has caused considerable financial harm to student loan borrowers and that its debt cancellation plan is necessary to stave off a historic rise in delinquencies and defaults.
Justice Sonia Sotomayor built on Prelogar's response, pointing out that throughout the pandemic, different relief measures helped different people. One example is the Paycheck Protection Program, which aimed to offer potentially forgivable government loans to small businesses hurting from the pandemic.
"There's inherent unfairness in society because we're not a society of unlimited resources," Sotomayor said. "Every law has people who encompass it [and] people outside it."
Legal standing
The biggest obstacle for those trying to challenge Biden's student loan forgiveness plan has been proving that they've been harmed by the policy, which is typically a requirement to have standing to sue.
The six states — Arkansas, Iowa, Kansas, Missouri, Nebraska and South Carolina — opposing the president's plan argue that debt forgiveness would lead to a loss of profits for the companies that service federal student loans in their states, particularly MOHELA, or the Missouri Higher Education Loan Authority.
Yet the justices were perplexed as to why the servicers weren't bringing their own challenges then, and how the states could claim harm on their behalf.
"Do you want to address why MOHELA's not here?" Justice Amy Coney Barrett asked.
"MOHELA doesn't need to be here because the state has the authority to speak for them," Nebraska Solicitor General James A. Campbell said.
Barrett wasn't satisfied by that answer.
"Why didn't the state just make MOHELA come then?" she asked. "If MOHELA is really an arm of the state...why didn't you just strong-arm MOHELA and say you've got to pursue this suit?"
Campbell replied: "Your honor, that's a question of state politics."
MOHELA recently said its executives had no involvement in Missouri Attorney General Eric Schmitt's decision to sue.
Copyright CNBCs - CNBC