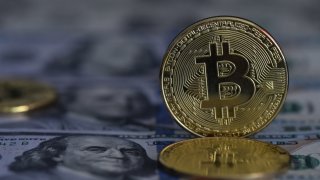 Bitcoin rose above $23,000 after Federal Reserve Chair Jerome Powell addressed an economics forum in Washington, D.C., saying that inflation is coming down.
Bitcoin added 1% to $23,236.80, according to Coin Metrics. Ether rose 1.3% to $1,667.63. Bitcoin struggled to hold the $23,000 level on Monday after dipping below that mark over the weekend.
Powell said in a question-and-answer session at the Economic Club of Washington, D.C. that although the process of getting inflation down has started, it "has a long way to go" and that these are "the very early stages."
"We expect 2023 to be a year of significant declines in inflation. It's actually our job to make sure that that's the case," he said. "My guess is it will take certainly into not just this year, but next year to get down close to 2%."
Crypto prices briefly turned lower alongside the stock market, after Powell said future economic reports may force the central bank to keep hiking rates aggressively.
Treasury yields declined during the speech – the 10-year note yield fell 1 basis point and the 2-year lost 5 basis points. The U.S. dollar index also dipped. Yields and the dollar index tend to move inversely to crypto.
After climbing about 40% to start the year, bitcoin has hit a speed bump in the past week as investors who have doubted the staying power of the rally prepared for further macro-driven volatility in crypto prices this year.
Copyright CNBCs - CNBC