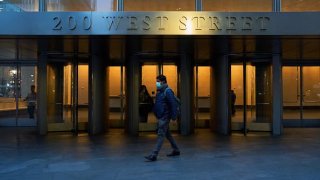 This report is from today's CNBC Daily Open, our new, international markets newsletter. CNBC Daily Open brings investors up to speed on everything they need to know, no matter where they are. Like what you see? You can subscribe here.
Markets were mostly flat on Tuesday despite a bevy of big companies reporting earnings. Investors were likely concerned about higher interest rates.
What you need to know today
The bottom line
There are two types of banks, broadly speaking. First, commercial banks, which primarily serve consumers and businesses by accepting their deposits and extending loans to them. Second, investment banks, which help institutions and governments navigate complex financial transactions such as trading, mergers and acquisitions.
Intuitively, the way they make money is different. Commercial banks reap profits from the difference in interest rates between the loans they make and the deposits they receive, while investment banks earn fees on their dealmaking activity.
Bank of America belongs to the first category; Goldman the second. This explains why their earnings, fundamentally, diverged so much. In today's high interest rate environment, commercial banks tend to earn more since they can charge higher rates for their loans while keeping deposit rates low, whereas investment banks typically see a fall in fees because of reduced financial activity.
Goldman, of course, knows that — it's been trying to diversify into commercial bank through Marcus, its retail-focused business. But that endeavor's making losses rather than boosting profits and might face threats of "cannibalization" — as CEO David Solomon put it — from Apple's new savings account, launched in partnership with Goldman itself.
Investors punished Goldman for the bank's lackluster quarterly results and apparently confusing strategy, sending its shares down 1.7% — and they dipped a further 0.18% in after-hours trading. Investors were also let down by Johnson & Johnson's sales forecast. The company's shares dropped 2.81%.
Nevertheless, U.S. markets were mostly flat. Investors were probably more worried about interest rates, a problem of the future, than earnings reports, a snapshot of the past. And for good reason: Atlanta Federal Reserve President Raphael Bostic told CNBC he anticipates "one more move" on rate hikes, followed by a pause "for quite some time."
Higher interest rates for longer means tighter margins, lower profits for companies and a general slowdown in the economy. No wonder markets are still, despite the bevy of earnings reports from big companies.
Subscribe here to get this report sent directly to your inbox each morning before markets open.
Copyright CNBCs - CNBC