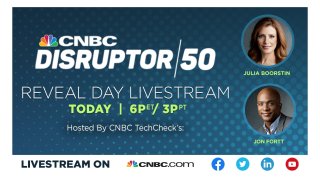 CNBC's Julia Boorstin and Jon Fortt will interview 2021 Disruptor 50 founders and CEOs, as well as academics from the CNBC Disruptor 50 Advisory Council following the annual list reveal on Tuesday.
Following the 2021 Disruptor 50 list reveal on Tuesday morning, join TechCheck's Julia Boorstin and Jon Fortt, along with special guests from the Disruptor 50 Advisory Council and CEOs of Disruptor 50 companies for a special post-launch show, as they discuss the tech trends shaping this year's list and the current state of disruptive innovation.
Here's who you'll hear from:
John Butler, Professor, University of Texas McCombs School of Business
Ari Wallach, Longpath Founder & Executive Director
Banu Ozkazanc-Pan, Professor, Brown University School of Engineering
Howie Liu, Airtable co-founder and CEO
Donnel Baird, BlocPower founder and CEO
Maryam Rofougaran, Movandi co-founder and co-CEO
SIGN UP for our weekly, original newsletter that goes beyond the list, offering a closer look at CNBC Disruptor 50 companies, and the founders who continue to innovate across every sector of the economy.
Copyright CNBC