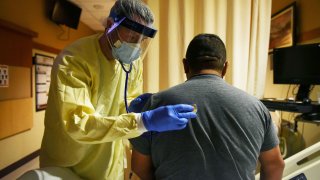 The coronavirus outbreak coverage on this live blog has ended.
U.S. Covid-19 cases continue to rise ahead of the Thanksgiving holiday. The national seven-day average of daily new cases stands at 174,225 as of Tuesday, according to a CNBC analysis of Johns Hopkins University data. The tally might see an artificial dip in the next several days, as is typical during major holidays when local outposts temporarily pause reporting. Still, health experts have warned Thanksgiving is likely to be a catalyst for spread.
Here are some of the biggest developments Wednesday:
The following data was compiled by Johns Hopkins University:
Global cases: More than 59.96 million
Global deaths: At least 1.41 million
U.S. cases: More than 12.61 million
U.S. deaths: At least 260,190
Pentagon institutes new health measures as military sees cases climb heading into the holidays
The U.S. military set a recent high for Covid-19 cases in a 24-hour period with more than 1,300 new confirmed infections, CNBC's Amanda Macias reports, as the Pentagon said it is seeing a "general uptick" heading into the holidays.
With the rise in cases, the Pentagon is moving to stricter health safety measures on Nov. 26, which includes limiting the number of people inside the Pentagon, requiring face coverings if social distancing isn't possible and doubling the number of temperature checks for people entering the building.
"These changes are based on authorities delegated in March, giving commanders the flexibility to respond in the best interest of their personnel by maintaining mission effectiveness," Pentagon spokesman Jonathan Hoffman said.
—Chris Eudaily
Ultra-cold freezer maker sees 'crazy' demand due to Covid vaccine
So-Low Environmental Equipment has seen a surge in demand for its ultra-cold freezers in anticipation of coronavirus vaccine distribution, according to Dan Hensler, vice president of the company.
"Right now, we are out of everything," Hensler said on CNBC's "Squawk on the Street," despite its attempts to build up inventory starting in the spring. The ultra-cold freezers are key parts of the vaccine distribution plans, particularly for Pfizer and BioNTech's vaccine that is awaiting FDA emergency approval.
Hensler said the Cincinnati-based company really saw inquiries pile up after the CDC released guidelines around vaccine distribution.
"Our phones started ringing off the hook the day it ... got out to the public. That inventory we had built was gone like in three weeks so now we're building everything per order," Hensler said. "We're running about six to eight weeks on delivery right now. It's been crazy. It's absolutely been crazy."
— Kevin Stankiewicz
Coronavirus outbreak at veterans nursing home kills 27
An outbreak of Covid-19 at a veterans nursing home in Illinois infected nearly 200 residents and staff and killed 27 veterans, the Associated Press reports.
The governor's office and the Illinois Department of Veterans Affairs are investigating what happened at the facility and why the virus was so devastating.
The outbreak was identified in late October and spread to two-thirds of residents and staff, according to the AP, citing the state's Department of Veterans Affairs.
"The tragedy of what has unfolded at the veterans' home cannot be understated," said state Sen. Sue Rezin, who represents the district where the home is located. "I'm glad that the director has called for an independent investigation and agree that there are lessons to be learned from this terrible outbreak that has claimed the lives of 27 of our nation's heroes."
—Chris Eudaily
Delta pilots escape furloughs until 2022
Delta Air Lines pilots have voted for pay cuts and other measures that would avoid more than 1,700 furloughs until 2022, the latest carrier to reach such an agreement as they struggle during the pandemic.
The agreement means Delta won't involuntarily furlough employees because of the pandemic, though the company has cut ground workers' schedules by 25% and close to 20,000 other employees have volunteered for buyouts.
U.S. airlines have shed more than 70,000 jobs this year including more than 30,000 combined involuntary cuts at American and United on top of tens of thousands of voluntary departures.
—Leslie Josephs
Pandemic romances, 'Zoom-worthy jewelry' could give jewelers a lift this holiday season
At Signet-owned retailers like Zales and Kay Jewelers, several sales associates have gotten ordained and officiated weddings in stores or the curbside pickup line during the pandemic.
Jewelers hope that pandemic-fueled romance — and the desire to add sparkle to a challenging year — will help them stage a comeback this holiday season. Sales of jewelry from March to October were down by about 30% year over year, according to data from The NPD Group. They have recovered somewhat in the past few months, the market researcher's data show, with sales flat in August, October and November.
Yet earrings, bracelets and necklaces could get a closer look as consumers grow tired of casualwear and shoppers seek a gift that will stand out.
Signet CEO Gina Drosos said couples have accelerated moving in together and grown closer during the pandemic — and that may lead to more engagements, according to the company's internal research. Plus, she said, spouses and significant others are gravitating toward personalized gifts, such as jewelry engraved with messages about how the global health crisis has strengthened their love.
"We want to be the company that can deliver that wonderful, meaningful, romantic gift for this holiday season," she said.
—Melissa Repko
Cuomo says states need more federal funding to distribute vaccine
New York Gov. Andrew Cuomo asked the federal government to provide more funding for Covid-19 vaccine distribution efforts, saying states are "broke."
"Washington never approved the state and local funding," he told reporters during a press conference. "They estimate that the cost to the states to distribute a vaccine ... $8 billion. So far, the government provided $200 million."
The comment came as states prepare to distribute a vaccine as early as next month. States submitted plans to the CDC on how they intend to inoculate hundreds of millions of Americans against Covid-19 once a vaccine is authorized.
Cuomo said he will meet with President-elect Joe Biden's coronavirus advisory team later Wednesday to discuss what states need to distribute a vaccine. Biden's plan suggests investing $25 billion for vaccine development and distribution.
–Berkeley Lovelace Jr.
Millions set to lose unemployment benefits next month
Millions of Americans are at risk of losing unemployment benefits at year's end without congressional action.
Nearly 14 million Americans are collecting jobless benefits through two programs enacted in March by the CARES Act relief law. One pays aid to self-employed, gig and other workers typically ineligible for state benefits, and the other pays up to 13 extra weeks of benefits beyond states' traditional six months.
Both are scheduled to expire the last weekend in December, coinciding with a lapse in federal protections for renters, homeowners and student loan borrowers. Lawmakers have been unable to reach a deal on new stimulus measures despite months of negotiations.
—Greg Iacurci
CDC is expected to shorten quarantine time, and most health experts seem to approve
Health experts are welcoming a potential change in guidance from the U.S. Centers for Disease Control and Prevention, which is considering shortening its recommended two-week quarantine period for people who have come in contact with someone who tested positive.
Current CDC guidelines recommend that anyone exposed to a person with the coronavirus to quarantine at home for 14 days, even if they test negative for the virus. Dr. Henry Walke, the CDC's incident manager for Covid-19 response, said the agency is now finalizing new guidelines to recommend a quarantine period for seven to 10 days with a negative Covid-19 test, according to the Wall Street Journal. 
The shorter quarantine period could make it easier for people to follow the CDC's recommendations since most people were likely shortening the two-week period on their own, Dr. Scott Gottlieb, the former Food and Drug Commissioner, told CNBC on Wednesday.
A two-week quarantine also makes people reluctant to get tested for Covid-19 because a positive result could put them out of work, White House coronavirus advisor Dr. Anthony Fauci told ABC News' "Good Morning America" on Wednesday.
"They don't want to say, 'Well, I'm tested, and now I have to stay out of work, I may lose money, I'm not getting subsidized, and I might even lose my job," Fauci said.
—Noah Higgins-Dunn
New daily cases, hospitalizations surge in the hard-hit Midwest
The U.S. health-care system is struggling to combat the virus, but nowhere is the battle more intense right now than the Midwest.
Reuters reports that case rates are more than double that of any other region, according to the COVID Tracking Project, a volunteer-run data provider. From mid-June to mid-November, reported cases in the Midwest rose more than twentyfold.
As a result, many hospitals in the region are severely lacking in beds, equipment and clinical staff, including specialists and nurses, according to Reuters.
—Terri Cullen
White House considering lift of European travel restrictions, sources say
The White House may rescind entry bans for most non-U.S. citizens who recently were in Brazil, Britain, Ireland and 26 other European countries, according to a Reuters report citing five U.S. and airline officials.
The Trump administration is not considering lifting separate entry bans on most non-U.S. citizens who have recently been in China or Iran, the officials said.
The plan has the backing of White House coronavirus task-force members, public health and other federal agencies, but President Donald Trump has not made a final decision and the timing remains uncertain, Reuters reported.
The U.S. restrictions barring most visitors from Europe have been in place since mid-March, while the Brazilian entry ban was imposed in May. Trump implemented the first ban on most non-U.S. visitors from China on Jan. 31 and added Iran in February.
—Melodie Warner 
Why Pizza Hut fell behind in the pizza wars
Pizza Hut's U.S. business has benefited from consumers ordering pizza from home, but the 60-year-old brand known for its dine-in restaurants remains locked in a fierce battle with rivals that are offering new products and a range of delivery options, reports CNBC's Shawn Baldwin.
—Melodie Warner 
Rising cases contribute to more U.S. weekly jobless claims than expected
First-time filings for U.S. jobless claims totaled 778,000 for the week ended Nov. 21, topping the 733,000 expected by economists surveyed by Dow Jones and up from 742,000 the previous week, reports CNBC's Jeff Cox.
While the jobs market showed vulnerability to the increasing coronavirus spread, continuing claims for those collecting benefits for at least two weeks continued their decline, falling by 299,000 to 6.07 million.
—Melodie Warner 
U.S. vaccine chief Slaoui says up to 110 million people could be vaccinated by February
Operation Warp Speed advisor Moncef Slaoui said that up to 110 million people in the U.S. could be inoculated against Covid-19 during the first wave of immunizations by February of next year.
A coronavirus vaccine from Pfizer, which applied for an emergency use authorization from the Food and Drug Administration, could be approved within days after the agency's Vaccines and Related Biological Products Advisory Committee meets on Dec. 10. The U.S. will begin distributing vaccines for the first wave of people within 24 hours of authorization, Slaoui said.
"The U.S. population as a whole should be covered in terms of vaccine doses available somewhere between the month of May and the month of December" of 2021, Slaoui told "CBS This Morning." Slaoui added that the Operation Warp Speed team has "not yet been in contact" with President-elect Joe Biden's transition team.
—Noah Higgins-Dunn
Thanksgiving primed to be an 'accelerator event'
Many Americans are traveling to see family for Thanksgiving, despite pleas from public health officials not to do so. About 1 million Americans boarded planes this past weekend, the biggest crowds seen by the industry since the spring.
Videos and images of the packed travel hubs came days after the Centers for Disease Control and Prevention on Thursday urged Americans not to travel for the holiday. Dr. Henry Walke, the CDC's Covid-19 incident manager, said the agency is "alarmed" by the "exponential increase in cases and hospitalizations and deaths" caused by Covid-19.
Dr. Bill Schaffner, an epidemiologist at Vanderbilt University, said he's "very concerned" that people will not only "be giving thanks, but we'll also be giving the virus" as they gather for Thanksgiving this year. And that comes amid an already severe outbreak.
Dr. Megan Ranney, an emergency physician and director of the Brown Lifespan Center for Digital Health, said she's "pretty darn scared of Thanksgiving this year."
—Will Feuer
UPS to increase dry ice production, provide freezers for vaccine delivery and storage
UPS announced it will increase its production of dry ice and provide ultra-low-temperature portable freezers as it prepares to deliver a forthcoming coronavirus vaccine.
Pfizer's coronavirus vaccine, which could receive emergency authorization from the Food and Drug Administration by early December, requires a storage temperature of minus 94 degrees Fahrenheit. To help store and transport cold-chain products, such as frozen vaccines, UPS said it can now produce up to 1,200 pounds of dry ice per hour in its U.S. facilities.
The company said it will also partner with Stirling Ultracold to provide portable ultra-low freezers to smaller point-of-care facilities that may not have the freezers necessary to store the vaccines at low temperatures. ­
—Noah Higgins-Dunn
Here's what sort of travel volume airlines expect over Thanksgiving weekend
FDA clears 'new generation' of Covid antibody test
The Food and Drug Administration has authorized one of the first Covid-19 tests that measures the amount of neutralizing antibodies produced by the body's immune system after exposure to the virus.
The body's immune system produces antibodies to combat viruses and other foreign pathogens that invade the body. When it comes to Covid-19, it remains unclear how much protection antibodies provide and how long that might last, but this test could help researchers better understand the role of Covid antibodies in immune protection.
"It's going to broadly enable studies of immunity and the relationship between immunity and the level of antibodies that an individual has," Mt. Sinai Chief Commercial Innovation Officer Erik Lium, who helped develop the test, said in a phone interview, adding that the technology is already being used in studies.
—Will Feuer
Read CNBC's previous live coverage here:
Coronavirus updates: U.S. testing vaccine distribution plans, surgeon general urges people to 'hold on'
Copyright CNBCs - CNBC