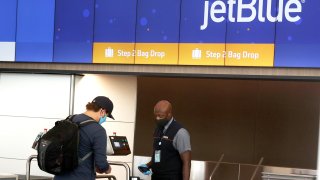 The coverage on this live blog has concluded.
Pfizer on Tuesday announced it started an early-stage clinical trial of an oral antiviral drug for Covid-19. Because it is taken by mouth, the drug could be used to treat newly infected Covid patients outside of the hospital. Pfizer already has an authorized vaccine in the U.S., but health experts have said the world will need an array of drugs and vaccines to end the pandemic.
Here are some of the biggest developments Wednesday:
The U.S. is recording at least 53,300 new Covid-19 cases and at least 940 virus-related deaths each day, based on a seven-day average calculated by CNBC using Johns Hopkins University data.
The following data was compiled by Johns Hopkins University:
Global cases: More than 124.55 million
Global deaths: At least 2.73 million
U.S. cases: More than 29.99 million
U.S. deaths: At least 545,027
American Airlines terminates $7.5 billion government loan after record debt sale
American Airlines said it terminated its $7.5 billion government loan from the Treasury Department after drawing down just $550 million, paying that amount back.
American earlier this month sold a record $10 billion in debt backed by its AAdvantage frequent flyer program and said it would use some of the funds to pay back the government loan.
In March 2020, Congress set aside $25 billion in government loans within the CARES Act for U.S. carriers struggling from a sharp drop in demand as the Covid-19 pandemic began.
"This prepayment is a shining example of the importance of the CARES Act," American CEO Doug Parker, who has been the most vocal airline CEO for two additional aid packages for airlines.
"American couldn't have borrowed $7.5 billion against our AAdvantage program during the uncertainty of 2020, but the CARES Act provided the bridge that allowed us to efficiently raise $10 billion through the public markets earlier this month," he said.
—Leslie Josephs
The SBA will more than triple Covid-19 Economic Injury Disaster Loans
The Small Business Administration said Wednesday that, starting April 6, small businesses and nonprofits can apply for up to 24 months of economic injury with a maximum loan amount of $500,000 through the SBA's Covid-19 Economic Injury Disaster Loan program.
Previously, the limit for such businesses was six months of economic injury with a maximum loan amount of $150,000.
The EIDL program offers 30-year fixed rate loans that provide capital for business expenses such as utilities, rent and health care. The loans are not forgivable.
In addition, the SBA said some loans approved prior to April 6 will be eligible for increases. The SBA will also reach out to businesses that already had such loans with more information about how to request an increase ahead of the April 6 start date.
—Carmen Reinicke
Fraud linked to Covid cost Americans $382 million
Americans have lost $382 million to fraud linked to the Covid pandemic, according to Federal Trade Commission data.
That figure likely understates the scope of coronavirus scams, since it's based on what consumers reported to the federal agency. More than 217,000 people have filed a Covid-related fraud report.
Scams targeting stimulus checks, unemployment benefits, Covid vaccines and virus cures have proliferated over the past year.
Complaints to the Consumer Financial Protection Bureau increased 54% last year relative to 2019, due largely to the pandemic. The bureau oversees common financial services like credit reporting and debt collection.
—Greg Iacurci
State attorneys general push Facebook, Twitter to yank anti-vaxxers from their platforms
A group of 12 state attorneys general called on Facebook and Twitter to remove misinformation from accounts spreading anti-vaccine ideas, CNBC's Salvador Rodriguez reports.
"Misinformation disseminated via your platforms has increased vaccine hesitancy, which will slow economic recovery and, more importantly, ultimately cause even more unnecessary deaths," the coalition of attorneys general wrote in a letter to Facebook CEO Mark Zuckerberg and Twitter CEO Jack Dorsey.
The letter comes a day ahead of Zuckerberg and Dorsey testifying in front of Congress.
—Fred Imbert
JetBlue calls back more flight attendants as travel demand picks up
JetBlue Airways is calling back more flight attendants, cutting their unpaid leaves of absence short, as travel demand rises more than expected.
The New York-based carrier told flight attendants on January-through-June leaves that they must report for training on May 22 if they haven't completed federal requirements while they were out.
"As Customer confidence in flying slowly improves and additional flying starts as a result of network updates, we must call Crewmembers awarded six-month Rest & Rejuvenation for January-June 2021," the airline said.
Earlier this month, JetBlue called some flight attendants on two-month leaves back one month early, CNBC reported.
—Leslie Josephs
Equal Pay Day highlights a $1 million salary shortfall in the wake of the pandemic
Wednesday, March 24 is Equal Pay Day, which marks just how far into the year full-time female workers have to work to earn what their male counterparts typically made in the previous year.
In the last year, the pandemic hit women particularly hard. Women suffered the majority of job losses and were disproportionately represented in the industries most devastated by Covid-19.
As a result, the gender inequality becomes magnified over time.
—Jessica Dickler
Investor Barry Sternlicht expects a 'frenzy' this summer as economy recovers from Covid
The U.S. economy is already showing signs of a robust recovery from the pandemic, billionaire investor Barry Sternlicht told CNBC.
The chairman and CEO of Starwood Capital Group pointed to what's happening in Miami, where his firm is based. OpenTable restaurant attendance data for Miami show many days in March have been busier than in 2019, before Covid.
One of the company's hotels in the area — 1 Hotel South Beach — was "ahead in February of this year, ahead of 2019," Sternlicht added in an interview on "Squawk Box."
"We see all of this pent-up demand coming back. It's going to be a frenzy this summer," he said.
—Kevin Stankiewicz
Fauci says AstraZeneca will likely issue modified statement on vaccine
White House Chief Medical Advisor Dr. Anthony Fauci said AstraZeneca will likely release a modified statement regarding its Covid-19 vaccine after the accuracy of the company's clinical trials results were thrown into question earlier this week.
The company on Monday announced the long-awaited results of its phase three clinical trial of the Covid-19 vaccine it developed with the University of Oxford, saying it was 79% effective in preventing symptomatic illness and 100% effective against severe disease and hospitalization. 
The next day, the National Institute of Allergy and Infectious Diseases released an unusual statement that said it was informed by the data and safety monitoring board (DSMB) overseeing the trial that the U.K.-based company may have included information in its U.S. results that provided an "incomplete view of the efficacy data."
The company is now working with the DSMB and "will likely come out with a modified statement," Fauci, director of the NIAID, told reporters during a White House news briefing on the pandemic.

–Berkeley Lovelace Jr.
Cruise lines to CDC: It's time to make a plan for resuming U.S. sailings
The trade group for the world's biggest cruise lines on Wednesday called on the CDC to allow a phased-in resumption of sailings from U.S. ports in early July, CNBC's Seema Mody reports.
It's been more than a year cruise lines suspended all U.S. sailings due to Covid.
The Cruise Lines International Association said its timeframe matches up with President Joe Biden's goal for when the U.S. will be "closer to normal."
With hotels, casinos and airlines starting to see a recovery in bookings since their pandemic lows, most cruise ships remain idle.
—Matthew J. Belvedere
Covid cases could spike in the U.S. if eviction ban is allowed to lapse
A recent study found that evictions lead to a spike in Covid cases, raising concern about what will happen if the national ban on evictions is allowed to expire in days.
During the pandemic, 43 states, plus Washington, D.C., temporarily barred evictions. Many of the moratoriums lasted just 10 weeks, while some states continue to prohibit the proceedings.
Researchers said allowing evictions to continue in these states caused as many as 433,700 excess cases of Covid-19 and 10,700 additional deaths in the U.S. between March and September, before the Centers for Disease Control and Prevention ban went into effect nationwide.
"When you're looking at an infectious disease like Covid-19, evictions can have an impact not only on the health of evicted families but also on the health of the broader community," said Kathryn Leifheit, one of the study's authors and a postdoctoral fellow at the UCLA Fielding School of Public Health.
The CDC has sent a proposal to the U.S. Office of Management and Budget for regulatory review, which experts say indicates that the health agency is taking steps to keep the protection in place.
A spokesman for the CDC said a decision to extend the ban hasn't been made.
—Annie Nova
Business travel won't likely return to 2019 levels until 2024 at the earliest, Moody's Investors Service says
Business travel volumes aren't likely to get back to 2019 levels before 2024 "at the earliest," Moody's Investors Service said. Up to 30% of business travel could be replaced by alternatives such as virtual meetings, the ratings agency said in a report.
The dearth of business travel will mean more pressure on full-service airlines, like Delta, American, United, British Airways and Lufthansa, which had been more reliant on business travelers before the pandemic, Moody's added. It estimated that pre-pandemic those air carriers had generated around one-third of their revenue from business travel.
Airlines have been competing over leisure travelers over the past year, as most business travel remains halted.
—Leslie Josephs
UK to create new agency to plan for, and prevent, future pandemics
The U.K. has set out plans to create a new national health security agency to plan for, prevent and respond to "future external health threats, such as infectious diseases."
The "UK Health Security Agency" (UKHSA) is to lead protection against future health threats and "will ensure the nation can respond quickly and at greater scale to deal with pandemics and future threats," the government announced.
There is a consensus among U.K. officials that the country needs to be better prepared to deal with any future pandemics, and what it called "external" health threats.
U.K. Health Secretary Matt Hancock said he wants "everybody at UKHSA, at all levels, to wake up every day with a zeal to plan for the next pandemic." Covid-19, he said, had "shown the challenges of protecting the nation's health are changing at an unprecedented pace, as new types of threats emerge."
—Holly Ellyatt
A 'growing proportion' of cases can be attributed to variants, CDC director says
As Covid cases rise in more than half of the United States, Centers for Disease Control and Prevention Director Dr. Rochelle Walensky said during a White House press conference Monday that a "growing proportion" of cases can be attributed to variants. If action is not taken now, "we will have another avoidable surge," she said.
In Europe, a third surge is being driven by the more virulent variant that was first discovered in the U.K., called B.1.1.7, leading parts of France, Germany and Italy to reintroduce lockdowns and restrictions. The strain, which is 50% more transmissible than SARS-CoV-2 and potentially more deadly, could become the dominant strain in the U.S. by the end of March. Walensky said the variant is estimated to be responsible for 9% of cases in New Jersey and 8% in Florida.
Two "homegrown" variants in the U.S. have appeared recently, such as the B.1427/B.1429 strain, which is primarily in California and West Coast states, and B.1.526, which originated in New York City and is spreading across the metropolitan area.
The variant that was first identified in South Africa, B.1.351, accounts for more than 200 Covid cases in the U.S. And there are more than 60 reported cases of P.1, the variant from Brazil, in the U.S., according to CDC data.
—Cory Stieg
Germany's Merkel admits 'mistake' and reverses Easter lockdown
German Chancellor Angela Merkel reversed plans for a coronavirus lockdown over Easter amid criticism from experts and officials over the move.
The plans had called for placing the country in a strict lockdown over the Easter holiday — which would have seen all shops and churches close from April 1-5.
"We must try to slow down the third wave of the pandemic. Nevertheless, it was a mistake," Merkel said during a press conference, according to German news outlet Deutsche Welle. "At the end of the day, I carry the last responsibility."
"It's now important for me to say so here. A mistake should be called a mistake and above all, it should be corrected, preferably in good time," she added.
It's a rare U-turn from a leader considered to be Europe's figurehead and seen as a steady hand during times of crisis. It's also a further signal that Germany, a country lauded for its initial response to the pandemic, is starting to feel the strain of difficult decision-making as the pandemic continues to present new challenges.
—Holly Ellyatt
GSK fires former Operation Warp Speed chief Moncef Slaoui over 'substantiated' sexual harassment claims
GlaxoSmithKline said its board had fired Moncef Slaoui as the chairman of the board of Galvani Bioelectronics because of substantiated claims that he had sexually harassed a woman while working at GSK several years ago.
Slaoui until January had managed Operation Warp Speed, the Trump administration's effort to develop Covid-19 vaccines.
"Dr. Slaoui's behaviours are wholly unacceptable," GSK said in a statement.
Galvani was formed by a partnership between GSK and Verily Life Sciences, which is a subsidiary of Google parent Alphabet.
GSK CEO Emma Walmsley, in a letter to employees, said of the accusations against Slaoui, "On a personal level, I am shocked and angry about all of this, but I'm resolute."
"I want to be clear that sexual harassment is strictly prohibited and will not be tolerated," Walmsley wrote.
—Dan Mangan
AstraZeneca missteps threaten to further erode trust in vaccine
U.S. health officials released a bizarre statement early Tuesday that AstraZeneca may have based its Covid-19 vaccine trial results on outdated information. The company's fumble was just the latest "self-inflicted wound" in a series of missteps that threatens to erode public trust in its shot, experts on public health and vaccines told CNBC.
"This is has been an endless rollercoaster of what I could call preventable communication flaws," said Isaac Bogoch, an infectious disease expert who has sat on numerous data and safety monitoring boards. "You've got to be open, you've got to be honest, you've got to be transparent. That includes the good news [and] that also includes the bad news."
While some Americans may not trust the vaccine, the data debacle is unlikely to impact the Food and Drug Administration's review of the shot once the company submits it for emergency use authorization, said Lawrence Gostin, a law professor and director of the World Health Organization's Collaborating Center on National and Global Health Law.
"AstraZeneca has got a good and safe vaccine that I think is going to help vaccinate America and the whole world," he said. He added, however, that that the number of "self-inflicted wounds" the company has had is "astounding."

—Berkeley Lovelace Jr.
Barry Sternlicht on his post-pandemic outlook for travel, real estate industries
Real estate mogul Barry Sternlicht joined CNBC's "Squawk Box" to discuss his expectations for the post-pandemic travel and real estate rebound.
EU toughens controls on coronavirus vaccine exports
The European Commission announced renewed plans to restrict the export of Covid-19 vaccines from the 27-member bloc.
EU officials are concerned that pharmaceutical firms will miss delivery targets in the coming months, and the commission wants to ensure that member states receive all the shots that have been promised for the second quarter.
"While our member states are facing the third wave of the pandemic and not every company is delivering on its contract, the EU is the only major OECD producer that continues to export vaccines at large scale to dozens of countries. But open roads should run in both directions," European Commission President Ursula von der Leyen said in a statement.
They will now take into consideration if the destination country restricts its own vaccine exports, or raw materials, and if the destination country's vaccine rollout is ahead or behind the EU.
—Silvia Amaro
Germany drops Easter shutdown plan
German Chancellor Angela Merkel dropped plans for a five-day shutdown over Easter, the Associated Press reported.
Merkel announced the reversal during a videoconference with Germany's 16 state governors on Wednesday, according to the AP.
The plan had raised many questions about logistical details and was criticized because there wasn't any public discussion before it was announced Tuesday.
—Melodie Warner
Vaccine passport developer explains how the tech could help reopen the world
iProov Founder and CEO Andrew Bud joined "Worldwide Exchange" to discuss the vaccine passport technology his company is developing, as well as the challenges that come along with proving someone's vaccination status.
—Melodie Warner
Lingering symptoms pose a 'really serious problem,' researcher says
A researcher who works with Covid long-haulers warned that lingering symptoms pose a serious problem.  
"We've been tracking around 60 distinct symptoms in this patient population," said David Putrino, the Director of Rehabilitation Innovation at Mount Sinai Hospital in New York. "We really just need to focus on helping these patients and spreading awareness that this is, indeed, a really serious problem associated with Covid."
A new study out of Northwestern University shows that 85% of long-haulers experienced four or more neurologic symptoms. Putrino said the prevalence of long Covid is forcing physicians to adjust even routine care.
—Emily DeCiccio
BioNTech vaccinations suspended in Hong Kong and Macao over packaging concerns
The governments of Hong Kong and Macao announced they were suspending BioNTech Covid vaccinations as a precautionary measure after a packaging flaw was found in a batch of the vaccine.
Hong Kong-listed shares of Shanghai Fosun Pharmaceutical Group, BioNTech's partner in the development and distribution of the Comirnaty Covid-19 vaccine in greater China, fell about 5% following the announcement.
The cities said BioNTech and Fosun Pharma are investigating the cause of the vial cap defect, adding that there is currently no reason to doubt the safety of the vaccine.
—Eustance Huang
Read CNBC's previous live coverage here:
Covid updates: CDC likely to extend eviction ban; Nearly 1 in 5 U.S. adults is fully vaccinated
Copyright CNBCs - CNBC