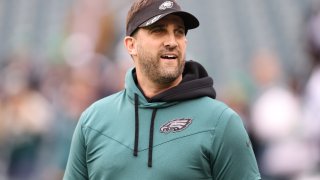 After the Philadelphia Eagles advanced to this year's Super Bowl, head coach Nick Sirianni set a simple goal for his players over their next two weeks of practices — be a little bit better today than you were yesterday.
The only obstacle in the way: "distractions from the outside world," Sirianni said at a press conference last week, two days after the Eagles defeated the San Francisco 49ers to set up a Super Bowl matchup against the Kansas City Chiefs on Feb. 12.
"Our job is to get a little better each day, to climb," Sirianni said. "We don't need to think about getting way down the road here, but how do we get a little better today?"
For Sirianni, who's in his second season as the Eagles' head coach, that's the key to achieving success. Small-scale focus adds up: Experts recommend breaking down ambitious goals — like winning the Super Bowl — into smaller, achievable tasks that can be sustained over a longer period of time.
As long as you stay focused, anyway. On average, returning to your original level of focus after a distraction takes more than 23 minutes, according to a University of California-Irvine study. 
Defeating workplace distractions is a three-step process that starts with acknowledging their existence, behavioral expert Nir Eyal told CNBC Make It last month. Break down the stigma by sharing your own struggles with distractions.
Then, make sure the entire team is on the same page schedule-wise. When is everyone collectively focused on specific tasks? When can people take time to ask questions or take breaks?
Lastly, focus only on what's most important.
In an office setting, for example, most emails and Slack messages — even ones from your boss — are probably less timely than we pretend they are, Eyal said. Unless you save them for after you've completed your current task, they're often just distractions.
"Nothing terrible happens," Eyal said. "We think these things are urgent, [but] there are very few emergencies that you have to respond to right now."
Sirianni, who appears to be carefully following that playbook, added a fourth observation last week: You might need to identify what most easily distracts you, or the people around you. List what you didn't accomplish in a given day, and then backtrack to see what specifically held you up.
"Everybody's distractions look different," Sirianni said.
Managing distractions isn't always easy, especially over lengthy periods of time. Luckily for Sirianni, he only needs his players to stay focused for one more game this season.
"It will be a challenge," he said. "But ... when you're playing for something that's bigger than yourself, because of the relationships that you have with your teammates and your coaches, then you're willing to sacrifice things."
Sign up now: Get smarter about your money and career with our weekly newsletter
Don't miss: Eagles star Lane Johnson used to throw up from anxiety before games—how he put his 'pride aside' to find help
Copyright CNBCs - CNBC