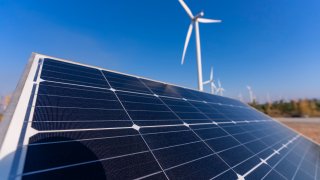 CIOs are becoming increasingly more critical for companies to meet their ESG goals.
Rising environmental regulations, cost savings, and other financial benefits that come from operational efficiencies tied to sustainability are driving ESG forward.
The biggest technological challenge for organizations working to embed ESG into their operations is a lack of quality data.
Environmental, social and governance initiatives will keep many CIOs busy in 2023, as organizations look to enhance IT and operational efficiency and comply with regulations.
"While chief sustainability officers and other leaders have spearheaded environmental sustainability efforts in the past, CIOs are now essential in meeting those goals," said John Mennel, managing director, purpose, ESG and sustainability leader at consulting firm Deloitte.
"Accordingly, CIOs face increasing opportunities — and responsibilities — to lead transformation, particularly in achieving net-zero, or carbon negative, climate sustainability objectives," Mennel said. They are increasingly called upon to ensure that technology related to environmental sustainability is deployed aggressively, while playing an active role in minimizing the environmental impact of existing and new infrastructure and technology, he said. 
With IT, and data centers specifically, being one of the most carbon-intensive aspects of business today, "the pressure coming from consumers, investors and regulators alike will continue to drive ESG and corporate sustainability issues into the minds of executives," said Dan Versace, research analyst, ESG Business Services at research firm International Data Corp.
"This, coupled with opportunities created through sustainable operations, will renew the business case and strategic nature of ESG to push organizations to continue their investment in the face of economic and geopolitical instability," Versace said.
Reducing the carbon footprint of IT operations
There are a number of drivers moving ESG forward. Among them: Rising environmental regulations, cost savings, and other financial benefits that come from operational efficiencies tied to sustainability, said Abhijit Sunil, senior analyst at Forrester Research. "ESG will remain a top priority for IT next year across industries," he said.
Providers of data center technologies and cloud services have told Forrester that they are seeing an increased trend of sustainability-related questions in requests for proposals, Sunil said. "Not only are the questions increasing in complexity and detail, but they carry a higher weight for decision making," he added.
The firm's research of IT executives showed that the top contributors to IT's carbon footprint are from the data center and cloud services, as well as end-user devices and peripherals. Forrester said for technology executives some of the top priorities in 2023 for ESG will include implementing software platforms for measuring and monitoring environmental footprint and digitizing operations and optimizing user devices.
Others include optimizing data center operations; migrating to and taking advantage of sustainability benefits of the public cloud; and working with suppliers to help reduce the carbon footprint in the supply chain.
"Some of these are initiatives that can specifically be [driven by] the technology leadership," Sunil said. For example, IT leaders can adopt software tools that help automate and report complex carbon metrics.
One area of focus will be the need for reporting on ESG progress, as required by regulations. A 2022 report by research firm Info-Tech Research Group noted that in 2023 it's expected public companies will be required to report on their carbon emissions by financial regulators in places such as the U.S., UK, European Union and Canada.
"Many organizations are still behind on this issue, even though various regulators around the world are either implementing those reporting requirements or moving closer to doing so," the report said. The research is based on a survey of 813 IT professionals worldwide, and showed that less than one quarter said their organization can accurately report on the impact of its ESG initiatives.
Nearly half of the respondents said their organization could not accurately report its carbon footprint. IT leaders will need to improve in this area, Info-Tech said.
Efforts appear to be underway to enhance ESG reporting strategies. IDC has predicted that by 2024, 30% of organizations will advance their ESG metrics and data management beyond reporting capabilities to generate sustainably driven cost and competitive advantages. By 2024, IDC said, 75% of large enterprises will implement ESG data management and reporting software as a response to emerging legislation and increased stakeholder expectations.
Getting data for tech-focused ESG efforts
The largest and most important technological challenge facing organizations working to embed ESG into their operations will be the lack of quality data, Versace said. The data needs facing technology executives can be categorized into two main groups, he said. The first is how and where they source ESG-related data that can be used in decision making. The second is what processes they have or need to ensure that this data is trustworthy and auditable.
"Many executives in this space will likely undergo an ESG audit within the next 12 to 18 months, as governmental and regulatory bodies push for more transparency in ESG performance," Versace said.
There are plenty of existing and emerging technologies that can feed into ESG, according to experts. Based on feedback Forrester is getting from clients and vendors, the most prominent include blockchain, digital twins, artificial intelligence/machine learning, edge computing, the Internet of Things (IoT), processor technology advancements, thermo-optimized data centers, augmented reality/virtual reality and automation.
These can be used to support several use cases, Forrester noted. For example, companies are using digital twins — digital representations of physical things' data, state, relationships and behavior — to combine timely operational data from IoT sensors, business logic, analytics and machine learning to model and predict the optimal use of physical things such as pumps, motors, windmills and trains.
The cloud provides a big opportunity for companies to be more eco-friendly. "Companies that move from on-site data centers to the cloud report energy savings of 80%," Mennel said. "Moving to the cloud, picking a provider that is committed to zero/carbon neutral footprint, and adopting efficient migration approaches can be critical for CIOs to consider in meeting environmental sustainability goals."
Technology executives will continue to prioritize sustainability initiatives despite impeding economic volatility, Sunil said. "Encouragingly, very few leaders globally told us that even in the wake of a recession, they would alter any already set goals for carbon footprint reduction," he said.
Copyright CNBCs - CNBC