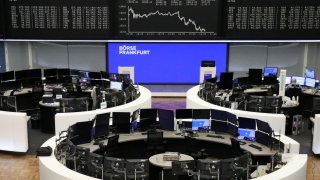 This is CNBC's live blog covering European markets.
European markets nudged higher on Friday as stocks attempted to rebound from Thursday's selloff, with the outlook for monetary policy still firmly in focus.
The pan-European Stoxx 600 index provisionally closed 0.35% higher, with travel and leisure stocks adding 1.2% to lead gains as most sectors settled in positive territory.
The European blue chip index closed lower in the previous session as global market sentiment soured after disappointing December retail sales figures out of the United States, which resurfaced concerns about a possible recession.
Investors have grown increasingly concerned that the Federal Reserve will continue to hike interest rates despite signs of slowing inflation.
Both the Dow Jones Industrial Average and the S&P 500 notched a third straight day of losses on Thursday, but were cautiously higher in morning trade.
Shares in Asia-Pacific were mostly higher on Friday as investors digested Japanese inflation data, which showed nationwide core consumer prices rose by an annual 4% in December, the fastest inflation rate since 1981.
But global stocks tracked in the MSCI World Price Index were on track for their first weekly loss of the year.
Friday marked the conclusion of the World Economic Forum in Davos, Switzerland, where policymakers and CEOs were discussing the key issues surrounding the economy, financial markets, geopolitics and climate change.
CNBC spoke to a host of delegates on the final day of the summit, including former Treasury Secretary Larry Summers, European Central Bank President Christine Lagarde, Bank of Japan Governor Haruhiko Kuroda, French Finance Minister Bruno Le Maire and International Monetary Fund Managing Director Kristalina Georgieva, among others.
European stocks close 0.35% higher
European stocks were cautiously higher Friday, provisionally ending the session up 0.35% as a week of reflection on the state of the global economy wrapped up in Davos.
Germany's DAX index rose 0.76%, France's CAC 40 was up 0.6% and the U.K.'s FTSE 100 nudged up 0.3%.
But overall the pan-European Stoxx 600 index fell through the week, by around 0.3%, failing to make back gains from Thursday's sell-off as weak earnings and U.S. economic data as well as hawkish remarks from central bankers soured sentiment.
— Jenni Reid
Stocks on the move: Cellnex up 8.9%, Close Brothers down 10.3%
Spanish telecoms firm Cellnex rose to the top of the Stoxx 600 index in afternoon trade.
The stock was up 8.9% after news website Okdiario reported Boston-based American Tower and asset manager Brookfield were looking into a takeover bid.
British merchant bank Close Brothers remained the worst performer, down 10.3% after it warned of weaker results in a trading update.
— Jenni Reid
France says it's diverging with Washington on Beijing ties
 The European Union does not see eye-to-eye with the United States when it comes to opposing China, the French finance minister told CNBC Friday.
Speaking at a panel at the World Economic Forum in Davos, Switzerland, looking at the economic outlook, France's Bruno Le Maire said: "China cannot be out, China must be in. This is the difference of view we have between the U.S. and Europe."
"We don't want to oppose China, we want to engage with China, we want China to obey by the same rules," he said, "this is our policy."
The United States has taken a confrontational approach with China particularly when it comes to the technology sector. The European Union, however, has looked at striking a balance between its political friendship with the U.S. and its economic ties with China.
S&P and Nasdaq open higher in final trading day of the week
The S&P 500 and Nasdaq Composite opened higher on Friday and were on pace to post a positive week.
The broad market index advanced 0.26%, while the tech-focused stock index rose 0.67%.
The Dow Jones Industrial Average fell 28.9 points, or 0.08%.
— Tanaya Macheel
Larry Summers: The 'greatest tragedy' would be if central banks don't finish the job on inflation
Central banks not finishing what they have started in bringing inflation back to Earth would be the "greatest tragedy" for the global economy, according to former U.S. Treasury Secretary Larry Summers.
Speaking on a CNBC-moderated panel at the conclusion of the World Economic Forum in Davos, Switzerland, on Friday, Summers said economists and business leaders at the summit were experiencing an "exhilaration of relief" but cautioned policymakers against resting on their laurels.
- Elliot Smith
ECB president: Fiscal and monetary policy must work in conjunction with one another
Christine Lagarde, president of the ECB, discusses European fiscal policy and the "subsidy race."
In hindsight monetary policy was too expansionary, Swiss central bank chair says
Everybody underestimated inflationary pressures in 2021 and in hindsight monetary policy was a bit too expansionary, according to the Swiss National Bank Chairman Thomas Jordan.
He discussed inflation in Europe as part of a WEF panel on the future of monetary policy.
— Hannah Ward-Glenton
Stocks on the move: Avanza up 8%, Close Brothers down 12%
Shares of British merchant bank Close Brothers plunged more than 12% in early deals after a trading update revealed subdued performance at its subsidiary Winterflood Securities.
At the top of the Stoxx 600, Swedish stockbroker Avanza climbed 8.5% after beating fourth-quarter earnings expectations and proposing a dividend of 7.5 Swedish krona ($0.73) per share.
- Elliot Smith
British retail sales drop 1% in December
U.K. retail sales unexpectedly shed 1% on the month in December, the latest data from the Office of National Statistics (ONS) showed Friday, as firm inflation tightened the appetite of Christmas shoppers.
A Reuters poll of economists had predicted a 0.5% monthly increase in retail sales ahead of the end-year festivities.
The December drop compounds the declines of November, when retail sales lost a revised 0.5% on the month. Last month's sales were a sharp 5.8% below the transactions of December 2021, the ONS estimates.
The U.K. has been trying to rein in inflation, which most recently softened for a second consecutive month, but still came in at 10.5% in December.
Here are the opening calls
Britain's FTSE 100 is set to add around 35 points to 7,782, Germany's DAX is expected to gain around 80 points to 15,000 and France's CAC 40 is seen around 43 points higher at 6,995.
CNBC Pro: This biotech stock is up 10% in the last month — and analysts expect it to rise a further 118%
A biotechnology company that develops and manufactures enzymes for pharmaceuticals was among the top performers in the sector last month, with its stock up by more than 10%.
All eight Wall Street analysts covering the stock have a buy rating on it, with their median price target pointing to a 118% potential upside over the 12 months.
CNBC Pro subscribers can read more here.
— Ganesh Rao
CNBC Pro: A weaker dollar is great news for copper, asset manager says — and names 3 stocks to buy
The U.S. dollar has been sliding in recent months and that's good news for commodities, said Steven Glass of Pella Funds Management.
He's especially bullish on copper, naming three stocks to buy.
CNBC Pro subscribers can read more here.
— Weizhen Tan
CNBC Pro: Morgan Stanley says China's market will be the biggest winner in 2023 and these stocks stand out
Wall Street is bullish about China's reopening. But Morgan Stanley is going even further: It's predicting that Chinese stocks will beat global markets this year.
The investment bank named its top stock picks, including one tech giant it gives around 30% upside potential.
Pro subscribers can read more here.
— Zavier Ong
Copyright CNBCs - CNBC