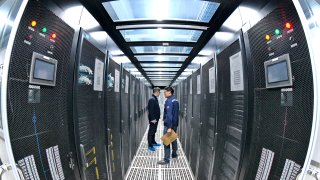 Tech companies are laying off tens of thousands of employees in anticipation of slower growth and a more cautious enterprise market, but overall tech spending is not forecast to decline in 2023.
Tech spending will be below the Covid peak, and below the historical average, according to a recent Citi survey of IT executives, but it will still grow modestly year over year.
Cybersecurity will be the most resilient spending item, though even it will see buyers looking to consolidate vendors as a way to save cost.
A recession is coming, based on our own CFO Council surveying and other recent reads of the C-suite including a new PWC CEO survey which found the most pessimistic annual outlook in over a decade.
The good news?
To many executives, including Wall Street bank chiefs, even the ones who say a recession is in the cards, it isn't looking like a Fed-induced disaster scenario.
Growth will slow and a "mild" recession is the expectation, and C-suites are preparing to manage through it rather than expecting to be placed in the position of responding to a crisis. In one particular way, the positioning this year is giving CFOs an even bigger role than they've had over the past decade of economic growth. 
That's according to Nikesh Arora, the CEO of cybersecurity company Palo Alto Networks, interviewed on Monday by CNBC at Davos.
"[Companies] are not imaging a draconian outcome for their own spending, their own budgets, and in that context," Arora told CNBC's Sara Eisen at Davos 2023.
More scrutiny of tech budgets, though, led by the CFO, is occurring, and that is a significant change from recent times during which the approach has tilted closer to a "blank check" for tech line items.
"I have said it and will repeat myself … repetition doesn't spoil the prayer," Arora said. "The reemergence of the CFO. For many years in this hyper-growth environment, people were spending quickly to drive growth and CFOs were having to call them and say 'why are you spending so much money?' Now everything is going through CFO review, which means it is taking longer. We've talked about this in the past, which means you have to get ahead of it sooner."
Arora said cybersecurity, his firm's niche, is in the best spot. He's talking his book, but according to a Citi survey of chief information officers, he is also correct. The Citi CIO Survey released on January 12, forecasts a slower growth rate for tech spending — well below the Covid peak and below the historical average, and down from Citi's last forecast in the Fall — but still representing a modest rate of growth.
The Citi survey of top tech officers also forecasts cybersecurity to be the top spending item among tech budgets, though it too, will decelerate.
"Most CISOs [chief information security officers] do not see security spending going down. They don't see it going up, but they're sticking to what they're expected to spend," Arora said.
"Cybersecurity remains by far the highest CIO priority," Citi's team concluded from its survey work. But it is also the most popular sector for vendor consolidation, it said.
Cyber budget growth is forecast at 6% for calendar year 2023 (down from 7% previously forecast), and holding the same roughly 8% proportion of IT budgets as last year — in dollar terms, that's about $25 million.
This "sector resilience," in Citi's word, with cloud security leading among priorities, is unsurprising. Recent years' increase in ransomware attacks and other forms of hacking, as well as increasing regulation from states and the federal government, have also raised the profile of data security as a top priority among more firms within their budgeting processes, especially health care and financial services companies housing sensitive data.
The deceleration is real, but "milder relative to investor fears of precipitous contraction and spending compression in the space," Citi wrote in its report. And while cyber budgets are slowing and not fully recession-immune, it added, "6% spend growth still appears relatively and objectively resilient amid worsening macro/demand/procurement conditions fueling deal elongation, budget cuts and RIFs[reduction in force]."
Another reason for the commitment to tech spending comes from what companies learned from the 2008 financial crisis, as deep cuts in tech investments were correlated with companies falling behind competitors once the economy rebounded.
Copyright CNBCs - CNBC