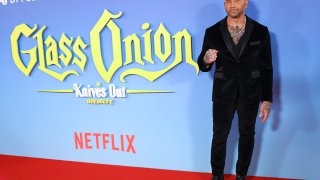 Dave Bautista is keeping busy: he is currently starring in "Glass Onion", has the M. Night Shyamalan film "Knock at the Cabin" coming next month and will appear in "Guardians of the Galaxy Vol. 3" in May.
But in a recent interview with GQ magazine, the 53-year-old former professional wrestler says he doesn't care about being a movie star on the level of Dwayne Johnson — one of the highest paid actors in Hollywood.
"I never wanted to be the next Rock," he told the magazine. "I just want to be a good f---ing actor. A respected actor." 
Bautista, who has worked with a slew of A-list directors including Denis Villeneuve ('Dune'), Rian Johnson ('Glass Onion'), Sam Mendes ('Spectre') and James Gunn ('Guardians of the Galaxy'), is careful about the roles that he takes.
For him, the most important thing is to get out of his comfort zone and continue improving his craft.
"I'm afraid of things," Bautista said. "I'm nervous about things. But I can force myself to do things that make me uncomfortable, because I know I'm not gonna get anywhere if I don't. I may cringe after the fact, but I'm not going to let that fear hold me back." 
In fact, Bautista says he feels "relief" that he will no longer be playing Drax the Destroyer in Marvel's "Guardians" franchise following the series' upcoming installment, both because of the physical demands of the role and because he wants to work on more serious films
"I'm so grateful for Drax. I love him," he said. "But there's a relief [that it's over]. It wasn't all pleasant. It was hard playing that role. The makeup process was beating me down. And I just don't know if I want Drax to be my legacy—it's a silly performance, and I want to do more dramatic stuff." 
Whether leaving his most iconic character behind dings his marketability as a star or not, Bautista isn't concerned.
"Honestly, I could give a f--- [about being a movie star]," he said. "I don't care about the spotlight, I don't care about fame. I just want to be a better actor. I want respect from my peers. I don't need accolades—I really don't, man. It's about the experience, about knowing that I accomplished something." 
Sign up now: Get smarter about your money and career with our weekly newsletter
Don't miss: 'Game of Thrones' star Kit Harington recalls getting his big break at 21: 'What do I do now?'
Copyright CNBCs - CNBC