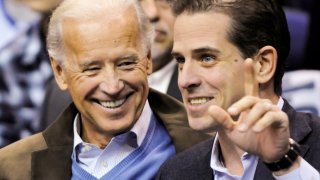 President-elect Joe Biden's son Hunter Biden revealed he is under investigation by the top federal prosecutor in Delaware for his taxes.
The probe was disclosed five days before Joe Biden is expected to be formally selected as the next president by the Electoral College.
President Donald Trump was impeached in 2019 for pressuring Ukraine to investigate the Bidens as he withheld military aid to that nation.
President-elect Joe Biden's son Hunter Biden revealed Wednesday that he is under investigation for his "tax affairs" by federal prosecutors in Delaware.
The probe was disclosed five days before Joe Biden, a former senator from Delaware, is expected to be formally selected as the next president by the Electoral College.
Hunter Biden said in a statement, "I learned yesterday for the first time that the U.S. Attorney's Office in Delaware advised my legal counsel, also yesterday, that they are investigating my tax affairs."
"I take this matter very seriously but I am confident that a professional and objective review of these matters will demonstrate that I handled my affairs legally and appropriately, including with the benefit of professional tax advisors," Hunter Biden said.
Hunter Biden, a lawyer whose late brother Beau Biden was Delaware's attorney general before he died, did not reveal any other details of the probe.
Kim Reeves, a spokeswoman for David Weiss, the U.S. attorney for Delaware, in an email said, "Per DOJ [Department of Justice] policy, we cannot comment on an ongoing investigation."
CNN later reported Wednesday that it had contacted Hunter Biden's lawyer and his father's presidential campaign last week seeking comment on the investigation, which CNN reported is "examining multiple financial issues, including whether Hunter Biden and associates violated tax and money laundering laws in business dealings in foreign countries, principally China."
CNN reported that the investigation had been "largely dormant in recent months" due to Justice Department rules that bar taking legal actions in cases that could affect an election.
Publicly available documents show Hunter and his ex-wife Kathleen Buhle had an Internal Revenue Service lien against them for taxes not paid, possibly including interest and penalties, totaling $112,805.09, until this past March. The documents, filed by the IRS, show the lien was placed in November 2019. It is not immediately clear if the lien has anything to do with the investigation.
Separately, Hunter Biden had individual income tax liens of almost $453,890 placed on him by the District of Columbia on July 9, related to taxes owed for 2017 and 2018, according to a document on file in D.C. Recorder of Deeds Office. Those liens were cancelled six days later, records show.
The District of Columbia's income tax rate is 8.95 percent for income above $1 million annually, plus about $85,000.
The New York Post reported in October that the FBI seized both a computer and a hard drive believed to be Hunter Biden's in December 2019, after the owner of a computer repair shop in Wilmington, Delaware, notified federal authorities he had possession of those items.
The store owner also gave a copy of the hard drive to a lawyer for Rudy Giuliani, the personal attorney for President Donald Trump, the Post reported. Giuliani then gave a copy of the hard drive to the newspaper.
In a statement Wednesday, the transition team of Democrat Joe Biden and Vice President-elect Kamala Harris said, "President-elect Biden is deeply proud of his son, who has fought through difficult challenges, including the vicious personal attacks of recent months, only to emerge stronger."
The White House and the U.S. Department of Justice, which oversees U.S. attorneys' offices, declined to comment.
Hunter Biden has long struggled with drug addiction and other personal issues.
Earlier this year he faced being held in contempt of court for failing to disclose financial information to an Arkansas woman who said she bore his child.
Lawyers for that woman, Lunden Alexis Roberts, said in January that Hunter Biden failed to meet a court-ordered deadline to turn over documents dating back five years as part of her request for child-support payments for her then-16-month-old child.
Those documents included "a list of all sources of income," copies of tax returns, and a list of companies in which he has an ownership interest, court records showed.
Hunter Biden, who initially claimed he never had sex with Roberts, later stopped contesting that he was the child's father.
He settled the case with Roberts in March by agreeing to pay her an undisclosed amount each month for child support, and by agreeing to maintain health insurance for the child. He also agreed to pay Roberts an undisclosed sum of money, which apparently also included her attorney's fees and costs.
During the presidential election, Republican Trump and his allies made Hunter Biden a focal point of political attacks, particularly in connection with his business dealings in Ukraine and China.
Hunter Biden and his father have denied any wrongdoing in relation to his business overseas, which Joe Biden says that he played no role in.
Trump, who refuses to concede that he lost the election, last year was impeached by the House of Representatives for withholding congressionally appropriated military aid for Ukraine as he pressured that nation's new president to investigate the Bidens. Trump was acquitted by the Senate after a trial.
In an interview last week, Joe Biden told CNN that after he becomes president, he will not try to influence decisions by the Justice Department.
"It's not my Justice Department. It's the people's Justice Department," Biden said.
He also said that the department will have "independent capacity to decide who gets prosecuted and who doesn't."
The disclosure of the investigation of Hunter Biden comes as Trump's company, the Trump Organization, is under criminal investigation by the Manhattan district attorney's office for how it accounted for hush money payments to women who said they had sex with Trump. The president has denied having sex with either woman, porn star Stormy Daniels and Playboy model Karen McDougal.
The DA's office also might be investigating possible tax crimes, as well as bank and insurance fraud, court filings suggest.
Trump is currently fighting efforts by DA Cyrus Vance Jr. to obtain eight years worth of the president's tax returns and other financial records from his longtime accountants.
At the same time, the New York attorney general's office is conducting a civil investigation into possible misstatement of the value of real estate owned by the Trump Organization. The president's son Eric Trump recently was questioned by investigators from the AG's office as part of that probe.
Trump's daughter Ivanka Trump, who is a senior White House advisor, was deposed last week for a lawsuit filed by the Washington, D.C, attorney general's office. That AG accuses the Trump Organization, the Trump Inaugural Committee and the Trump International Hotel in that city of "blatantly and unlawfully abusing nonprofit funds to enrich the Trump family" in connection with spending on Trump's 2017 inauguration.
Ivanka Trump and her other adult brother Donald Trump Jr. narrowly avoided being criminally charged by Vance's office in 2012 in connection with the marketing of the Trump SoHo hotel in New York, according to an investigation by The New Yorker, ProPublica and WNYC. Vance's office had eyed whether prospective buyers were misled about the project's success.
The outlets reported that Marc Kasowitz, a lawyer for Ivanka and Donald Jr., had donated $25,000 to Vance's reelection campaign and directly appealed to him that the case should be dropped.
-- Additional reporting by Mike Calia, Tucker Higgins and NBC News
Copyright CNBCs - CNBC