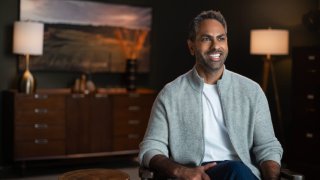 Ramit Sethi, self-made millionaire, author of "I Will Teach You to Be Rich"and host of upcoming Netflix show "How to Get Rich," knows that you're probably not going to accidentally get rich. 
Building wealth often means making sacrifices and tough decisions on how to invest your money and time. Putting easy-to-follow guidelines in place for yourself can make those choices go quicker and help you stick to your wealth-building goals.
"Take all the decisions that you have to make in a given month — should I buy this? Should I buy that? Should I return this?" Sethi tells CNBC Make It. "Roll them up into a few simple money rules that make it really easy to make decisions."
It's important to note that these rules need to be personalized so you're spending on things that truly matter to you or are necessary for your situation. 
Sethi's own money rules can give you some inspiration if you're not sure where to start.
A straightforward rule: Save and invest a portion of all income
One of Sethi's money rules is fairly common financial advice: Save and/or invest a portion of all your earnings. Making this one of your money rules can help you build your emergency savings and eventually get rich — or achieve another financial goal.
"Some of my money rules are straightforward financial rules like save 10%, invest 20%, very straightforward," Sethi says. "You can adjust the numbers for your own situation."
A flexible rule: 'Unlimited spending' in one category
"One of my personal money rules is unlimited spending on health, on books and on friends' fundraisers," Sethi says. "Those are important to me."
Your own rule might be unlimited spending on fitness classes or even your morning lattes if that's what is vital to you, or if it brings more joy or comfort into your life. Sethi says he always books business class for flights longer than four hours, as another example.
"The rule is not restrictive, it's actually empowering," Sethi says. "Is there something in your life where you will simply always say yes? If so, make sure you can afford it."
The point isn't that you rack up credit card debt splurging on these things, but that you make enough room in your budget to be lenient with your spending in certain categories.
A lifestyle rule: Remember the financial side of personal decisions
Your money rules aren't just about finances. Investing your time and energy in certain activities and relationships can become money rules. For Sethi, that meant committing himself to marrying the right person. 
"[Marriage] is the single biggest financial decision you will ever make," Sethi says. "So you've got to be thoughtful about that."
Alternatively, you might make a money rule that allows you to deepen your existing relationships and spend more time with your loved ones.
"It might be 'pick up my kids from school every afternoon,'" Sethi says. "That can be a money rule because it means you need to have a flexible schedule, you need to be earning enough to be able to do that. That's a beautiful money rule."
DON'T MISS: Want to be smarter and more successful with your money, work & life? Sign up for our new newsletter!
Check out: Ramit Sethi on the secret to asking for a raise — and getting it
Copyright CNBCs - CNBC