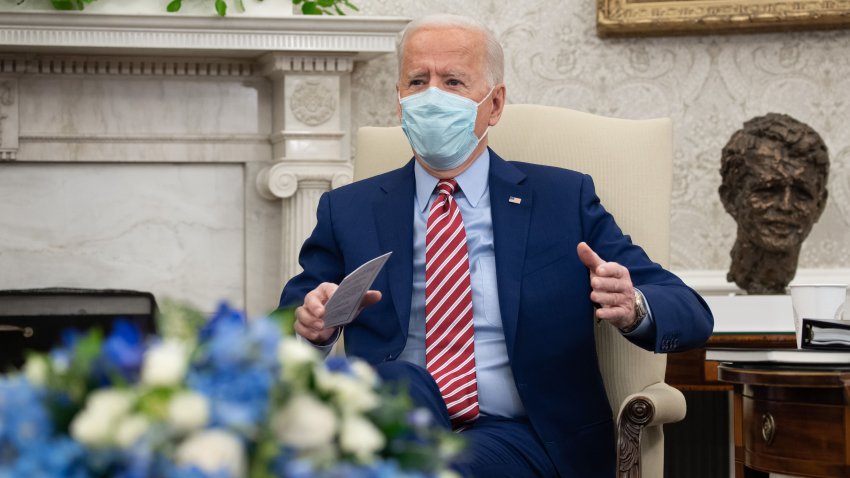 President Joe Biden is facing a daunting task.
There are just over 10 million Americans currently unemployed, with 4 million of those facing long-term unemployment.
In addition, 4.3 million have left the labor force since the start of the coronavirus pandemic. They aren't counted in the unemployment rate, which only includes those who are actively looking for work in the past month or have been furloughed.
"It's quite remarkable that he is facing an historic economic downturn in the same way that President Obama did," said Bankrate senior economic analyst Mark Hamrick.
"Who could have imagined that would have been the case over a year ago?"
More from Invest in You:
How to land one of the best jobs in America
President Biden pledges to fix the racial wealth gap. Here are his plans
Here's how to boost your income and find creative ways to make money
Biden is hoping his $1.9 trillion stimulus package will help. Treasury Secretary Janet Yellen recently predicted the U.S. could return to full employment in 2022 if the measure is passed.
However, former Treasury Secretary and Obama National Economic Council Larry Summers has warned that the size of the legislation could lead to unexpected inflation.
Here's what the president has proposed, not only to address the near-term crisis but long-term issues as well.
Covid-relief plan
Biden's stimulus plan, currently being debated in Congress, calls for $1,400 in direct payments to most Americans and an increase in the child tax credit for one year.
Biden also wants to increase the per-week unemployment benefit to $400 and extend it through September. A draft proposal issued by House Democrats ends the benefits on Aug. 29.
The fate of a $15 minimum wage, in the president's proposal, is unclear. The Senate left it out of their version. However, House Speaker Nancy Pelosi, D-Calif., said it will be in the House package, which will then be sent to the Senate.
Pelosi said she expects the House plan to be signed into law by the end of the month.
Looking long-term
During the campaign, Biden made a number of promises to bring back jobs. Hamrick believes the president won't waste time in addressing structural problems within the economy.
"He will move quickly knowing that the clock is ticking with respect to political opportunity," he said.
Indeed, the president met with lawmakers in the Oval Office on Thursday to talk about an infrastructure package.
Warning that China is aggressively outpacing the U.S. on infrastructure, Biden said, "We just have to step up."
Rebuilding the country's roads and bridges, as well as electricity grids and universal broadband networks, will also mean new jobs. The same goes for the implementation of clean energy.
"We need a Rooseveltian public works plan in this country right now," said Marc Morial, president and CEO of the National Urban League.
"American businesses will benefit from a strong infrastructure and stimulus program," he said. "Most of the work that gets done in infrastructure gets done by the private sector, the people that make steel, concrete, lumber."
The key is that the plan is targeted and that there be investments in Black and Brown communities, he said. It should include water systems, community centers, libraries and expanding broadband access. A percentage of the work should go to Black and Brown workers as well, he said.
"There has to be an explicit intentionality of what ends up in the [infrastructure] bill in order for these communities to be able to benefit," Morial said.
Other proposals from Biden include universal paid sick days and 12 days of paid family and medical leave. In addition, he's called for the administration to invest $400 billion in buying American-made goods and $300 billion in research and development and breakthrough technologies.
While these are all proposals at this point, Biden and Democrats know their success in the midterm elections is based upon their ability in healing the economy, Hamrick said.
"They want to have something they can brag about rather than something they can make excuses for," he said.
SIGN UP: Money 101 is an 8-week learning course to financial freedom, delivered weekly to your inbox.
CHECK OUT: 3 money moves helped me save $100,000 by age 25, says Break Your Budget blogger via Grow with Acorns+CNBC.
Disclosure: NBCUniversal and Comcast Ventures are investors in Acorns.
Copyright CNBCs - CNBC