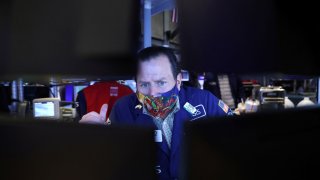 (This article was sent first to members of the CNBC Investing Club with Jim Cramer. To get the real-time updates in your inbox, subscribe here.)
What I am looking at December 22, 2021
Does Biden have 500 million tests? Where did they come from? What manufacturer?
Barclays goes $185 to $195  on Nike (NKE)...keeps buy on it...
Stifel goes hold to buy on Darden (DRI)... compelling covid winner b/c of scale...
Citi  likes Apple (AAPL) on augmented reality…$170 price target goes to $200... resilient too... Morgan Stanley's Huberty says supply chain improving, could lead to significant upside surprise?...
Loop upgrades Williams-Sonoma (WSM)... calls it the premier multi-channel omni brand... I really like this call...
Bank of America starts Vulcan Materials (VMC) with  a buy rating...
Abbot (ABT)... price target goes from $134 to $150 at RayJay... says durable enough to withstand covid pressures...Trust name
General Mills (GIS)... price target goes from $70 to $73 at Citi... cites mixed Q, but raises price target anyway?...
Caterpillar (CAT) hold to buy at Bernstein.. says concerns about the cycle are overblown, benefits from looser China policy...
Commodity prices are soaring corn at $6 up 36%... sustained ag cycle?... Brazilian problem.... coffee up huge 67%... plus in Europe nat gas at $60 per mmbtu's.. We in the U.S. are at $3 and change! ... yet Bernstein takes Agco (AGCO) from buy to hold…
UBS AND Baird boost PTs on Walgreens Boots Alliance (WBA) –covid boosters... UBS cites positive momentum... the valuation gap between CVS and WBA is too great?
Evercore ISI  names Salesforce (CRM) as top pick and suggests ignoring last Q, because cash flow is stable... software companies are the arms dealers for the digitizing of the economy, no more high multiples on sales?...They like ServiceNow (NOW), Microsoft (MSFT), Salesforce (CRM), Intuit (INTU)… last one is really unsung...
Mortgage applications decline ever so slightly... have to stay close to these because we need housing to stay alive here...
Bumble (BMBL)... Loop cuts PT $45 to $35 citing omicron issues... company came on Mad recently and refuted that supposition...
The CNBC Investing Club is now the official home to my Charitable Trust. It's the place where you can see every move we make for the portfolio and get my market insight before anyone else. The Charitable Trust and my writings are no longer affiliated with Action Alerts Plus in any way.
 As a subscriber to the CNBC Investing Club with Jim Cramer, you will receive a trade alert before Jim makes a trade. Jim waits 45 minutes after sending a trade alert before buying or selling a stock in his charitable trust's portfolio. If Jim has talked about a stock on CNBC TV, he waits 72 hours after issuing the trade alert before executing the trade. See here for the investing disclaimer.
 (Jim Cramer's Charitable Trust is long AAPL, ABT, CRM, MSFT.)
Copyright CNBCs - CNBC