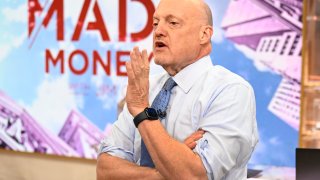 CNBC's Jim Cramer on Tuesday said that despite scary events of recent weeks, investors should not make decisions based on day-to-day fears.
He explained that history often proves that owning stocks of high quality companies is the recipe to navigating a volatile market.
CNBC's Jim Cramer on Tuesday said investors are operating too much out of fear and instead need to take a long-term perspective of the market and "accentuate the positive."
Cramer acknowledged that investors' worries are not unfounded and that on the surface, this market does look like "the sum of all our fears." The past year has been marked by a consumer under pressure, economic strains with China and Russia, a declining office real estate market, and most recently, massive bank failures.
But to cash out and sell in these precarious times is not the answer, said Cramer, especially since "we have no idea" what the ultimate long-term impact of these external events will be.
For example, Cramer pointed to the recent fall of Silicon Valley Bank, which triggered initial worries that the Great Recession would repeat itself. That led to a sell-off of oil and industrials, which people assumed would be impacted by bank-run contagion. But First Republic Bank and regional banks were stable Tuesday after Treasury Secretary Janet Yellen said bank deposits will be protected, sending investors jumping back into energy and industrials.
That reversal proved that investors are making choices based on short-term concerns rather than long-term analysis.
Further, Cramer observed some people in the market refusing to do anything Tuesday in anticipation of Federal Reserve Chair Jerome Powell's announcement of his next rate move on Wednesday. He said that those who make investment decisions based solely on the fear of the day are not thinking long term enough.
The bottom line: "Anyone who thinks they know what's going to happen in the next hour or two has been proven wrong this time. But if you take a longer view, owning stocks of high quality companies that have good balance sheets ... history says you tend to be a winner," said Cramer.
Sign up now for the CNBC Investing Club to follow Jim Cramer's every move in the market.
Disclaimer
Questions for Cramer?
Call Cramer: 1-800-743-CNBC
Want to take a deep dive into Cramer's world? Hit him up!
Mad Money Twitter - Jim Cramer Twitter - Facebook - Instagram
Questions, comments, suggestions for the "Mad Money" website? madcap@cnbc.com
Copyright CNBCs - CNBC