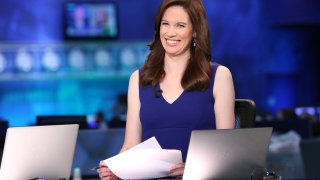 The only thing that mattered about this morning's CPI report was that it didn't come in too hot. 
And frankly, even if the report had been unexpectedly high, should that have really changed the Fed's calculus? The forward-looking data is a debacle, while inflation is one of the most lagging indicators we have. After all, CPI hit its peak year-on-year growth of 9.1% in June of 2022,more than two years after the pandemic stimulus first hit. It can take that long for monetary policy to fully settle into the economy. Core CPI, which excludes the oil-price spike, didn't peak until September!  
Since then, inflation readings have cooled considerably. Overall CPI is down to 6.5% as of last month, while the core has fallen by about a point to 5.7%. Both look set to keep dropping, even if oil prices rebound; bond markets are now betting the Fed's inflation gauge (PCE, which has been running cooler) will average just 2.2% readings over the next five years.  
And Fed officials are now starting to signal that a mere quarter-point rate hike could be on the table at the Fed's next meeting on January 31-February 1. Yesterday, the Boston Fed's Susan Collins--not a current voting member--said she is leaning towards a quarter-point hike, and said the Fed should start "adjusting slowly" to incoming data. This morning--just 15 minutes after the CPI report--the Philly Fed's Patrick Harker, who is a voting member, said "In my view, hikes of 25 basis points will be appropriate going forward." 
As a result, markets "have fully taken out any chance the Fed hikes [a half-point] in a few weeks," Peter Boockvar of Bleakley Financial Group wrote in a client note this morning. (Emphasis mine.) The Fed will hike just a quarter-point at its upcoming meeting, "maybe throw in one more, but that will be it," he said. The Fed pause, in other words, is nearly at hand.  
That certainly has investors salivating, because many have been expecting markets to rally as soon as the Fed stops hiking. The recent trading action suggests we've already started to price that in. But as I wrote yesterday, don't confuse the pause itself, and market reaction, with an actually improving economic outlook. In fact, the economic data has been deteriorating, which is partly why the Fed is now downsizing rate hikes.  
Pretty much the moment the labor market data cracks, you can guarantee the Fed's pause will become a pivot to cutting back on interest rates. Little wonder people are scooping up all those still high-yielding CDs! 
See you at 1 p.m! 
Kelly
Copyright CNBCs - CNBC