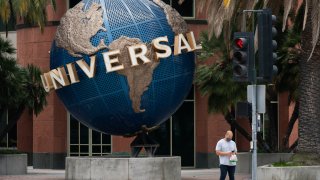 Morgan Stanley has named eight stocks to buy ahead of a hotly anticipated earnings season in Europe.
Stocks in the region have risen this year on the first signs of moderating inflation across Europe. Nonetheless, the impact of sluggish growth and the war in Ukraine remains key concerns for investors.
Here are the European stocks that the Wall Street bank thinks will outperform, even as the broader market is likely to take a hit on earnings.
Here's what they had to say about four stocks from the above table:
Universal Music Group - Music distribution
UMG reported 13.3% organic growth and beat expectations last quarter. The company also named former CEO of Paramount Pictures Sherry Lansing as chair earlier this year.
Morgan Stanley says:
"We expect the stock to rally into earnings, due in early March. We think consensus forecasts for Subscription & Streaming revenue growth and margins in 2023 are too low and believe FY'22 earnings will be a catalyst for a reassessment of both metrics by investors."
Teleperformance – Outsourced customer care
Teleperformance was investigated by the Colombian government after it was accused in a Time magazine article of violating "the right to dignity, work and social security towards workers" who moderate TikTok videos at the company. Its own internal audit identified no significant adverse findings.
Morgan Stanley says:
"Teleperformance shares have been under scrutiny since November following the outbreak of negative news flow around its Content Moderation in Colombia. We continue to maintain that those risks were overblown and underlying Teleperformance remains a well managed entity. More importantly none of this news flow alters the fundamental growth and earnings profile of the company."
Elis – Outsourced laundry services
Elis beat market expectations in its third quarter on revenue and said there was no slowdown in demand across the 29 countries it operates in. Following soaring energy costs over the summer, Elis also said it had negotiated price increases with customers that would kick in between Oct. 2022 and Jan. 2023.
Morgan Stanley says:
"Elis offers resilient GDP+ growth through the cycle, which is expected to be structurally higher post COVID (driven by increased demand for hygiene, reliability, accountability and ESG)."
Accor - French hospitality company
Accor is implementing what it calls an "asset light" strategy in an effort to simplify its balance sheet. Last week, it sold a $460 million stake in China's H World hotels, which lowered its net debt. Following the asset disposal, Barclays equity research team upgraded the stock to a hold.
Morgan Stanley says:
"We think there is a good tactical setup for Accor, with RevPAR [revenue per available room] data running ahead of FY23 consensus (+4%) and the sale of H World helping to address lingering concerns over operational and strategic focus."
— CNBC's Michael Bloom contributed reporting.
Copyright CNBCs - CNBC