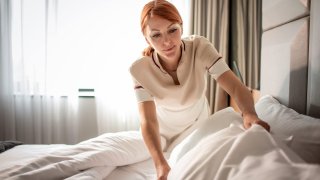 When you stay at a hotel, do you tip?
Most people think you should. In a recent survey from hotel software firm Canary Technologies, 79% of hotel guests said they think workers should get tips. But hotel workers in the survey said only about 30% of guests typically tip.
"It's kind of this massive gap that we're seeing with the hotel industry being an anomaly within the service industry," says Bryan Michalis, vice president of marketing at Canary.
There's one very mechanical explanation for the disconnect: People don't carry cash. Run your credit card at a restaurant, and your server will hand you a receipt with a "tip" line. There might even be a set of suggested gratuities at the bottom.
But when you check out of a hotel and realize you don't have bills, you're more likely to go ahead and try to catch your flight than run to the bank.
Another reason is awareness. "People really do want to tip. They want to do the right thing," says Diane Gottsman, an etiquette expert and owner of the Protocol School of Texas. "But there is some confusion over what the etiquette is."
A guideline for hotel etiquette: Who and how much to tip
Before the trip: You should be thinking about tipping before you get on the plane, says Gottsman. "Factor in gratuity as part of your travel budget," she says. "When you're going to the bank to get cash, make sure you're getting ones and fives."
Alternatively, if you're carrying larger bills, most front desk workers and bartenders (if your hotel has a bar) are happy to make change.
Housekeepers: Plan on tipping $3 to $5 per day, or, if you have a bigger crew, $1 per person. But don't tally it up and leave a big tip at the end, says Gottsman. "Housekeepers change shifts daily. The person you get today might not be the person you get tomorrow. Leave tips daily."
To indicate that the bills you're leaving out are, in fact, a tip, put the money on a side table or on the bed along with a note indicating who it's for. "Hotel rooms always have a notepad and a pen," says Gottsman.
Beyond leaving a tip, there is a general expectation that you leave the room in reasonable order, says Sean Dasmann, general manager at the Agrarian Hotel in Arroyo Grande, California. That means putting your trash in the wastebasket, cleaning out the fridge and checking for anything you may be leaving behind, from clothes to electronics.
Luggage attendants: Tip $1 to $2 per bag carried up to your room. If you only have a bag or two, tip a minimum of $5 to make it worth the trip, Gottsman says.
Valet parkers: Give $2 to $5 when they pull up with your car.
Room service: If the hotel hasn't already added a gratuity, tip this person the same way you would a server or bartender in the restaurant downstairs: 15% to 20%.
Door staff: No need to tip for someone opening the door. But if the door staff calls you a cab, offers you an umbrella or helps with your bags, consider a $2 to $5 tip.
Front desk/Concierge: At the bare minimum, be polite and patient when checking in to a hotel, says Dasmann. "A good half of people over the age of 40, half of our guests, walk in and just shout their last name," he says.
That's unlikely to get you off on the right foot with the staff, especially if you want to make a special request, such as an upgrade or late checkout during your stay.
As for a tip, you don't need to break out your wallet for directions to a nearby coffee shop, says Gottsman. But consider a small gratuity, from $5 to $20, if a front desk person or concierge is able to secure you hard-to-get tickets, reservations or special services.
And remember, it's the thought that counts when it comes to tipping. These are just guidelines, says Gottsman. "You're not going to protocol hell if you're a dollar off."
DON'T MISS: Want to be smarter and more successful with your money, work & life? Sign up for our new newsletter
Get CNBC's free Warren Buffett Guide to Investing, which distills the billionaire's No. 1 best piece of advice for regular investors, do's and don'ts, and three key investing principles into a clear and simple guidebook.
Check out: Silicon Valley Bank is the second-biggest bank crash in U.S. history—here's what it means for your money
Copyright CNBCs - CNBC