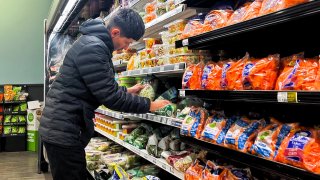 In my 39 years of covering the economy, markets and business, I'm not certain that I've ever seen a "typical" business cycle as described in an economics 101 class.
Here's how that might look: First, the economy recovers from a recession, and then expansion ensues. Demand increases to the point where it exceeds supply. Production bottlenecks strain factories and services to the breaking point. The unemployment rate plunges as businesses compete for scarce workers. Inflation accelerates more rapidly. Finally, the Federal Reserve raises rates to bring the economy back into equilibrium, overshoots and creates yet another recession.
While that sounds a lot like what's happening in the economy now, the current environment is being shaped by factors well beyond those of a "typical" business cycle.
Indeed, the economy is trifurcated today without a uniform set of characteristics that easily define the current environment.
There are sectors of the economy that are already in recession amid rapid rate hikes from the Fed, while other sectors are clearly booming.

There are sectors still battling inflation, but others see falling prices for their wares.

Unemployment, broadly speaking, is at historic lows while certain industries are undertaking mass layoffs.
It's a confusing picture, to be sure. This is a situation in which there is no single policy tool that would solve the myriad issues facing this economy in a defined timeframe.
The economy grew just over 2% last year, and it's on pace to grow 2.5% in the first quarter, according to the Atlanta Fed's GDP Now forecast. Meanwhile, the core personal consumption expenditures price index – the Fed's preferred measure of inflation – gained 4.7% from a year ago.
This is not a typical business cycle top, in which growth and inflation are both accelerating. It's not "stagflation," in which growth contracts while inflation surges. This is not a full-blown recession, either.
This is an economy that does not fit a textbook definition of any cycle that we've witnessed in modern times.
Sectors that are suffering
First, let's look at what's in recession.
Most obviously, residential real estate has collapsed in the wake of surging mortgage rates and a major affordability problem.
Existing single-family home sales are down nearly 37% year over year, according to the National Association of Realtors. Meanwhile, the Census Bureau notes that new home sales were down more than 16% in 2022 versus 2021 levels.
We know that after a brief uptick in January, as mortgage rates moderated for a time, mortgage applications and pending home sales have collapsed anew.
Another interest-sensitive sector, auto sales, fell about 8% in 2022 to 13.4 million units. That's well below the typical peak sales the industry has enjoyed at about 17 million vehicles sold.
It would be rare to have the broad economy not slip into recession when two of the biggest sectors of the economy have already hit a downturn.
Manufacturing activity is still contracting as evidenced by PMI readings. This is also shown by the factory utilization rate, which at 78.3%, is well below the 85% that has historically suggested the manufacturing sector is overheating.
Indeed, industrial production has been flat or down in five of the last six months.
Leading economic indicators have fallen for nearly a year and the yield curve has inverted, both being powerful indications that a recession is at hand.
Areas of growth
On the flip side, the service sector of the economy continues to grow.
Hotel occupancy rates continue to rise while air travel is booming.
The work-from-anywhere environment, that is directly a result of the pandemic, has not only fed the "revenge travel" movement, but in-office appearances seem to have leveled out at about three days a week for many businesses.
Workers now have, essentially, four-day weekends. This allows them to move about the country freely, while still being digitally tethered to the office.
Restaurant sales, in January alone, topped $95 billion dollars, according to the National Restaurant Association, steadily rising since the pandemic.
Labor markets in that industry are extraordinarily tight, pushing wages higher for busboys and maître ds.
The tech industry, meanwhile, is laying off thousands of workers.
Wage inflation and low unemployment are inconsistent with a recessionary environment. They are also the result of a profound post-pandemic shift in the labor force.
With an unemployment rate at 3.4%, the lowest level since 1969 and with 1.9 open jobs available to every unemployed American, the U.S. job market is tight by any measure.
Indeed, with initial jobless claims now below 200,000, there is little spare capacity in the labor market.
But given the disruptions to the labor force from the pandemic – from the tragic loss of life to early retirements, to women departing the labor force, to limits on immigration –there are massive distortions and disruptions that characterize the workforce.
While wage inflation has moderated, some industries are paying more than others and that has bolstered consumer spending.
At the same time, as spending holds up, credit card usage is surging to record levels. This suggests that consumers have spent down their pandemic savings and are extending their incomes with debt. This is not a sign of solid future growth.
This is an incomplete assessment of a very splintered economy: Deflation has taken hold in the goods sector, while service sector prices – think air fares and hotel rates – are still going up.
It is clear that this trifurcated economy will puzzle pundits and policymakers for some time to come.
Unfortunately, such a complex puzzle is not just missing one piece to clarify the picture. It may be months, if not years, before anyone finds that final piece that dictates a policy prescription that brings the economy back into a more "normal" state of being.
 — Ron Insana is a CNBC contributor and a senior advisor at Schroders.
Copyright CNBCs - CNBC