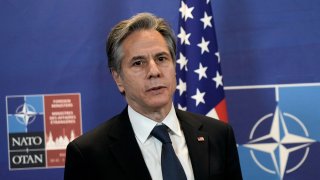 This has been CNBC's live blog covering updates on the war in Ukraine. [Follow the latest updates here.]
U.N. human rights chief details cases in Ukraine that 'may amount to war crimes'
United Nations human rights chief Michelle Bachelet said her office is investigating human rights violations in Ukraine, "many of which may amount to war crimes."
"These killings of civilians often appeared to be intentional, carried out by snipers and soldiers. Civilians were killed when crossing the road or leaving their shelters to seek food and water. Others were killed as they fled in their vehicles," Bachelet said before the UN Human Rights Council in Geneva.
"Unarmed local men were killed because Russian soldiers suspected them of supporting Ukrainian forces or otherwise being a potential threat and some were tortured before being killed," she added.
Bachelet also said her office was looking into allegations of sexual violence and so far, the UN has verified a dozen cases across the country.
— Amanda Macias
Ukraine warns that the Russians are stealing Ukrainian grain, and any country who buys the stolen grain from Russia is considered to be "complicit in the crime." It warned of legal consequences for everyone involved in the transportation and sales of the stolen grain.
Meanwhile, the former president of Russia has warned NATO that military assistance for Ukraine risks sparking a wider conflict.
Dmitry Medvedev, a close ally of President Vladimir Putin, said the supply of weapons to Ukraine "increased the likelihood of a direct and open conflict between NATO and Russia instead of their 'war by proxy'."
It comes after European Commission President Ursula von der Leyen said Russia was the "most direct threat" to the international order.
Elsewhere, Finland's President Sauli Niinisto and Prime Minister Sanna Marin said this morning that the country should apply to join NATO "without delay."
The U.S., meanwhile, plans to send a delegation led by Secretary of State Antony Blinken to NATO's meetings in Berlin this weekend.
Siemens says it is exiting Russia
German industrial giant Siemens says it is exiting Russia after almost 170 years in the country.
"We condemn the war in Ukraine and have decided to carry out an orderly process to wind down our industrial business activities in Russia," said Roland Busch, President and CEO of Siemens AG.
"This was not an easy decision, given our duty of care for our employees and long-standing customer relationships, in a market where we have been active for almost 170 years," he added.
The company said it had put all new business in and international deliveries to Russia and Belarus on hold after the war started in February.
"We are evaluating the impact on our people and we will continue to support them to the best of our abilities," Busch added.
— Chelsea Ong
Ukraine warns anyone who buys stolen Ukrainian grain from Russia faces legal consequences
Ukraine is warning countries that Russian grain exports may contain stolen Ukrainian grain, and anyone that knowingly purchases it is considered complicit in the crime.
"Russian occupants are stealing Ukrainian grain and either consuming it themselves or attempting to sell it on international markets," Ukraine's Ministry of Foreign Affairs said in a statement.
Ukraine's foreign minister, Dmytro Kuleba, also said that everyone involved in the transportation and sales of stolen grain will face legal consequences, the Associated Press reported.
"Your actions will have adequate international legal consequences. We will do everything to make your life as difficult as possible," Kuleba said, commenting on media reports that a Russian ship carrying Ukrainian grain moored off the Syrian coast, according to the Associated Press.
The Russians have already seized at least 400 to 500 thousand tons of grain worth more than $100 million, Ukraine's Ministry of Foreign Affairs said.
"Almost all grain-laden ships departing from Sevastopol transport stolen Ukrainian commodities," the ministry added.
Sevastopol is a major port on the Black Sea in Crimea, which Russia annexed in 2014.
— Chelsea Ong
G7 foreign ministers meet to discuss Ukraine war, impact
Top diplomats from the Group of Seven wealthy nations gathered in northern Germany for a three-day meeting centered on Russia's war against Ukraine and the wider impact it is having around the world, particularly on food and energy prices.
German Foreign Minister Annalena Baerbock, the meeting's host, said the conflict already had become a "global crisis" because shipments of staple crops are stuck in Ukraine, a major agricultural exporter.
"Twenty-five million tons (27.5 million U.S. tons) of grain are currently blocked in Ukrainian ports, particularly Odesa," Baerbock said. "Grain that's food for millions of people around the world, and which is needed particularly urgently in African countries and the Middle East."
"That's why we are discussing how the grain blockade exerted by Russia can be unblocked, how we can get the grain out to the world," she added.
— Associated Press
Ukraine aid faces delay in U.S. Senate
U.S. President Joe Biden will have to wait at least until next week to sign a massive aid package for Ukraine.
Sen. Rand Paul, R-Ky., blocked the U.S. Senate from passing a nearly $40 billion assistance bill designed to bolster Ukraine's fight against a Russian invasion. Senate leaders hoped to win unanimous consent, which requires sign off from all senators, to vote on the legislation Thursday before they left Washington for the weekend.
Senate Majority Leader Chuck Schumer, D-N.Y., and Minority Leader Mitch McConnell, R-Ky., offered to allow a vote on Paul's amendment to the bill that would put an inspector general in charge of overseeing the funds. Paul objected to the deal because he wanted Senate leaders to make his proposed changes without a vote.
The House passed the bill earlier this week, meaning Senate approval would allow Biden to sign it into law.
— Jacob Pramuk
Baseball signed by Zelenskyy auctioned for $50K, portion of sale will support Ukraine
An official MLB baseball signed by Ukraine President Volodymyr Zelenskyy was auctioned off for $50,103, and the seller says he will donate some of the proceeds to support the embattled country in its fight to repel an invasion by Russia.
RR Auction, which conducted Wednesday's sale of the ball, is contributing all of its proceeds, which include the buyer's premium and seller's commission, to Ukraine support efforts. Before the auction, the ball was estimated to be sold for more than $15,000.
"We are thrilled with the price achieved and show our support with our donation to help the people in Ukraine," said Bobby Livingston, executive vice president at RR Auction. 
The ball had been owned by Randy Kaplan, a collector of more than 450 signed baseballs from world leaders and heads of state, among them former U.S. Presidents Bill Clinton, Gerald Ford, Richard Nixon, and Lyndon Johnson.
Kaplan received the ball, which was signed by Zelenskyy in both Ukraine cursive and English print, from Ukraine's ambassador to the United Nations in 2019, when the then-new president was visiting New York.
— Dan Mangan
U.S. lawmakers ask Big Tech to archive evidence of war crimes in Ukraine
Editor's note: Graphic content. This post contains a photo of workers exhuming bodies from a mass grave in Bucha, northwest of Kyiv.
Four high-ranking congressional Democrats sent formal requests to the CEOs of YouTube, TikTok, Twitter and Facebook's parent company, Meta, asking them to archive content that could be used as evidence of Russian war crimes in Ukraine.
The request comes as evidence of potential Russian war crimes continues to accumulate on social media. On Wednesday, Ukraine's prosecutor general tried a Russian soldier for war crimes for the first time since the invasion began in February — the prosecution was announced on Facebook.
They specifically request the social media companies "to flag or mark content as containing potential evidence of war crimes and other atrocities."
YouTube, TikTok, Twitter and Facebook did not immediately respond to requests for comment.
— NBC News
Top U.S. diplomat Blinken heads to Europe for NATO, trade meetings
U.S. Secretary of State Antony Blinken will travel to Germany on Saturday for a meeting of NATO foreign ministers on their response to the war in Ukraine, the State Department said.
German Foreign Minister Annalena Baerbock last month invited the ministers to an unofficial meeting in Berlin. The meeting comes as Finland, worried by the Russian invasion of Ukraine, moves to join NATO.
NATO Secretary General Jens Stoltenberg said any accession process would be "smooth and swift" and that Finland would be warmly welcomed.
On Sunday, Blinken will travel to Paris with U.S. Trade Representative Katherine Tai and Secretary of Commerce Gina Raimondo for the second ministers' meeting of the U.S.-E.U. Trade and Technology Council.
— Reuters
Senate leaders push for quick OK for fresh $40B for Ukraine
Leaders from both parties tried clearing the way for Senate passage of an additional $40 billion for Ukraine and its allies, a package of military and economic aid that underscores U.S. determination to reinforce its role in countering the Russian invasion.
Senate Minority Leader Mitch McConnell, R-Ky., called on Republicans and Democrats "to help us pass this urgent funding bill today." The only apparent stumbling blocks to quick approval seemed to be the demands of some Republicans for votes on proposals including having an inspector general scrutinize the new spending.
Passage by a strong bipartisan margin seemed certain soon. If the bill is not amended, that vote would mean final congressional approval for a measure that Democrats and most Republicans want to speed to President Joe Biden so weapons and supplies can continue flowing to the outnumbered Ukrainians.
"Republicans shouldn't block this bill," said Senate Majority Leader Chuck Schumer, D-N.Y. "There is no reason, no reason whatever not to get Ukraine funding approved fast."
— Associated Press
UN focuses human rights inquiry in northern Ukraine
The U.N.'s top human rights body has overwhelmingly passed a resolution calling on its investigators to specifically look into possible rights abuses and violations in northern Ukraine shortly after Russia's invasion.
In a 33-2 vote, with 12 abstentions, the Human Rights Council concluded a special session on Russia's invasion of Ukraine also by calling on Russia to grant international human rights groups "unhindered, timely, immediate, unrestricted and safe access" to people who have been transferred from Ukraine to Russia or areas controlled by Russian forces or affiliates.
Only China and Eritrea voted against the measure, which also urged the U.N. human rights office to report on events in Mariupol, a besieged southeastern port city where thousands of civilians are believed to have been killed. Access to the city has been virtually nonexistent for international human rights during recent fighting there.
The council called on a team of investigators known as a Commission of Inquiry to look specifically into the "events" in the Kyiv, Chernihiv, Kharkiv and Sumy regions of Ukraine in late February and early March after Russia's invasion "with a view to holding those responsible to account." The commission was already created to investigate rights abuses and violations generally in Ukraine.
— Associated Press
Ukrainian forensics experts exhume Russian soldiers in the village of Zavalivka
EDITOR'S NOTE — Graphic content: Photos depict images of death near the village of Zavalivka.
Ukrainian forensics experts exhume Russian soldiers in the village of Zavalivka, outside Kyiv. To date, more than 230 Russian bodies have been collected and stored in Ukraine.
The vast majority of the bodies have been found in the capitals outskirts.
— Sergei Supinsky | AFP | Getty Images
UN food agency chief says 'millions of people around the world will die' if Ukraine's ports aren't reopened
The head of the United Nations' top food agency said "millions of people around the world will die" if Ukraine's ports, namely Odesa, are not reopened.
"If you don't get this port issue resolved and open, Ukraine's economy completely collapses and becomes landlocked, like Moldova," David Beasley, the U.N. World Food Program executive director, told an audience at the Society for Advancing Business Editing and Writing's annual conference in New York.
For weeks, Russian forces have blocked roughly a dozen Ukrainian ports in the Black Sea and Sea of Azov.
"The ports are critical, absolutely critical. World leaders have got to put some pressure on Russia in such a way that we can have neutrality to move supplies in and out of Odesa," Beasley added.
Beasley, the former Republican governor of South Carolina, said Ukraine's agricultural economy could collapse in 60 days.
— Amanda Macias
UN says 3,541 killed in Ukraine since start of war, warns death toll is likely higher
The United Nations has confirmed 3,541 civilian deaths, including at least 239 children, in Ukraine since Russia invaded its ex-Soviet neighbor on Feb. 24.
The agency also reported 3,785 civilian injuries in the conflict so far.
The Office of the U.N. High Commissioner for Human Rights said the death toll in Ukraine is likely higher, because the armed conflict can delay reports.
The international body said most of the civilian casualties recorded were caused by the use of explosive weapons with a wide impact area, including shelling from heavy artillery and multiple launch rocket systems, as well as missiles and airstrikes.
— Amanda Macias
Ukraine national history museum exhibits materials from the Russian military
Documents, uniforms and others materials belonging to Russian military forces who died in the country's invasion of Ukraine are exhibited at the National Museum of the History of Ukraine in World War II in Kyiv. 
— Dogukan Keskinkilic | Anadolu Agency | Getty Images
Europe's gas supply crisis grows after Russia imposes sanctions
Pressure on Europe to secure alternative gas supplies increased after Moscow imposed sanctions on European subsidiaries of state-owned Gazprom and Ukraine stopped a gas transit route, pushing prices higher.
Russia imposed sanctions late Wednesday mainly on Gazprom's European subsidiaries including Gazprom Germania, an energy trading, storage and transmission business that Germany placed under trusteeship last month to secure supplies.
It also imposed sanctions on the owner of the Polish part of the Yamal-Europe pipeline that carries Russian gas to Europe.
Kremlin spokesperson Dmitry Peskov said there can be no relations with the companies affected nor can they take part in supplying Russian gas.
— Reuters
Pussy Riot's Maria Alyokhina escapes Russian house arrest
Maria Alyokhina, a member of the punk music group Pussy Riot and a vocal critic of the Moscow regime, has reportedly escaped house arrest dressed as a food delivery courier, and fled to Berlin. The band is now rehearsing for an anti-war concert tour.
- Reuters | Getty Images
Russia slams Finland's plans to join NATO
Russia has slammed Finland's announcement that it could apply to join the Western military alliance NATO in a matter of days, saying that it would be forced to respond to such a move.
"Finland joining NATO is a radical change in the country's foreign policy," the foreign ministry said in a statement.
"Russia will be forced to take retaliatory steps, both of a military-technical and other nature, in order to stop threats to its national security arising."
Earlier Thursday, Finland's President Sauli Niinisto and Prime Minister Sanna Marin said that the country should apply to join NATO "without delay."
Thursday's announcement is the strongest sign yet that Finland will make a formal application to join NATO. Membership would be historic for the Nordic country, which has had a decades-long policy of military neutrality.
Russia's foreign ministry claimed that "the goal of NATO, whose member countries vigorously convinced the Finnish side that there was no alternative to membership in the alliance, is clear — to continue expanding towards the borders of Russia, to create another flank for a military threat to our country," it said.
Russia warns the West over risk of 'direct and open' conflict
Former Russian President Dmitry Medvedev, a close ally of President Vladimir Putin, has warned the West that military assistance for Ukraine risks creating a conflict between Russia and NATO.
Medvedev, who is now deputy chairman of Russia's security council, said such a conflict could easily escalate.
"The pumping of Ukraine by NATO countries with weapons, the training of its troops to use Western equipment, the dispatch of mercenaries and the conduct of exercises by the countries of the alliance near our borders increase the likelihood of a direct and open conflict between NATO and Russia instead of their 'war by proxy,'" Medvedev claimed in a Telegram post.
"Such a conflict always has the risk of turning into a full-fledged nuclear war," Medvedev said. "This will be a catastrophic scenario for everyone."
Medvedev's comments come as tensions between Russia and NATO are likely to rise even further after Finland's President Sauli Niinisto and Prime Minister Sanna Marin announced that the country should apply to join NATO "without delay." Sweden could also be set to announce its intention to apply to join the military alliance.
— Holly Ellyatt
Ukraine counterattack north of Kharkiv continues
Ukrainian forces are continuing to counterattack to the north of the city of Kharkiv, recapturing several towns and villages toward the Russian border, according to the latest intelligence update from the British Ministry of Defence.
"Russia's prioritisation of operations in the Donbas has left elements deployed in the Kharkiv Oblast vulnerable to the mobile, and highly motivated, Ukrainian counter-attacking force," the ministry said on Twitter.
Despite Russia's success in encircling Kharkiv in the initial stages of the conflict, it has reportedly withdrawn units from the region to reorganize and replenish its forces after heavy losses, the intelligence update stated.
"Once reconstituted, these forces will likely deploy to the eastern bank of the Siverskyi Donets River, forming a blocking force to protect the western flank of Russia's main force concentration and main supply routes for operations in the vicinity of Izium."
On Thursday, Ukraine's armed forces posted on Twitter images purporting to show Russian forces that had been destroyed as they attempted to cross the Siverskyi Donets River.
— Holly Ellyatt
Finland's leaders say the country should apply to join NATO 'without delay'
Finland's President Sauli Niinisto and Prime Minister Sanna Marin said Thursday that the country should apply to join NATO "without delay."
Finland has had a decades-long policy of military neutrality that would come to an end if it becomes a full member of the military alliance.
At the same time, the move from Helsinki could spark aggression from Russia, where President Vladimir Putin has expressed his opposition against NATO's enlargement.
Finland shares a 830-mile border with Russia meaning that joining the military alliance would roughly double the land border that Russia has to share with NATO territories (Russia has land borders with 14 countries and five of them are NATO members: Latvia, Estonia, Lithuania, Poland and Norway).
Russian airstrikes hit schools in northeastern Ukraine, governor says
The governor of Chernihiv in northern Ukraine has reported a number of casualties following multiple Russian airstrikes targeting critical infrastructure, including schools overnight in Novhorod-Siversky.
There were "several air strikes on critical infrastructure" including schools, Governor Vyacheslav Chaus said on his Telegram channel, posting images of damaged buildings.
"There are dead and wounded," he said, without specifying numbers. He said rescuers and medics were working at the scene.
Other administrative buildings and private houses were also damaged, he added.
NBC has not independently verified reports.
Russia is the 'most direct threat' to world order, EU leader says
Russia is the "most direct threat" to the international order, European Commission President Ursula von der Leyen warned during a meeting in Japan.
Speaking after talks with Japanese Prime Minister Fumio Kishida, von der Leyen said at a press conference "is today the most direct threat to the world order with the barbaric war against Ukraine."
She also cited what she called Russia's "worrying pact" with China and "their call for new, and very much arbitrary, international relations."
European Council President Charles Michel also took part in the summit in the Japanese capital of Tokyo, which saw both Japan and the EU pledge to strengthen ties.
Commenting on the invasion, Japan's Kishida said: "Russia's invasion of Ukraine is not just a matter for Europe, but it shakes the core of the international order including Asia. This must not be tolerated."
Ukraine says more than 500 members of its National Guard have been killed since invasion
More than 500 members of the National Guard of Ukraine have died since Russia's invasion in late February, said Oleksiy Nadtochyi, the head of its operational department, according to NBC News.
This is the first time the military force has announced its death toll since the war began.
Nadtochyi told state media that 501 members were killed and 1,697 have been injured, NBC News reported.
The National Guard covers Ukraine's northern border with Belarus and is also involved in operations in the country's eastern and south regions, Nadtochyi added.
Ukraine's National Guard was formed in March 2014 when Russia annexed the Black Sea peninsula of Crimea and serves as a military unit with law enforcement powers.
— Chelsea Ong
Pro-Russian leader installed in Ukraine's Kherson will ask Putin to annex it
The pro-Russian leader installed in Ukrainian's southern city of Kherson, the first city to have fallen fully under Russian control, says he will request that Putin annex the territory for Russia.
"There will be a request to make Kherson region a full subject of the Russian Federation," said Kirill Stremousov, the newly-appointed deputy head of the military-civilian administration in Kherson, according to Russian news agencies. He added that Kherson will be entirely under Russian law by the end of this year.
Kremlin spokesperson Dmitry Peskov responded by saying that it was up to Kherson's residents to decide whether they would join Russia. But Ukrainian and Western officials warn that Moscow is planning to hold a sham referendum there to justify Russian rule.
Kherson is a strategically important capture for Moscow as it provides a land link between Russian separatist-backed territories in eastern Ukraine's Luhansk and Donetsk and Crimea to the south, which it annexed in 2014.
— Natasha Turak
Boris Johnson signs security declaration with Sweden
U.K. Prime Minister Boris Johnson signed a security declaration with Sweden, pledging to support the Nordic country if it comes under military attack. The security pact can also mean intelligence sharing or joint military drills, Johnson said.
"The declaration makes clear, it's upon request of Sweden that the U.K. will of course provide assistance," the U.K. leader said. "What matters primarily is what Sweden decides to request."
The news comes as Sweden and Finland, the latter of which borders Russia, are set to make their decisions on whether to apply for membership to the NATO alliance, breaking a long-held position of neutrality when it comes to the alliance and Russia. Moscow has threatened consequences if the countries were to join NATO.
Public support for joining the defensive alliance in both Sweden and Finland has soared following Russia's invasion of Ukraine.
Speaking in Sweden alongside Swedish Prime Minister Magdalena Andersson, Johnson stressed the rights of sovereign countries to chart their own courses of action.
"The war in Ukraine is forcing us all to make difficult decisions, but sovereign nations must be free to make those decisions without fear or influence or threat of retaliation," he said. Johnson is scheduled to visit Finland as well to sign a similar security agreement.
— Natasha Turak
Read CNBC's previous live coverage here:
Ukraine says 500 members of National Guard have died so far; Russian forces 'pushed back' from second-largest city Kharkiv
Copyright CNBCs - CNBC