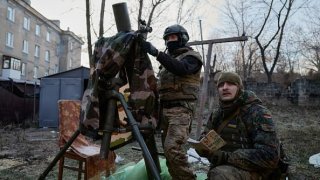 This was CNBC's live blog tracking developments on the war in Ukraine on Jan.6, 2023. See here for the latest updates. 
Russia's 36-hour cease-fire began at noon Moscow time, ordered by President Vladimir Putin for Russian Orthodox Christmas on Jan. 7. Ukrainian leader Volodymyr Zelenskyy rejected the cease-fire, calling it a move designed to allow Russian soldiers time to rest and get reinforcements while preventing Ukrainian advances.
Multiple news outlets report that shelling is still continuing from Russian-occupied areas.
The think tank Institute for the Study of War said Putin's move is likely an information operation to make Ukraine look aggressive and unwilling to negotiate.
Meanwhile, Ukraine is receiving more military aid from its U.S. and European allies, including artillery shells, light tanks and Bradley fighting vehicles.
Ukraine will need at least $1.8 billion to repair damaged telecom sector, U.N. report says
Ukraine will need at least $1.79 billion to restore its telecommunications sector to pre-war levels, a U.N. agency said in a report alleging Russia had "destroyed completely or seized" networks in parts of the country.
The long-anticipated and sensitive damage assessment by the Geneva-based International Telecommunication Union (ITU) was commissioned in April to assess the extent of destruction of Ukraine's communication networks as a result of Russia's invasion last February.
The report, which covers the first six months of the war, found that there was considerable damage and destruction to communications infrastructure in more than 10 out of 24 regions of Ukraine.
"Since the beginning of military attacks, with the purpose of using the facilities in its interests and for its own needs, the aggressor either destroyed completely or seized the regular operation of public and private terrestrial telecommunication and critical infrastructure in the temporarily occupied and war-affected territories of Ukraine," the report said.
— Reuters
Global food prices in 2022 hit record high amid drought, war
Global prices for food commodities like grain and vegetable oils were the highest on record last year even after falling for nine months in a row, the U.N. Food and Agriculture Organization said, as Russia's war in Ukraine, drought and other factors drove up inflation and worsened hunger worldwide.
The FAO Food Price Index, which tracks monthly changes in the international prices of commonly traded food commodities, dipped by 1.9% in December from a month earlier, the Rome-based organization said Friday. For the whole year, it averaged 143.7 points, more than 14% above the 2021 average, which also saw large increases.
The December decline was led by a drop in the price of vegetable oils amid shrinking import demand, expectations of increased soy oil production in South America and lower crude oil prices. Grain and meat were also down, while dairy and sugar rose slightly.
"Calmer food commodity prices are welcome after two very volatile years," FAO chief economist Maximo Torero said in a prepared statement. "It is important to remain vigilant and keep a strong focus on mitigating global food insecurity given that world food prices remain at elevated levels, with many staples near record highs, and with prices of rice increasing, and still many risks associated with future supplies."
— Associated Press
Zelenskyy thanks Biden for 'very powerful' security assistance package
Ukrainian President Volodymyr Zelenskyy thanked President Joe Biden for the "very powerful" U.S. security package during a video message on his official Telegram channel.
"Today a new one was announced, and a very powerful one! A package of American defense support for our country. For the first time, we will receive armored vehicles Bradleys, this is exactly what is needed," Zelenskyy said.
"As of now, Ukraine has more anti-aircraft defense, more armored vehicles, Western tanks for the first time, more guns and projectiles, more energy and political opportunities," Zelenskyy added, according to an NBC News translation.
— Amanda Macias
U.S. announces $3.8 billion security assistance package for Ukraine, European allies
The Biden administration announced nearly $3.8 billion in security assistance for Ukraine and European allies, Washington's largest package since Russia's full-scale invasion began nearly a year ago.
The upcoming military aid package, the 29th such tranche, brings U.S. commitment to Ukraine's fight to about $24.9 billion since the beginning of the Biden administration.
New to this aid package are Bradley infantry fighting vehicles, armored tracked vehicles manufactured by U.S. defense firm BAE Systems.
Also included in the security assistance package are:
50 Bradley infantry fighting vehicles with 500 TOW anti-tank missiles and 250,000 rounds of 25mm ammunition
100 M113 Armored Personnel Carriers
55 Mine Resistant Ambush Protected Vehicles
138 High Mobility Multipurpose Wheeled Vehicles
18 155mm self-propelled Howitzers and 18 ammunition support vehicles
70,000 155mm artillery rounds
500 precision-guided 155mm artillery rounds
1,200 155mm rounds of Remote Anti-Armor Mine Systems
36 105mm towed Howitzers and 95,000 105mm artillery rounds
10,000 120mm mortar rounds
Approximately 2,000 anti-armor rockets
Additional ammunition for High Mobility Artillery Rocket Systems, or HIMARS, as well as RIM-7 missiles for air defense and 4,000 Zuni aircraft rockets.
— Amanda Macias
Zelenskyy thanks Germany for additional weapons
Ukrainian President Volodymyr Zelenskyy thanked German Chancellor Olaf Scholz for agreeing to supply Ukraine with Patriot air defense missile systems as well as Marder fighting vehicles.
"I thanked for the powerful defense package, including several dozen Marder vehicles and the Patriot system. We discussed further cooperation to strengthen the Ukrainian army," Zelenskyy wrote in a tweet.
On Thursday, Scholz said that German forces would help train Ukrainian soldiers on the systems.
— Amanda Macias
Two vessels will depart Ukraine's ports under Black Sea Grain Initiative
The organization overseeing the export of agricultural products said two vessels carrying corn and wheat left Ukrainian ports.
The amount of grain and other crops exported under the Black Sea Grain Initiative so far exceeds 16.8 million metric tons.
The Black Sea Grain Initiative, a deal brokered in July among Ukraine, Russia, Turkey and the United Nations, eased Russia's naval blockade and saw three key Ukrainian ports reopen.
— Amanda Macias
U.S. Sens. Reed and King meet with Zelenskyy in Kyiv
U.S. Sens. Jack Reed of Rhode Island, chairman of the Senate Armed Services Committee, and Angus King, I-Maine, meet with Ukraine's President Volodymyr Zelenskyy in Kyiv.
— Reuters
Japan's Kishida vows additional support from G-7 countries in call with Zelenskyy
Japan Prime Minister Fumio Kishida said Ukrainian President Volodymyr Zelenskyy invited him to visit Kyiv during a phone call on Friday.
Kishida said that no travel to Ukraine has been decided yet.
In his call with Zelenskyy, Kishida reaffirmed Japanese support and vowed to provide further aid to Ukraine as Tokyo takes on this year's G-7 presidency.
— Amanda Macias
U.S. hits Iran with more sanctions over drones used in Russia's war on Ukraine
The Biden administration announced a slew of fresh sanctions and additional measures targeting Iran's aviation and defense sector, as Washington ups the ante in its campaign against Tehran for supplying Moscow with weapons for its war on Ukraine.
The Treasury Department imposed sanctions on six executives and board members from Iran's Qods Aviation Industries, the country's top defense manufacturer, for producing unmanned aerial vehicles, or UAVs. Tehran has transferred UAVs to Moscow for use on the battlefield across Ukraine, according to the Treasury.
In recent months, Moscow has carried out devastating missile and drone strikes against what Ukraine said were civilian targets as well as critical infrastructure such as energy facilities. The Kremlin has repeatedly denied that it uses Iranian-made drones in Ukraine and that it targets residential and other high civilian areas.
Read more here.
— Amanda Macias
Putin's ceasefire demand is likely an information operation to damage Ukraine's reputation: Institute for the Study of War
Russian President Vladimir Putin's demand for a ceasefire for Orthodox Christmas — which Ukraine has rejected — is likely a ploy designed to make Ukraine look aggressive and intransigent, according to analysts at the think tank Institute for the Study of War (ISW). Orthodox Christmas takes place on January 7.
"Putin's announcement that Russian forces will conduct a 36-hour ceasefire in observance of Russian Orthodox Christmas is likely an information operation intended to damage Ukraine's reputation," the group wrote in a Twitter post.
The think tank wrote in subsequent tweets that "Ukrainian and Western officials, including US President Joe Biden, immediately highlighted the hypocrisy of the ceasefire announcement and emphasized that Russian forces continued striking Ukrainian military and civilian infrastructure on December 25—when many Orthodox Ukrainians celebrate Christmas—and New Year's."
Ukrainian President Volodymyr Zelenskyy said that there would be a ceasefire once Russian troops left his country.
"Putin could have been seeking to secure a 36-hour pause for Russian troops to afford them the ability to rest, recoup, and reorient to relaunch offensive operations in critical sectors of the front," ISW wrote.
"Putin cannot reasonably expect Ukraine to meet the terms of this suddenly declared ceasefire and may have called for the ceasefire to frame Ukraine as unaccommodating and unwilling to take the necessary steps toward negotiations," it said, adding that Russia has employed this kind of information tactic before.
— Natasha Turak
Ukraine's deputy prime minister warns residents in occupied areas not to attend church services
Ukraine's deputy prime minister warned residents in Russian-occupied areas not to attend church services for Orthodox Christmas, which is celebrated on January 7, warning it could be dangerous.
"There is information that the Russians are preparing terrorist attacks in churches in the temporarily occupied territories for Orthodox Christmas," Iryna Vereshchuk wrote on her Telegram channel, though she did not provide evidence for the claim.
"I urge citizens to be careful and, if possible, to refrain from visiting places with a large crowd of people," she said. "Take care of yourself and your loved ones."
— Natasha Turak
Estonia is committing nearly 1 million euros to take down Soviet-era monuments
The Baltic nation of Estonia is allocating more than 900,000 euros to take down Soviet-era monuments set up all over the country while it was a part of the Soviet Union, the Poland-based Belarusian news agency Nexta reported.
Estonia has been an ardent supporter of Ukraine against Russia's invasion. It is a member of NATO and the EU.
— Natasha Turak
Artillery shelling reported in eastern Ukraine despite cease-fire
Artillery shelling is continuing in parts of eastern Ukraine despite a purported unilateral Russian ceasefire declared by Vladimir Putin, multiple news outlets are reporting.
"One witness in the Russian-occupied regional capital Donetsk, close to the front, described outgoing artillery fired from pro-Russian positions on the city's outskirts after the truce was meant to take effect," news agency Reuters wrote.
Russia's defense ministry also says that shelling from Ukraine is continuing. Ukraine has refused to take part in the ceasefire, calling it hypocritical and a cover to allow more reinforcements for Russian troops while preventing Ukrainian forces to advance.
— Natasha Turak
Russia's 36-hour cease-fire begins
Russia's cease-fire, ordered by Putin for Russian Orthodox Christmas on Jan. 7, began officially at noon Moscow time.
"At noon today, the ceasefire regime came into force on the entire contact line. It will continue until the end of 7 January," Russia's state Channel One news announced.
The move is seen by many as a chance to let Russian soldiers rest and recuperate and to prevent Ukrainian troops from making territorial gains. Ukraine has rejected the cease-fire, likening it to a trap aimed at giving Russian forces an advantage.
— Natasha Turak
Zelenskyy rejects Putin's temporary cease-fire proposal, says war will end 'when your soldiers leave'
Ukrainian President Volodymyr Zelenskyy slammed a proposal from Russian President Vladimir Putin for a temporary cease-fire during Orthodox Christmas on Jan. 7, calling it a cover to stop Ukrainian forces' advances and bring in more reinforcements for Russian troops.
"They now want to use Christmas as a cover, albeit briefly, to stop the advances of our boys in Donbas and bring equipment, ammunition and mobilized troops closer to our positions," Zelenskyy said in his nightly video address. "What will that give them? Only yet another increase in their total losses."
Zelenskyy spoke in Russian rather than Ukrainian, and said that a real cease-fire meant "ending your country's aggression … And the war will end either when your soldiers leave or we throw them out."
Many have pointed out that Russia did not offer a cease-fire on on Dec. 25, which is celebrated by many Orthodox Ukrainians, or for the new year. New Year's Eve saw Russia attacking cities in Ukraine with drone strikes, taking out power infrastructure and destroying residential buildings.
— Natasha Turak
Bradley armored vehicles will provide 'firepower and armor that will bring advantages on the battlefield,' Pentagon says
The Pentagon said that the Bradley Fighting Vehicles will provide Ukraine with an advantage on the battlefield but declined to elaborate on how the armored vehicles would be equipped and how long training would take.
It was also unclear how many Bradleys the U.S. would send to Ukraine and how long it would take for the tracked armored vehicles to make their debut on the battlefield against Russia.
The White House is slated to announce the next security assistance package on Friday.
Pentagon Press Secretary U.S. Air Force Brig. Gen. Pat Ryder said that the Bradleys will provide "a level of firepower and armor that will bring advantages on the battlefield as Ukraine continues to defend their homeland."
— Amanda Macias
'We know better than to take anything we see or hear from Russia at face value,' State Department says of Russia's proposed truce
State Department spokesman Ned Price said it was up to Ukraine if they want to participate in Russia's proposed truce.
Price said that the U.S. has "little faith in the intentions behind this announcement," adding that Russia has previously broken such promises.
"We know better than to take anything we see or hear from Russia at face value. Unfortunately, they have given us no reason to take anything that they offer at face value," Price added.
Earlier on Thursday, Russian President Vladimir Putin proposed a temporary ceasefire.
The cease-fire would allow Orthodox Christians in Russia and Ukraine to celebrate Christmas services.
— Amanda Macias
Read CNBC's previous live coverage here:
Ukraine war live updates: Putin orders cease-fire over Russian Orthodox Christmas; Ukraine dismisses temporary truce as 'hypocrisy'
Copyright CNBCs - CNBC