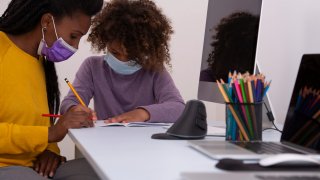 In a race to overcome the Covid learning gap, billions in federal aid are now being put to work.
Still, states and school districts have spent less than half of their Elementary and Secondary School Emergency Relief funds, according to the latest federal data.
A deadline looms: The rest of that money must be allocated or spent by 2024, or it will be lost.
During the coronavirus pandemic, child reading and math competency rates plummeted across the country.
The National Assessment of Educational Progress found two decades of improvements were wiped away. The declines were widespread, but were most pronounced among the students who had already been struggling well before 2020.
In a race to overcome the Covid-19 learning gap, billions in federal aid are now being put to work.
While schools are trying to make up for the educational fallout from such a prolonged period of academic disruption, a deadline looms: States and school districts have now spent less than half of their Elementary and Secondary School Emergency Relief funds, according to the latest federal data — and the rest of that money must be allocated or spent by September 2024, or it will be lost.
"The money is going to be gone in a year or two," said Bruce Baker, a professor and chair of the Department of Teaching and Learning at the University of Miami.
More from Personal Finance:
College is still worth it, research finds
How to decide if you should go back to school
The Supreme Court weighs in on student loan forgiveness
"The federal government stepped up big, but that will phase out," Baker said. The money has helped, he added, but these efforts need to be sustained. "You can't do this for two or three years and expect things to be all good."
Those with 'the greatest need' had 'the greatest losses'
In fact, it could take decades for students to fully catch up, according to a January 2023 report by the consulting firm McKinsey & Co.
"For some students it's going to take a longer period of time," said Ray Sanchez, superintendent of the Ossining Union Free School District in Ossining, New York.
The pandemic disproportionately impacted the lowest-performance schools and students, the McKinsey report also found, putting them further behind their high-performing peers. 
"The schools that had the greatest need suffered the greatest losses," Baker said.
Of the Ossining district's 5,100 students, most are minorities and 70% live in poverty. With the additional resources, the district hired more full-time staff to support students in literacy and math, but Sanchez said he always knew those funds would be short-lived. "It wasn't something we predicted would have 10 years of funding."
Now the district must try to integrate what's working into the general budget, he said. "We are seeking to try and sustain as much as we can."
"I don't even know if you were a superintendent how you can sleep at night," said Jen Mendelsohn, co-founder of Braintrust Tutors.
"For better or worse, Covid created a perfect storm that needed immediate reaction," Mendelsohn said.
"Schools understand the sense of urgency from a learning gap perspective, but that doesn't mean they are able to implement a program very quickly and that is a challenge," she added. "The bureaucracy is real."
There's no one-size-fits-all strategy
Not only do learning delays differ by state and region, but the recovery efforts do, as well.
There is no one-size-fits-all strategy. Some school districts have hired additional teachers, tutors, school counselors and psychologists, others have started summer and after-school programs or implemented plans to identify students' weak spots.
"Each district is so different," said Kusum Sinha, superintendent of Garden City Public Schools in New York, which is considered high performing.
With federal funding, the Garden City school district hired more staff, added before- and after-school tutoring in math and reading, and created an in-person and online summer program. "If we run out of money, we're going to have to figure out a way to continue," Sinha said.
Other districts facing a staffing shortage are also using the funds to avoid layoffs or contracting private tutoring companies, many of which operate online. 
'Tutoring is one of the most promising approaches'
"Tutoring is one of the most promising approaches for accelerating student learning and reducing educational disparities," according to a working paper of the Annenberg Institute for School Reform at Brown University.
However, there is still little data on which programs are most effective, studies show.
Even when tutoring is available, struggling students are far less likely to opt in than their more-engaged and higher-achieving peers, the Annenberg paper also found.
"Concerns that opt-in resources can increase — instead of reduce — inequality are valid," Annenberg's researchers said.
"Research provides evidence that struggling and marginalized students will be less likely to take advantage of elective educational options, leading to the expansion, instead of reduction of educational disparities."
The economic consequences of learning loss
There are economic repercussions to learning loss, as well.
Students may now face lower lifetime incomes, and a lower-skilled future workforce means states will see less economic activity in the years ahead, according to a research paper on the economic cost of the pandemic based on NAEP data, by Eric Hanushek, a senior fellow at Stanford University's Hoover Institution.
Although the economic loss depends on both the learning losses suffered by students and the state's economic standing, the report also said there were "significantly larger impacts on disadvantaged students who tended to fare worse during the pandemic."
"Extensive research demonstrates a simple fact: those with higher achievement and greater cognitive skills earn more," Hanushek found.
Copyright CNBCs - CNBC