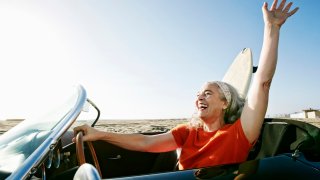 It is widely believed, and backed by science, that women outlive men, but there is new talk of the role your height might play in longevity — specifically, shorter people may live longer than taller people.
The discussion has been picking up on social media, which can be a pretty difficult place to decipher fact from fiction.
To get to the facts, CNBC Make It talked to two knowledgeable longevity experts with years of experience: Jean-Marie Robine, an expert demographer who studies the relationship between health and longevity, and David Sinclair, co-director of the Paul F. Glenn Center for Biology of Aging Research at Harvard Medical School.
Here are their theories about why shorter people may live longer than their opposites.
Being short used to be bad for longevity, but the pendulum has swung in the opposite direction
Many years ago, "people were much shorter than [they are] today," because they were often poorly nourished during the first year of their lives, says Robine.
"They weren't able to develop properly and they were not able to fight against infectious diseases," he adds. "Historically, at the population level, we [were] associating short size with poor development during the first year of life, and with a high level of mortality."
But currently, for people who are shorter, "if you have the best of what is possible, in terms of wealth and education, the shorter are living longer than the taller," says Robine.
Based on data of millions of deaths, a negative correlation was found between greater height and longevity, according to a study published in Elsevier in 2003.
Researchers also discovered that "shorter, smaller bodies have lower death rates and fewer diet-related chronic diseases, especially past middle age." The lifespans of shorter people appear to be longer than their taller counterparts, the paper says.
Of over 2,500 Finnish athletes, all of whom were men, cross-country skiers were shorter by about six inches and typically lived almost seven years longer than basketball players. And when comparing men who served in the Italian army, a study found that soldiers shorter than around 5-foot-4 lived two years longer than their taller comrades.
The biological reason for this is likely that, "when you are taller, you need more cell replications to fill your body, and this can just exhaust you faster," says Robine.
Women are in the ideal height range and can withstand more hardship
Clearly, research shows that "height matters. The smaller you are, whether you're a dog or a human, means that you'll live longer inversely," says Sinclair, co-founder and scientific advisor of Tally Health, a biotech company that aims to improve healthspan and extend longevity.
"It turns out that the height of women perfectly matches their increased longevity."
The average height of women ranges by location. On average, American women over 20 are 63.7 inches tall, or about 5-foot-4, according to the Centers for Disease Control and Prevention.
Some sources, like Our World in Data, estimate that the average height for women on a global scale, is 159.5 cm, which is around 5-foot-3.
The big difference between the height of men and women is due to differences in levels of the growth hormone, Sinclair says, which is much higher in women. "It is known that growth hormone levels do influence longevity," he adds.
Yet, height isn't the only reason women live longer.
Robine's hypothesis for why women live longer is simply this: "Women are more resistant to mortality [and] to death than men because they are just resisting more to difficulties."
Women may also feel responsible for not only their own lives, but also for their children's lives, he adds. With this in mind, "they have to be stronger," and hang on a bit longer than men.
"As long as a man is staying healthy without disability, his level of mortality is the same as the level of a woman," Robine says. "[But] men are poorly surviving if they are not in very good health. And women are much more resistant to 'not perfect' health."
Robine finds this fascinating: "It's just so amazing women are living longer because it is well-known and well-acknowledged that our societies are not treating women very well, so we would expect the opposite."
Get CNBC's free Warren Buffett Guide to Investing, which distills the billionaire's No. 1 best piece of advice for regular investors, do's and don'ts, and three key investing principles into a clear and simple guidebook.
Sign up now: Get smarter about your money and career with our weekly newsletter
Don't miss:
Copyright CNBCs - CNBC