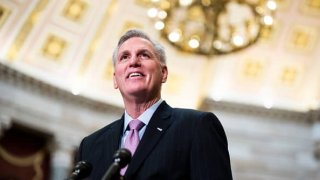 Now that the U.S. has hit the debt ceiling, Republicans and Democrats must negotiate to find a solution.
Those talks should not include Social Security and Medicare, House Speaker Kevin McCarthy said in an interview on Sunday.
Here's why Democrats and advocates for the programs are still worried.
Social Security and Medicare should be "completely off the table" when it comes to debt ceiling negotiations, House Speaker Kevin McCarthy said in a Sunday interview.
At the same time, the California Republican also called for "strengthening" those programs.
"If you read our Commitment to America, all we talk about is strengthening Medicare and Social Security," McCarthy told CBS's Face the Nation.
Republicans unveiled their Commitment to America plan last September, which calls for holding Washington accountable by addressing Social Security and Medicare, among other proposals. However, the plan does not provide more details on how those goals would be accomplished.
More from Personal Finance:
How House GOP lawmakers would change Medicare
Why some worry about Social Security in debt ceiling talks
How a debt ceiling standoff may affect your money
Democrats and advocates for the programs worry the language is code for benefit cuts.
"Speaker McCarthy's slip — and his evasiveness after — is the latest giveaway that House Republicans have been telling the truth over the last year as they reiterate time and again that they want to cut Medicare and Social Security, vital lifelines for the middle class that Americans pay into throughout their lives," White House spokesperson Andrew Bates said in a statement.
What to watch in debt ceiling negotiations
Earlier this month, the U.S. reached the debt ceiling, which represents the total amount of money the U.S. can borrow to fund its legal obligations, including Social Security and Medicare.
If left unaddressed, experts say that may prompt a delay in benefits as the government scrambles to prioritize payments.
The government will likely be able to continue to pay its obligations through "extraordinary measures" through early June, Treasury Secretary Janet Yellen has said.
As lawmakers negotiate an agreement to raise or eliminate the debt ceiling, some worry that may include compromises on Social Security and Medicare.
That may include setting up a budget process or commissions as part of a compromise that could pave the way for changes later, including cuts, according to Dan Adcock, government relations and policy director at the National Committee to Preserve Social Security and Medicare.
Sen. Joe Manchin, D-W. Va., said in an interview earlier this month that cuts to Social Security and Medicare should not be included in debt ceiling negotiations. However, he has expressed interest in including legislation to create commissions in the debt-limit increase, Adcock noted.
Manchin also called for raising the cap on payroll taxes that are used to fund Social Security. In 2023, those taxes are applied on up to $160,200 in earnings.
Republicans have generally opposed tax hikes. However, the House Republican Study Committee budget calls for changes interpreted as benefit cuts, such as raising the retirement age for both Social Security and Medicare, among other changes.
The Republican plans have yet to be introduced as bills.
Adcock said he is skeptical of McCarthy's comments calling for strengthening Social Security and Medicare.
"Having to go through 15 ballots to be elected speaker, he doesn't exactly have great control over his caucus," Adcock said.
"Even if you were to take him at his word, his caucus may decide to go in another direction, including cuts," he said.
Democrats have put forward legislative proposals that call for raising payroll taxes while also making benefits more generous. President Joe Biden called for similar changes to shore up Social Security during his campaign for the White House.
Biden, McCarthy set to meet this week
McCarthy on Sunday called out Biden's reluctance to address Social Security and Medicare amid the debt ceiling talks.
"I know the president says he doesn't want to look at it, but we've got to make sure we strengthen those," McCarthy said.
The White House, in turn, took issue with the House speaker's language.
"For years, congressional Republicans have advocated for slashing earned benefits using Washington code words like 'strengthen,' when their policies would privatize Medicare and Social Security, raise the retirement age or cut benefits," White House spokesman Bates said.
Biden is scheduled to host McCarthy at the White House on Wednesday as part of a series of meetings with leaders of the new Congress, a second White House spokesperson separately said.
The meeting will include a discussion on a range of issues, including preventing a national default on the debt and House Republicans' proposed changes to Social Security and Medicare.
"He [Biden] will underscore that the economic security of all Americans cannot be held hostage to force unpopular cuts on working families," the White House spokesperson said.
Copyright CNBCs - CNBC