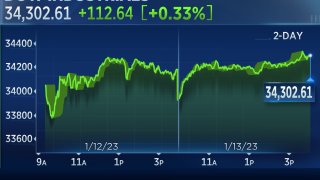 Stocks rose Friday as investors digested bank earnings and bet inflation would ease in 2023.
All of the major indexes fought their way into the green after beginning the day deep in the red. The Dow Jones Industrial Average rose 112.64 points, or 0.33%, to 34,302.61. The S&P 500 rose 0.40% to 3,999.09, and the Nasdaq Composite advanced 0.71% to 11,079.16.
The S&P and Nasdaq each posted their second consecutive positive week and best weekly performance since November. The tech-heavy Nasdaq was the outperformer for the week after rising 4.82%. The S&P advanced 2.67%, and the Dow added 2%.
Bank earnings weighed on equities to start the day, but sentiment reversed as investors appeared to shrug off negative news that was expected to some degree, according to Ross Mayfield, investment strategy analyst at Baird.
"Financials weren't really quite expected to have a blockbuster quarter," he said. "It's just providing a bit of a sentiment wave, and since the banks lead earnings season they can kind of set the tone for how investors look at the broader picture."
"Frankly, the market has rallied pretty nicely over the last few weeks, absent a catalyst, and so there might be a little bit of profit taking out of earnings season going," Mayfield added.
Wells Fargo, whose profits for the last quarter had been cut by half, said it's preparing for the economy to "get worse than it's been over the last few quarters." 
JPMorgan Chase posted revenue that beat expectations, but even so, the bank warned it's setting aside more money to cover credit losses because a "mild recession" is its "central case." The bank posted a $2.3 billion provision for credit losses in the quarter, a 49% increase from the third quarter.
The CEOs of Citigroup and Bank of America also said they're anticipating a "mild recession."
Elsewhere, Delta Air Lines reported earnings and revenue that beat estimates for the final quarter of 2022. However, the stock slid 3.5%. Investors have been awaiting these results to gain more insight into the health of the economy.
In economic data, the University of Michigan consumer sentiment survey showed the one-year inflation outlook down to 4%, the third straight monthly decrease and the lowest level since April 2021.
That followed December's CPI report, released Thursday, which showed prices declined 0.1% over November. While prices rose at a 6.5% pace compared to the previous year, the results heightened hopes that the Federal Reserve may soon slow its hiking.
Lea la cobertura del mercado de hoy en español aquí.
Stocks close higher to end the week
All of the major averages ended on a high note Friday.
The Dow Jones Industrial Average rose 112.64 points, or 0.33%, to 34,302.61. The S&P 500 rose 0.4% to 3,999.09, and the Nasdaq Composite advanced 0.71% to 11,079.16.
For the week, the Dow rose 4.82%, the S&P advanced 2.67%, and the Dow added 2%.
— Tanaya Macheel
Evercore ISI downgrades Wendy's, cites better opportunities elsewhere
Evercore ISI is shifting its perspective on Wendy's, downgrading shares to an in line rating as better opportunities appear elsewhere in the fast food sector.
"We continue to forecast solid fundamentals — our 2023 assumptions are inline with consensus — but we see fewer catalysts than years past," wrote analyst David Palmer, even though shares look attractive from a valuation standpoint and share buybacks may soon accelerate. Wendy's said Friday it would spend $500 million on share repurchases.
The company's posted strong same-store-sales growth, which Evercore ISI expects to come in above consensus expectations for the fourth quarter. However, expected growth in the breakfast markets is lagging the firm's previous estimates, he said.
Evercore ISI's adjusted his price target to $25, equating to 15% potential upside from Thursday's close.
"Shares continue to trade at a meaningful discount to top-tier peers MCD and YUM. We believe that if Wendy's can accelerate growth, it can close the valuation gap," Palmer wrote.
Shares gained nearly 6% Friday on news that activist investor Nelson Peltz would not chase a takeover of the company. Wendy's also announced a reshuffle within its corporate structure and approved doubling its dividend.
— Samantha Subin
Bank earnings show U.S. consumer still holding up, at least for now
While Bank of America and JPMorgan warned of a likely recession on Friday, their fourth quarter results show that the U.S. consumer is still holding up despite inflation and Fed rate hikes.
"It's a continuation in terms of the consumer profile from the last update we got when the third quarter was released. And broadly speaking, I would characterize it as a consumer that is feeling the pinch of inflation but still has a pretty healthy cushion of excess savings, and if they're employed they're getting wage gains," said Matt Stucky, senior portfolio manager at Northwestern Mutual Wealth Management.
"You look at overall spending growth year on year, and there's still growth there on top of what inflation levels have been," Stucky added.
The labor market is the key area to watch from here to measure the health of the consumer, he said.
— Jesse Pound
Third year of a presidency is historically strong for stocks after down midterm year, Bank of America says
Bank of America technical strategist Stephen Suttmeier noted that the third year of a presidency is tends to be positive 80% of the time after a down midterm year. On average the S&P 500 gains more than 18% in such years, Suttmeier said.
The S&P 500 fell 19.4% in 2022, tumbling into a bear market. To be sure, investors are coming into 2023 wary as the global economic outlook remains murky and central banks continue to raise rates.
— Fred Imbert, Michael Bloom
Lots of companies cutting 2023 earnings estimates, Berenberg says
There are many companies slashing their earnings estimates as recession fears loom, Berenberg said.
Strategists at the firm noted that 59% of S&P 500 stocks have seen their 2023 earnings estimates cut over the past month, marking the third-biggest portion of downgrades in the past 40 years.
"Based on 12-month forward consensus earnings, the net balance of upgrades/downgrades is hitting a tipping point, as we head into net downgrade territory," Berenberg said. "When this has happened previously during the past 30 years, there has subsequently been a reasonable to meaningful earnings reset over the following 1-2 quarters."
— Fred Imbert, Michael Bloom
Logitech shares fall following Deutsche Bank downgrade
U.S.-listed shares of Logitech dropped around 3% Friday following a downgraded to hold from buy by Deutsche Bank.
Analyst George Brown lowered the price target and predicted the share value could fall 4.7% in the next 12 months. He said the company's computer and video businesses would likely struggle in an economic downturn.
"We are turning more cautious on Logitech, as the current downturn in the PC market and weakening demand seems to be more severe than anticipated," Brown said in a note to clients.
CNBC Pro subscribers can read the full story here.
— Alex Harring
Market has triggered a breadth signal that is usually followed by strong gains, Wolfe Research says
The market could be in for a strong few months if this breadth signal followed by Wolfe Research is accurate once again.
Analyst Rob Ginsberg said in a note Friday that more than 50% of stocks listed in the Russell 3000 index have reached one-month highs, marking the 22nd time this phenomenon has taken place.
He pointed out that such signals have historically been followed by strong returns. Ginsberg said the Russell 3000 averages a 5.9% return after the signal is flashed. After five months, the average return goes up to 8.3%.
However, Ginsberg said that, "A consolidation in the near-term wouldn't surprise us, in
fact, the market has tended to digest recent gains following this signal in the past in the near-term."
— Fred Imbert, Michael Bloom
60% of S&P 500 stocks are short-term overbought, chart analyst says
Chart analyst Katie Stockton said Friday that, entering the session, more than 60% of the S&P 500 was affected by short-term overbought conditions.
"This suggests momentum will fade next week," the founder of Fairlead Strategies said in a note. "Past peaks in this breadth measure have provided early warning, preceding downdrafts in the SPX by a week or two."
The S&P 500 is headed for its strongest one-week performance since November, as traders piled on bets that U.S. inflation may be easing. The Dow Jones Industrial Average and Nasdaq Composite are also on pace for weekly gains.
— Fred Imbert
How will the Fed react to falling inflation, bank CEO recession warnings?
A negative inflation reading on Thursday combined with warnings of a mild recession from major banks on Friday could be signs that the Fed will pause soon or even cut rates this year, but that would require another change in direction from the central bank.
"You don't have to agree with the Fed's policy to believe them," said Lauren Goodwin, economist and portfolio strategist at New York Life Investments.
Goodwin pointed out that the overwhelming majority of Fed voting members were projecting a Fed funds rate 5% or higher this year in the last meeting. And given the concern some central bankers have expressed about the consequences of pausing too soon, they may be determined to hit that mark.
"With a relatively high degree of unification and conviction, they have said that they're going to bring the policy rate to 25 basis points higher than what the market says. And frankly unless we saw a slowdown in inflation or collapse in economic growth quickly ... I don't think they're going to change their minds," Goodwin added.
—Jesse Pound
Bank of America upgrades Caterpillar, says stock can perform as peers feel impacts of economic tightening
Bank of America upgraded Caterpillar to buy from neutral, noting it has a "road to outperformance" even as the broader materials industry could suffer amid an economic slowdown.
"While CAT is vulnerable to a slowdown, several unique dynamics from a macro and business cycle perspective can underpin significantly higher 'trough' earnings vs expectations," analyst Michael Feniger said in a note to clients. "We believe there is an underappreciated roadmap that could bring the CAT story to the forefront and drive outperformance."
His price target of $295 implies an upside of 15.7% over where the stock closed Thursday. CNBC Pro subscribers can read more on the upgrade here.
— Alex Harring
JPMorgan credit loss provisions accelerated faster than its rivals
Maybe it's JPMorgan's large credit card portfolio, or maybe it's the bank's concerns about a mild recession, but the bank has bulked up its credit loss provisions at a faster pace than its rivals. The following chart shows how credit loss provisions stack up and how the provisions rose over the course of 2022.
—Christina Cheddar Berk, Robert Hum
Inflation outlook softens again, traders fully price in quarter-point rate hike
Declining inflation expectations from consumers is coinciding with expectations that the Federal Reserve is likely to step down the level of interest rate increases in a few weeks, and end them altogether soon.
The University of Michigan consumer sentiment survey on Friday showed the one-year inflation outlook down to 4%, the third straight monthly decrease and the lowest level since April 2021.
At the same time, traders assigned a 94.2% chance of a 0.25 percentage point interest rate increase on Feb. 1, when the Fed's next two-day meeting concludes. That marks another a smaller move than the 0.5 percentage point hike in December, which itself was a deceleration from four straight 0.75 percentage point increases.
"Inflation expectations are well-anchored and improving as pricing pressures are weakening across many sectors. The Fed will likely hike by 0.25% at the upcoming meeting later this month," LPL Financial chief economist Jeffrey Roach said. "We shouldn't be surprised if the Fed starts talking about pausing in the near future."
—Jeff Cox
Take bank earnings with a grain of salt, says Interactive Brokers' Sosnick
Stocks are trading off their lows of the morning as investors shrug off negative news from banks' quarterly results. That's could be a good thing, according to Steve Sosnick, chief strategist at Interactive Brokers. He said investors can often take bank earnings too seriously before the rest of earnings season has unfolderd.
"The banks are sort of like the opening act for earning season, and you know if you ever go to a concert: sometimes you want to listen to the opening act, sometimes you don't," he told CNBC's "Squawk on the Street" Friday.
"In this case, banks are very idiosyncratic," he added. "They rely on interest rates and they rely on trading revenues to an extent that pretty much no other industry does. The real key is what the economists are saying and what they're seeing from their customers. That's why you have to sort of say: alright, I'm not going to get too bent out of shape if you know if JP Morgan or Bank of America etc. are down a percent or two this morning or not."
— Tanaya Macheel
Citigroup fourth-quarter profit falls 21%
Citigroup reported Friday that profit fell by 21% in the fourth quarter and that the bank is setting aside more money for credit losses as the economy weakens.
Shares were slightly higher in premarket trading, however, after the fixed income markets division showed record revenues up 31%.
Like the rest of the industry, Citigroup is also contending with a sharp decline in investment banking revenue, partly offset by an expected boost to trading results in the quarter.
Citigroup's net income slumped 21% to $2.5 billion from $3.2 billion in the previous year, largely due to loan growth in its private bank alongside expectations for a weaker macroeconomic environment going forward. The weakness was partially offset by higher revenues and lower expenses.
Read more here.
—Carmen Reinicke
Bank of America CEO expects mild recession
Bank of America CEO Brian Moynihan echoed JPMorgan's outlook about a mild recession being likely this year.
"Our baseline scenario contemplates a mild recession. ... But we also add to that a downside scenario, and what this results in is 95% of our reserve methodology is weighted toward a recessionary environment in 2023," Moynihan said on a call with investors.
Bank of America's stock was last down 1.7% for the session.
— Jesse Pound
Consumer sentiment rises for second straight month
The University of Michigan said its consumer sentiment index rose for a second month in a row, although it remains at a historically low level. The index climbed to 64.6 from 59.7 in December. Still, it remains about 4% below its level from the prior year.
"Uncertainty over both inflation expectations measures remains high, and changes in global factors in the months ahead may generate a reversal in recent improvements," said Joanne Hsu, Surveys of Consumers director.
— Fred Imbert
Cathie Wood says market dislocation creates opportunity for her innovation stocks
Ark Invest's Cathie Wood said the stock market has never been more dislocated in her career as disruptive technology stocks get punished by rising rates.
"In my 45 years on Wall Street and more than 30 years in portfolio management, I have never seen markets this dislocated," Wood said in a new blog post.
But she said she believes her innovation strategy could lead the comeback when the market bottoms. Her flagship ARK Innovation ETF tumbled 67% in 2022, and the fund has rebounded 13.6% in the new year.
"I believe that the current market dislocation presents an opportunity for innovation strategies to thrive when equity markets recover," Wood said. "Fear of the future is palpable, but crisis can create opportunities."
— Yun Li
Stocks open lower to start the final trading day of the week
Stocks fell at the open on Friday.
The Dow Jones Industrial Average moved lower by 264.13 points, or 0.77%. The S&P 500 also fell 0.77%, and the Nasdaq Composite slid by 0.86%.
— Tanaya Macheel
Guggenheim says to sell Tesla
Guggenheim downgraded Tesla to sell from neutral, arguing the electric vehicle maker's fourth-quarter expectations are too high.
"Overall, heading into a challenging backdrop in FY23, we believe TSLA had to decide whether to sacrifice volume growth or gross margins, and based on pricing actions, the answer appears to be gross margins," analyst Ronald Jewsikow said in a note to clients. "This creates a difficult narrative for a stock still trading at ~30x our FY23 estimates, which we now forecast to grow at just a ~10% CAGR over the next 3 years."
The stock has dropped more than 6% in premarket trading as investors responded to the latest news of price cuts. CNBC Pro subscribers can read more about Guggenheim's expectations for the company and its share going forward here.
— Alex Harring
Stocks making the biggest premarket moves
Here are some of the companies making moves in the premarket:
For further details and more big movers check out our full list.
— Michelle Fox
Wells Fargo shares drop 4% as profits cut in half
Wells Fargo shares fell more than 4% in premarket trading Friday after the bank reported shrinking profits, weighed down by a recent settlement and the need to build-up reserves amid a deteriorating economy.
Wells Fargo's net income tumbled 50% to $2.86 billion, or 67 cents a share, from $5.75 billion, or $1.38 per share, a year ago. The bank set aside $957 million for credit losses after reducing its provisions by $452 billion a year ago.
— Yun Li
Delta Air Lines reports earnings beat
Delta Air Lines' fourth-quarter profit and revenue topped expectations on Friday.
The air carrier posted adjusted earnings per share of $1.48 for the fourth quarter, compared with analyst estimates of $1.33, according to Refinitiv. Adjusted revenue came in at $12.29 billion, excluding refinery sales, vs. $12.23 billion expected.
Still, the shares fell in early morning trading on the company's first-quarter profit outlook, which was dented by higher labor costs.
— Leslie Josephs, Tanaya Macheel
JPMorgan says a 'mild recession' is 'central case'
JPMorgan reported earnings of $3.57 per share and revenue of $35.57 billion for the fourth quarter. Analysts were expecting $34.4 billion in revenue, according to Refinitiv. The EPS estimate for the period was $3.07 a share, but it was not yet clear if that was comparable.
JPMorgan shares were down about 2% as the bank warned it was setting aside more money to cover credit losses because a "mild recession" is its "central case."
"The U.S. economy currently remains strong with consumers still spending excess cash and businesses healthy. However, we still do not know the ultimate effect of the headwinds coming from geopolitical tensions including the war in Ukraine, the vulnerable state of energy and food supplies, persistent inflation that is eroding purchasing power and has pushed interest rates higher, and the unprecedented quantitative tightening," said Chairman and CEO Jamie Dimon in the release.
— John Melloy
Bank of America reports earnings beat
Bank of America shares were flat in early trading after the bank said it earned 85 cents a share last quarter, above the 77 cents a share analyst consensus from Refinitiv. Revenue was $24.66 billion versus $24.3 billion expected by analysts polled by Refinitiv.
Higher rates helped the results with net interest income jumping 29% to $14.7 billion, according to the bank.
The shares were about flat in early trading.
— John Melloy
Goldman downgrades Lockheed Martin, shares fall
Goldman Sachs downgraded Lockheed Martin to sell from neutral, pushing the stock down about 3% in the premarket.
"The defense budget has grown significantly to an all-time high level, and with a large level of cumulative US government debt, focus on slowing spending growth or reducing it outright could return in 2023," Goldman said. "LMT is highly diversified across the defense end-market, which means it often grows at similar rates as the budget."
— Alex Harring
European markets nudge higher as investors monitor inflation, rate outlook
European markets climbed cautiously on Friday morning after closing the previous session at their highest level since April 2022.
The pan-European Stoxx 600 was up 0.4% in early trade, with health care stocks adding 1.1% while autos fell 1.5%.
- Elliot Smith
Virgin Galactic soars as company reaffirms commercial launch plan
Virgin Galactic shares rocketed 19% higher in extended trading after the space tourism company said it's on track for a commercial launch in the second quarter of 2023.
The company also announced the departure of Swami Iyer, president of aerospace systems, who will continue operating as an advisor to CEO Michael Colglazier.
— Samantha Subin
SEC sues crypto firms Genesis and Gemini
The Securities and Exchange Commission sued crypto firms Gemini and Genesis on Thursday, alleging in a complaint that the companies sold and offered unregistered securities through a high-yield product known as Earn.
Crypto exchange Gemini partnered with lender Genesis in February 2021 on the product, which boasted yields as high as 8%.
According to SEC officials, Genesis should have registered the product as a securities offering and allegedly violated laws designed to protect investors.
— Rohan Goswami, Samantha Subin
Stock futures open flat
Stock futures opened flat Thursday evening.
Futures tied to the Dow Jones Industrial Average and S&P 500 inched 0.07% and 0.06% lower, respectively, while Nasdaq 100 futures dipped 0.12%.
— Samantha Subin
Copyright CNBCs - CNBC