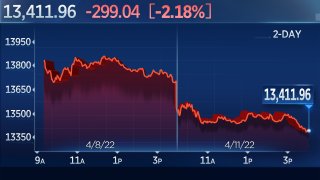 Stocks fell Monday as investors grew increasingly concerned a three-year high in the benchmark U.S. interest rate would start to slow the economy.
The 10-year Treasury yield jumped above 2.79% on Monday, levels not seen since January 2019, as the Federal Reserve braces investors for tighter monetary policy ahead.
The tech-heavy Nasdaq Composite dropped 2.18% to 13,411.96, with losses growing deeper in the final hour of trading as growth stocks take the biggest hit from higher rates. The Dow Jones Industrial Average lost 413.04 points, or 1.19%, to 34,308.08. The S&P 500 slipped 1.69% to 4,412.53.
After a rough start to the year that saw the Nasdaq fall into correction territory at one point, it rebounded in March with a 3.4% gain. But the selling in growth and tech names has returned in April with the Nasdaq off by more than 5% so far this month. The index is down 17% from its all-time high.
"If we were to stack up what's moving the markets today, I think we're just mirroring what we're seeing in the Treasury yield environment," said Art Hogan, chief market strategist at National Securities. "And it's hard to know what's going to break that cycle except for a couple of days/weeks where rates either stabilize or are starting to pull back a bit."
Concerns over higher interest rates have spurred investors to drop more risky assets, such as tech stocks that led losses on Monday. Microsoft declined 3.9%. Semiconductor stocks such as Nvidia and Advanced Micro Devices fell 5.2% and 3.6%, respectively.
Oil prices dropped on Monday amid fears that Covid lockdowns in China would depress global demand. International benchmark Brent crude declined 4.18% to settle at $98.48 per barrel. Meanwhile, West Texas Intermediate crude futures dropped 4.04%, settling at $94.29 per barrel.
Energy stocks declined as a group. Occidental Petroleum slid nearly 6.3%. Diamondback Energy lost 4.8%, and ConocoPhillips fell 4.9%.
To be sure, airline stocks bucked the broader market's negative trend, as Delta Air Lines spiked 4%. Alaska Air Group popped 1%, American Airlines Group jumped 2.3%, Southwest Airlines ticked upward 3.4% and United Airlines Holdings jumped 1.1%.
Meanwhile, AT&T surged 7.7% after spinning off WarnerMedia to merge with Discovery. JPMorgan analysts liked the decision, giving AT&T an overweight rating and saying the stock is now trading at a discount.
Twitter's stock was on the move after CEO Parag Agrawal revealed that Elon Musk abandoned his plan to join the company's board. Shares for the social media company dropped more than 8% in the premarket, but had recovered to gain 1.7% in Monday trading.
Rates could get a boost again on Tuesday as an economic report is set to show inflation at the highest in decades. March's consumer price index is expected to show an 8.4% annual increase, according to the consensus estimate of economists polled by Dow Jones.
Cleveland Fed President Loretta Mester told CBS' "Face the Nation" on Sunday that she still believes the Fed can get inflation under control without causing major damage to the economy.
"If you look at the risks, given what's happening in the world and in the economy, there is an increased risk [of recession]," she said. "But I remain optimistic, and certainly my modal forecast on what is going to happen this year is that the expansion will continue."
Mester added that the Covid lockdowns in China will "exacerbate" the supply chain issues that are contributing to inflation in the U.S.
Later this week, the first-quarter earnings season will hit its stride with some major banks and airlines reporting earnings. On Wednesday, JPMorgan and Delta Air Lines will report their earnings before the bell. On Thursday, Citigroup, Goldman Sachs, Morgan Stanley and Wells Fargo are expected to report before markets open.
Correction: A previous version of this story misspelled Mester's last name.
Copyright CNBC