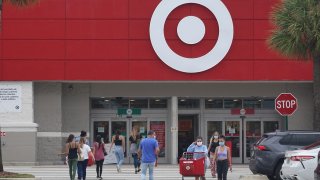 This is CNBC's markets live blog that will be updated throughout the day. 
The Dow declined 1.16% for its second straight day of losses
The S&P 500 slid 1.16% for its second straight day of losses
The Nasdaq Composite fell 0.82% for its second straight day of losses
The Russell 2,000 fell 1.26% after hitting a record high earlier in the session
Dow Transports shed 0.7% after hitting a record earlier in the session
All 11 S&P sectors closed in the red, led to the downside by energy, which fell 2.88%.
— Gina Francolla, Pippa Stevens
The major averages' losses accelerated during the final minutes of trading on Wednesday, with all three closing near the lows of the day. The Dow shed 345 points for a loss of 1.16%, while the S&P 500 also declined 1.16%. The tech-heavy Nasdaq Composite finished the session 0.82% lower.
— Pippa Stevens
CNBC's Jim Cramer on Wednesday ripped Congress and President Donald Trump's administration for their inability to strike a deal on additional coronavirus relief this fall, contending the lack of fiscal support has caused permanent damage to small and medium-sized businesses across the U.S.
"I really hate to say this, but I think that Congress has doomed so many companies. The president has doomed so many companies," Cramer said on "Halftime Report."
Read more on Cramer's call here.
— Kevin Stankiewicz
Angelo Kourfakas, an investment strategy analyst at Edward Jones, said Wednesday that there "may be a little bit of complacency" about how easy it will be for the economy to return to its pre-pandemic level once a vaccine is approved. He mentioned uncertainty about stimulus, high unemployment and potential logistical complications of a vaccine roll out.
Kourfakas recommended that investors "ease in" to the reopening and cyclical plays because of near-term uncertainty about the pandemic during the winter and because secular trends boosting some growth stocks will still be around after the pandemic.
— Jesse Pound
Shares of video conferencing company Zoom Video rallied nearly 3% after New York City Mayor Bill de Blasio said classes in the city would return to online amid the surge in Covid-19 cases. Shares of Zoom were in the red for most of Wednesday's session before the announcement.
— Maggie Fitzgerald
New York City will shut the doors of its schools amid a surge of coronavirus cases in the city. Classes will shift to online learning.
"New York City has reached the 3% testing positivity 7-day average threshold. Unfortunately, this means public school buildings will be closed as of tomorrow, Thursday Nov. 19, out [of] an abundance of caution. We must fight back the second wave of COVID-19," de Blasio said in a tweet on Wednesday.
— Maggie Fitzgerald
New York Federal Reserve President John Williams said Wednesday the U.S. economy is still in a recession, though he has been encouraged by some recent developments. "We just have to think about this being a very unique situation now. We've seen the economy bounce back far faster than anyone could have expected going back six months ago," Williams told a Society of American Business Editors and Writers Q&A session. "We're still in a severe recession, but is so much driven by Covid." The U.S. entered an official recession in February, a month before the coronavirus was declared a pandemic. It suffered its worst quarterly decline in Q2 with a 31.4% decline that was followed by the fastest-ever growth period with a 33.1% annualized gain in Q3. However, that still left the economy considerably below its pre-pandemic level. He said the news of two vaccines is welcome news but noted that if Congress does not come through with more rescue funding "it could slow the pace of recovery, because people won't have as much to spend." – Jeff Cox
The Dow Jones Industrial Average fell into negative territory around 1:30 p.m. ET, trading about 15 points lower. The S&P 500 also dipped into the red, losing 0.06%. The Nasdaq Composite traded up about 0.1%.
— Maggie Fitzgerald
The major market indexes were slightly higher at noon on Wall Street. The Dow traded about 85 points, or 0.3%, higher. The S&P 500 and Nasdaq Composite were up 0.2% and 0.1%, respectively.
Shares of Boeing, whose strong start helped boost the Dow earlier in the morning, were up just 1.2%.
— Jesse Pound
Lowe's — The home improvement company dropped more than 5% after it reported earnings and guidance that fell short of analyst expectations.
Nio – U.S.-listed shares of the China-based electric vehicle manufacturer fell 5% even after Nio posted a smaller-than-expected bottom-line loss and said its revenue jumped 146.4% year over year.
La-Z-Boy – The stock jumped more than 8% after the furniture maker reported better-than-expected quarterly results.
TJX — The retail stock jumped 5.5% after the parent company of TJ Maxx beat Wall Street estimates on the top and bottom lines for its fiscal third quarter.

Check out more companies making headlines during midday trading.
— Yun Li
The major tech stocks drifted lower in early trading, dragging the Nasdaq Composite into the red. Shares of Amazon, Apple, Alphabet, Facebook and Microsoft were all in negative territory, though none lost more than 1%.
— Jesse Pound
A new exchange traded fund is set to debut on Wednesday based on a strategy from Virtus Investment Partners chief market strategist Joe Terranova. The fund will track an index of stocks that fit Terranova's "quality momentum" strategy.
The index is created by taking the 500 largest companies, and filtering for the top 125 names based on the strategy's criteria. The index is equal weighted and will be rebalanced quarterly. The fund will trade under the ticker symbol JOET.
Terranova is a CNBC contributor and appears regularly on the network's shows, including "Halftime Report."
— Jesse Pound
Baird upgraded Boeing to outperform from neutral.
Morgan Stanley upgraded Tesla to overweight from equal weight.
BMO initiated AbbVie as outperform.
Citi initiated Mondelez as buy.
Jefferies downgraded Honeywell to hold from buy.
Goldman added McKesson to the conviction buy list.
Argus upgraded Under Armour to buy from hold.
Pro subscribers can read more here.
— Michael Bloom
The Dow opened with a modest gain on Wednesday following positive news on the vaccine front and on Boeing's 737 Max. The Dow gained 70 points, or 0.2%, while the S&P 500 and the Nasdaq Composite were flat.
— Jesse Pound
Shares of Carnival Cruise Line slumped 4% in premarket trading after the company announced a new equity capital raise and that it would cancel all voyages from the United States in January.
Carnival said it will use the money raised from the secondary stock issuance to repurchase outstanding convertible notes and that there would be no material change to the company's cash position.
In addition to canceling all U.S. voyages in January, the cruise line also nixed select voyages in February and March.
— Jesse Pound
The S&P 500 has 12% upside over the next year, according to new projections from Credit Suisse and chief U.S. equity strategist Jonathan Golub. The firm predicted that earnings growth would grow by 20% next year before slowing in 2022 as the economy and markets normalize after a vaccine.
"As we look toward 2022, the virus will be a fading memory, the economy robust, but decelerating, the yield curve steeper and volatility lower, and the rotation into Cyclicals largely behind us," Credit Suisse said in a note.
CNBC Pro subscribers can read more about the call here.
— Jesse Pound
Morgan Stanley upgraded Tesla to overweight from equal weight on Wednesday morning and said the company is on its way to becoming a more well-rounded automobile business."Tesla is on the verge of a profound model shift from selling cars to generating high margin, recurring software and services revenue," analyst Adam Jonas said. The firm also raised its price target to $540 from $360. Shares are up almost 2% in premarket trading.
Pro subscribers can read more here.
- Michael Bloom
Bitcoin surged past $18,000 for the first time since December 2017, bringing this year's massive rally to more than 150%.
The price of bitcoin was trading about 8.6% higher Wednesday morning at $18,172, breaching a level last seen on Dec. 20, 2017, according to data from industry site CoinDesk. The crytocurrency got a boost last month after PayPal announced a new feature that allows its users to buy and sell many digital coins.
— Yun Li
Pfizer and BioNTech said Wednesday that a final data analysis found their coronavirus vaccine was 95% effective in preventing Covid-19 and, in addition, appeared to fend off severe disease.
The vaccine, called BNT162b2, was highly effective against the virus 28 days after the first dose, and its effectiveness was consistent across all ages, races and ethnicities, the drugmakers said. Additionally, the elderly, who are seen as at high risk of severe illness from Covid-19, saw vaccine effectiveness of more than 94%, they added.
The news comes more than a week after the companies announced that their vaccine was more than 90% effective and two days after Moderna said preliminary phase three trial data showed its vaccine was 94.5% effective.
Shares of Pfizer were up nearly 3% during premarket trading on Wednesday.
— Berkeley Lovelace Jr.
Lowe's reported a slight miss on third-quarter earnings on Wednesday, sending shares tumbling more than 6%. The retailer earned $1.98 per share for the quarter on an adjusted basis, which was just short of the $1.99 expected by analysts surveyed by Refinitiv. Revenue came in at $22.31 billion, however, exceeding the consensus estimate of $21.25 billion.
Same-store sales, which track sales online and at Lowe's stores open for at least 12 months, surged 30.1%, topping estimates for 22.8% growth.
Read more on Lowe's results here.
— Lauren Thomas, Pippa Stevens
Shares of Boeing popped more than 5% in premarket trading after the Federal Aviation Administration
lifted its ban on the 737 Max,
Boeing has a backlog of more than 3,000 other Boeing 737 Max planes, a number that has declined as the lengthy grounding coupled with the coronavirus pandemic prompted customers to call off hundreds of orders.
— Leslie Josephs, Yun Li
Shares of Target gained more than 2% in premarket trading on Wednesday after the company beat top and bottom line estimates during the third quarter amid a boom in the retailer's online offerings.
Revenue rose 21% year over year to $22.63 billion, which was ahead of the $20.93 billion analysts surveyed by Refinitiv expected. Target earned $2.79 per share on an adjusted basis, also ahead of the expected $1.60.
The retailer's curbside pickup service and home delivery service grew more than 500% and 280%, respectively.
Read more about the big-box retailer's quarterly results here.
— Pippa Stevens, Melissa Repko
U.S. stock futures climbed Wednesday morning as more good vaccine good news boosted sentiment on Wall Street. Pfizer released the final data on its vaccine candidate with BioNTech, which showed efficacy even better than the initial data. Dow Jones Industrial average futures rose 165 points, or 0.6%, implying an opening gain of about 160 points. S&P 500 futures rose 0.4%, while Nasdaq 100 futures traded 0.2% higher. The major averages suffered their first negative day in three in the previous session.
— Yun Li
Copyright CNBC