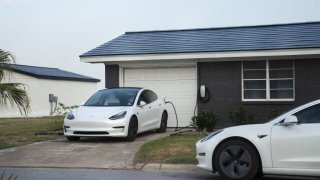 Tesla has only installed 3,000 of its Solar Roof systems in the U.S., according to research by Wood Mackenzie.
In 2019, Tesla said it was aiming to produce and install 1,000 Solar Roof systems per week.
Tesla acquired SolarCity in a deal worth $2.6 billion in 2016, after CEO Elon Musk touted its solar shingle technology. At the time, Musk served on the board of both businesses.
Tesla has only installed 3,000 of its Solar Roof systems in the U.S. since touting the technology seven years ago, according to new research from Wood Mackenzie.
That installation rate falls well shy of Tesla's guidance and ambitions for what it previously called its "solar glass" roof tiles. Wood Mackenzie notes that in late 2019 the company said it was aiming to manufacture 1,000 Solar Roofs weekly, and to install 1,000 per week in the first half of 2020.
The report offers the latest glimpse into Tesla CEO Elon Musk's struggle to integrate a solar energy business into his electric car company following the 2016 acquisition of SolarCity, a solar installer founded and run by his cousins Peter and Lyndon Rive with his help.
Average weekly Tesla Solar Roof installations reached just 21 in 2022, Wood Mackenzie said. Tesla hit a high of 32 average weekly installations in the U.S. in the first quarter of last year, according to the study.
Musk first promoted a shingle-style solar panel in October 2016, as he was trying to garner shareholder enthusiasm for Tesla's $2.6 billion purchase of SolarCity. The shingle he showed at a marketing event was not even a working prototype, it was later revealed. Musk had invested significant capital in SolarCity, and served as board chairman while also helming Tesla and SpaceX.
A group of Tesla shareholders eventually sued Tesla and Musk over the deal. Last year, the Delaware Court of Chancery ruled in favor of Musk in a bench trial. But the shareholders' lawyers on Wednesday made their opening arguments in pursuit of an appeal in Delaware Supreme Court.
Shareholders alleged that Tesla's SolarCity purchase amounted to a bailout and was pushed by Musk because his personal wealth and reputation were at stake. Musk has denied that he pressured the Tesla board to go through with the SolarCity deal. Had he lost, Musk could have been forced to pay upwards of $2 billion, CNBC previously reported.
While Tesla's Solar Roof effort has struggled, the company's traditional solar panels have seen some improved traction in the market.
The traditional solar-panel installations shrank considerably from 2016 to 2020, but volumes have been on the rise along with broader growth in the residential solar industry, Mackenzie Wood researchers told CNBC in an e-mail. Tesla installed traditional solar panel systems with a power generating capacity of 156 megawatts in 2021, and 248 megawatts in 2022, the researchers said.
The 3,000 Solar Roof systems that are installed in the U.S. have an estimated capacity of around 30 megawatts.
While Tesla intended to manufacture all of its solar roof tiles initially, it has instead procured photovoltaic glass from Chinese supplier, Almaden. Residential roofing company GAF Energy began manufacturing and selling a competing solar shingle to residential roofers in 2022.
The Tesla Solar Roof commanded less than .03% of the approximately 5 million new rooftops built in the U.S. in 2022, according to Wood Mackenzie.
Tesla didn't respond to a request for comment.
Copyright CNBCs - CNBC