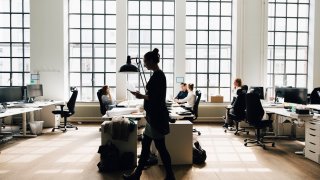 Women out-earn men in just three U.S. cities, according to a new analysis of Census data from Smartasset, the personal finance site.
Women who work full-time jobs in Hollywood, Fla., earn a median of $47,500 per year, or 104.76% of what men earn, per the report. The city, which has roughly 152,000 residents, also saw women's wages rise nearly 33% from 2017 to 2021, and the the wage gap narrowed by 26% during that time.
Women in Oakland, Calif., earn 102.73% the pay of their male peers, and in Springfield, Mass., 102.09%.
Women's wages are near parity (within 1% to 2% of men's wages) in Oceanside, Calif.; Dallas; Oxnard, Calif.; and Denton, Texas.
U.S. cities with the smallest gender wage gaps
Hollywood, Fla.: 104.76%
Oakland, Calif.: 102.73%
Springfield, Mass.: 102.09%
Oceanside, Calif.: 99.95%
Dallas, Texas: 99.62%
Oxnard, Calif.: 98.98%
Denton, Texas: 98.05%
The SmartAsset analysis takes a look at the 200 largest U.S. cities and compares data across four metrics: women's annual median earnings versus men's, the gross difference between women's and men's annual earnings, how much the wage gap has changed in the last four years, and how much women's earnings have changed in the last four years.
The wage gap widened in the 10 largest U.S. cities, according to SmartAsset, with the biggest drop coming from San Antonio, Texas, where women went from earning 91 cents for every dollar earned by a man to 82 cents over the last four years.
"Of course, each community has its own unique forces shaping the local economy, particularly for women," Susannah Snider, CFP®, managing editor for financial education at SmartAsset, tells CNBC Make It. "But the cities in the top of the rankings provide a bright contrast to the bleak nationwide statistics."
Nationally, the gender wage gap, which has persisted for decades, now sits at the average woman being paid 82 cents for every dollar paid to a man, according to Census Bureau estimates. The gap widens for many women of color.
Women ask for raises as frequently as men do but are less likely to get them, according to a 2022 CNBC Make It and Momentive poll. And they're more likely to feel confident they could do their boss's job better than them, suggesting women feel they aren't given ample opportunities to get promoted to leadership and advance in their careers.
Some areas are making slow progress, Smartasset notes. The cities where the wage gap has narrowed in recent years include Hollywood, Fla., Oceanside, Calif., Birmingham, Ala.; Santa Clarita, Calif.; and Denton, Texas.
The gender wage gap is a global issue. Closing the difference in men's and women's pay could boost the world's economy by about 7% — or $7 trillion, according to a Moody's Analytics report. At the current pace, it would take roughly 132 years for the world to close the economic gender gap, Moody's said.
DON'T MISS: Want to be smarter and more successful with your money, work & life? Sign up for our new newsletter!
Join CNBC's Women & Wealth event on April 11, where we'll explore ways that women can increase their income, save for the future, and make the most out of current opportunities. Register for free today.
Check out:
Meet 6 women changing the world in 2023
64% of women say they could do their boss's job better than them, but they aren't getting the chance
The job interview question that helped this 25-year-old negotiate her $115,000 salary

Copyright CNBCs - CNBC