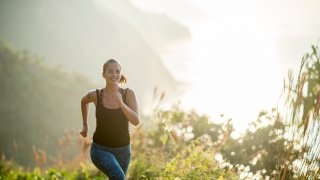 We already know that lifestyle choices can help influence how long you live. But where you live may also factor into your longevity.
Consider this: in 2019, the U.S. landed at No. 40 for life expectancy when compared to other countries, according to the World Health Organization. With America's advanced healthcare system in mind, an average life expectancy of 78.5 years, prior to Covid-19, was pretty low.
But there are some states where residents have a better chance at living longer lives, and it may be due, in large part, to their healthy lifestyles.
Life Extension, a company that aims to "extend the healthy human lifespan," compiled federal data to determine the best states for longevity based on life expectancy at birth and eight lifestyle factors:
Exercise
Healthy diet
Healthy weight
Sleep quality
Stress levels
Social isolation
Proximity to parks
Amount that people spend on outdoor recreation
States ranked high not only because of long life expectancies, but also if their residents live a healthy lifestyle.
The No. 1 state for a long, healthy life: Hawaii
It's not surprising that Hawaii landed the number one spot as the best state for longevity. The Aloha State's life expectancy at birth is 80.7 years, which exceeds all other states and is three years longer than the national average.
But it wasn't life expectancy alone that helped the state rise to the top. Two-thirds of their residents report that they eat fruits and vegetables every day, according to data from the Centers for Disease Control and Prevention.
And 82.6% of them also say they have a park or school within a half-mile of their homes, the CDC's data shows.
Top 10 best states in the U.S. for a long, healthy life
Hawaii
Minnesota and Vermont (tie)
Washington
New Hampshire
Utah
Colorado
Massachusetts
California
Oregon
Washington has the second-highest life expectancy, but it was displaced by Minnesota and Vermont for the No. 2 spot on this list due to lifestyle factors.
More than 80% of Vermonters say they've exercised within the past month. While, around 70% of people who reside in Minnesota claim they get sufficient sleep.
Still, Washington didn't lag far behind, snagging the fourth spot, largely because of its high life expectancy and its residents' low levels of stress. Less than 30% of those living in the Evergreen State report symptoms of anxiety.
DON'T MISS: Want to be smarter and more successful with your money, work & life? Sign up for our new newsletter!
Take this survey and tell us how you want to take your money and career to the next level.
Copyright CNBCs - CNBC