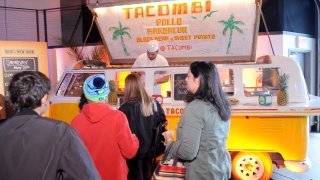 In 2006, Dario Wolos was selling tacos out of a converted Volkswagen van in the Mexican beach town Playa del Carmen.
The food truck, called Tacombi, has come a long way since then. Today, it's a fast-casual Mexican restaurant chain with 15 locations across New York, Miami and Washington, D.C. It has $27.5 million in funding from Shake Shack founder Danny Meyer's investment fund, fueling a rapid expansion plan across the U.S. — Shake Shack-style — to 75 total locations by 2026.
That's a far cry from Tacombi's beach days, which started when Wolos bought his 1963 green VW "bus" in Mexico City for $3,000. Wolos converted the van into a mobile restaurant where he sold his first tacos, he told Total Food Service in November.
In total, Wolos spent roughly $48,000 to launch Tacombi as a beach-side taco stand, including the money he spent on the VW bus, $20,000 from his parents and roughly $25,000 he'd saved on his own, he said.
Wolos drove the VW from Mexico City to Playa del Carmen himself — a 20-hour trek by car made difficult by the shape of the van, which was missing several windows, he added.
"I thought I was going to die. It's like a death trap: Every time a truck passed by, it was shaking," Wolos said, noting that the bus broke down at one point and had to be towed for part of the trip. Still, Wolos named his restaurant after the van, making a portmanteau from the words "taco" and "combi," a word that describes a microbus in Mexico.
Selling tacos on the beach wasn't a simple whim: Wolos first hatched the idea for a Mexican restaurant chain as a Cornell University economics student more than two decades ago. He wrote a business plan for a restaurant chain concept called "Taco Rex" where he'd sell Mexican food that was, to him, actually Mexican.
"I realized back then that there was this opportunity to share a perspective on Mexico that wasn't known yet around the world," Wolos said. "I saw that Taco Bell, Chipotle and Old El Paso and all these legacy brands of Mexican food weren't connecting people to this side of Mexico."
It took only four years for Wolos to jump from the beach to Tacombi's first New York location. He struggled to find high-quality Mexican taqueria products and ingredients in the U.S., so he also launched a consumer product goods (CPG) business called Vista Hermosa to make items like tortillas and chips to supply his restaurants.
Vista Hermosa now sells products in over 2,000 retail locations, including Whole Foods Markets. The two-company approach helped attract the attention of Meyer, who lauded Wolos for "building an incredibly dynamic business" after investing in Tacombi in 2021.
The restaurant "is focused on sharing authentic taco culture," according to its website, with menu items like al pastor-style pork and Mexican street-style corn served off the cob, in a cup. But even if Wolos has authenticity on his side, Tacombi will still face stiff competition from larger, more established rivals — including the same restaurants he set out to challenge as a college student.
Wolos has a great role model for overcoming that competition, he told Total Food Service: Meyer, who turned Shake Shack from a New York burger stand into a global chain with more than 400 restaurants around the world.
Together, the two men plan to develop an international licensing program that'll help Tacombi expand into overseas markets, including "Korea, Singapore, Middle East, and airports in the United States," Wolos said.
"We are now taking a Shake Shack approach to our global growth potential," he added.
Sign up now: Get smarter about your money and career with our weekly newsletter
Don't miss:
How Liquid Death's 40-year-old founder turned 'the dumbest name' and a Facebook post into a $700 million water brand
This Mark Cuban-backed $110 million startup wants to make charging EVs like ordering takeout
Copyright CNBCs - CNBC