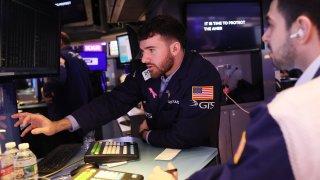 Treasury yields rose Thursday, reversing an earlier decline, as traders weighed a rescue plan for beaten-down regional U.S. bank First Republic.
The 10-year Treasury yield climbed 8 basis points to trade at 3.58%. The 2-year Treasury rate, meanwhile, jumped 19 basis points to 4.16%. Yields and prices move in opposite directions. One basis point is equivalent to 0.01%.   
Investors considered the prospects for the economy as uncertainty about bank stocks continued. U.S.-listed Credit Suisse shares had tumbled on Wednesday after the Saudi National Bank, which is Credit Suisse's largest investor, said it could no longer provide financial assistance to the Swiss bank.
Credit Suisse has since said it would borrow up to 50 billion Swiss francs ($54 billion) from the Swiss National Bank. U.S.-listed shares ended Thursday's session unchanged.
Meanwhile, regional U.S. bank stocks recovered some lost ground. The stocks have fallen sharply in the wake of the collapse of Silicon Valley Bank last week. The bank's failure prompted fears about a systemic issue in the banking sector. In both cases, many investors turned to traditionally safer assets like government bonds, sending yields lower.
In a vote of confidence, 11 banks pledged Thursday to pledge $30 billion in deposits to First Republic, which has been among the hardest hit bank stock in recent trading sessions.
Investors also digested the latest inflation data. On Thursday, housing numbers surged, while jobless claims tumbled. Outside the U.S., the European Central Bank announced that it would implement a further rate hike of 50 basis points
Copyright CNBCs - CNBC