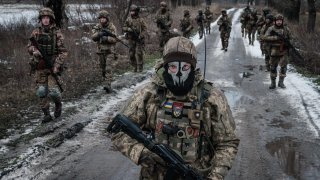 This was CNBC's live blog tracking developments on the war in Ukraine. See here for the latest updates. 
Ukraine's President Volodymyr Zelenskyy said the area of Donetsk in eastern Ukraine continues to be a hot spot in the war, with the country now preparing for a Russian offensive aimed at seizing the entire eastern Donbas region.
"There are already many reports that the occupiers want to do something symbolic in February. To try to avenge their last year's defeats," Zelenskyy said in his nightly address Sunday evening, referring to Russia's expected offensive which could, it's believed, begin on Feb. 24, the first anniversary of the invasion of Ukraine.
"We see this increased pressure in various areas of the front line, as well as pressure in the information field," the president added.
In other news, a top Ukrainian lawmaker said Sunday that Defense Minister Oleksiy Reznikov was going to be replaced with the chief of Ukraine's military spy agency, Kyrylo Budanov. The government has not yet officially confirmed the move, however, and the official — David Arakhamia, head of President Zelenskyy's parliamentary bloc — said Monday that the changes would not take place this week.
EU Parliament planning for possible Zelenksyy visit in days
The European Union's legislature was preparing plans to host Volodymyr Zelenskyy should the Ukraine president decide to come to Brussels to attend an EU summit later this week.
Two sources in the parliament, who spoke on condition of anonymity because of the sensitivity of the issue, said such plans are only meant to prepare the legislature to host Zelenskyy if security conditions permit him to attend Thursday's meeting.
"When he would come, we would be ready," said one of the sources, stressing that because of security concerns any decision could only come at the last moment.
EU leaders from 27-nation bloc will be gathering for Thursday's summit in Brussels, enabling Zelenskyy to meet all major leaders of the bloc in one day. Zelenskyy has often addressed EU summits only through video calls from Ukraine.
— Associated Press
Patriot missile systems redeployed to Polish capital
Patriot surface-to-air missile systems are seen at Warsaw Babice Airport in the Bemowo district of Warsaw, Poland. Patriot missile systems purchased by Poland from the US last year have been redeployed to the Polish capital for military exercises as the war in neighboring Ukraine enters its second year.
-Jaap Arriens | NurPhoto | Getty Images
Ukraine defense minister expects help from Western warplanes
Ukraine's defense minister expressed confidence Sunday that Western allies would agree to the country's latest weapons request — warplanes to fight off Russian forces that invaded nearly a year ago.
Defense Minister Oleksii Reznikov told a news conference in Kyiv that Ukraine has already received everything from its "wish list to Santa," except planes.
"There will be planes, too," Reznikov predicted. "The question is just what kind exactly.... Consider that this mission is already completed."
So far, Ukraine has won support from Baltic nations and Poland in its quest to obtain Western fighter jets. But several Western leaders have expressed concern that providing warplanes could provoke the Kremlin and draw their countries deeper into the conflict, which has cost tens of thousands of lives and wreaked massive destruction.
Kyiv says such jets are essential to challenging Russia's air superiority and ensuring success in a Russian offensive that Reznikov predicted could begin around the war's one-year anniversary, Feb. 24.
— Associated Press
Putin approves sale of Mercedes-Benz Russian finance arm
This content was produced in Russia where the law restricts coverage of Russian military operations in Ukraine.
Russian President Vladimir Putin on Monday approved the sale of Mercedes-Benz's local financial services division to Russian car dealer Avtodom, nudging the German automaker closer towards fully offloading its Russian assets.
Mercedes-Benz suspended production at its factory in Russia and halted exports to the country last March, and said in October it would fully quit the Russian market, selling stakes in its Russian assets to a local investor.
Its exit is part of a exodus of global companies from Russia after Moscow sent tens of thousands of troops into Ukraine last February.
Under Russian law, Putin is required to approve the sale of stakes in Russian finance or energy ventures, while approval from a separate government commission is required for deals involving firms from so-called "unfriendly" countries that have imposed sanctions against Russia.
Putin signed an order approving the sale of Mercedes-Benz Bank Rus - the auto company's financial services arm in Russia - to Avtodom, which specialises in sales of premium vehicles.
— Reuters
Kremlin says IAEA chief will not meet Putin in Moscow visit
The Kremlin said on Monday that International Atomic Energy Agency (IAEA) chief Rafael Grossi would not meet Russian President Vladimir Putin during his visit to Moscow this week.
Kremlin spokesman Dmitry Peskov told reporters that Grossi would meet officials from state nuclear energy firm Rosatom and the foreign ministry, and that Moscow expected "a substantive dialogue".
The IAEA - the United Nations' nuclear watchdog - has repeatedly expressed concerns about the safety of Ukraine's Zaporizhzhia nuclear power plant, which Russian forces seized last March soon after invading Ukraine. The plant has come under repeated shelling, with the two sides blaming each other.
— Reuters
116 Ukrainian servicemen released in latest prisoner of war exchange
116 Ukrainian servicemen pose for a photo after being released in new round of war prisoners exchange with Russia on Feb. 4, 2023.
- Ukrainian Presidency | Getty Images

Russian offensive likely to focus on Luhansk, Donetsk and Zaporizhzhia
Russia could call up 500,000 people for military service in the spring and summer of 2023 in order to support offensive operations in the east and south of Ukraine, according to a spokesman for the Main Intelligence Directorate of Ukraine's Defense Ministry.
"In January 2023, we saw that Russia intended to mobilize 300,000 to 500,000 people into the army to support offensive operations in the east and south of Ukraine in the spring and summer of 2023," Vadym Skibitskyi, the spokesman for the Main Intelligence Directorate said Monday, according to news agency Ukrinform.
"The relevant order to mobilize 500,000 conscripts in January is in addition to the 300,000 called up in October 2022," he said. "This is another clear sign that the Kremlin has no intention of ending the war."
A widely-expected and forthcoming Russian offensive may be launched in Donetsk and Luhansk in eastern Ukraine, and Zaporizhia in the south, Skibitskyi said.
"At the same time, Russian troops will further defend [a part of the] Kherson region and Crimea," Skibitskyi said, according to Ukrinform.
— Holly Ellyatt
President Zelenskyy could attend EU summit this week, report suggests
The EU is planning for Ukrainian President Volodymyr Zelenskyy to attend a summit of its leaders this week, according to the Financial Times, which cited comments by people briefed on the plans.
The sources stressed that security concerns risk derailing the the president's visit, however.
"Zelenskyy is to address a special session of the European parliament under the proposed plan, which is subject to security concerns. The summit is still at risk of being cancelled," the FT reported Monday.
A spokesperson for Zelenskyy told NBC News that "due to security reasons we do not inform on future events with the participation of the President of Ukraine."
Zelenskyy hosted European Commission President Ursula von der Leyen and European Council head Charles Michel in Kyiv last week. Ukraine's EU membership bid was among the talking points.
— Holly Ellyatt
No changes expected at Ukraine defence ministry this week, senior official says
A senior Ukrainian official said on Monday that no personnel changes would be announced at the defence ministry this week, despite saying earlier that Defence Minister Oleksii Reznikov would be replaced.
David Arakhamia, head of President Volodymyr Zelenskiy's parliamentary bloc, said on Sunday that Reznikov would be transferred to another ministerial job. On Monday, he made clear there would not be an immediate reshuffle.
"There will be no personnel changes in the defence sector this week," he wrote on the Telegram messaging app, without giving further details.
— Reuters
Ukraine offers help to Turkey after deadly earthquake
Ukrainian President Volodymyr Zelenskyy sent his Turkish counterpart his condolences after a deadly earthquake in Turkey and Syria early on Monday that killed hundreds of people.
A state of emergency has been declared in Turkey, where the death toll from the earthquake has risen to 284, with 2,323 people injured, Vice President Fuat Oktay told a news conference. He added that 1,710 buildings had collapsed.
Zelenskyy said on Twitter that Kyiv is ready "to provide the necessary assistance to overcome the consequences of the disaster." Ukraine's Foreign Minister Dmytro Kuleba echoed that offer.
— Holly Ellyatt
'Russification' set to continue in annexed parts of Ukraine with elections
Britain's Ministry of Defense has commented on Russian plans to hold elections in annexed parts of Ukraine, saying these continue Moscow's attempts to "Russify" such areas.
At the start of February, Russian Federation Council chair Valentina Matvienko said that regional elections will take place in the newly annexed areas of Ukraine later this year, on Sept. 10. That's the same day as other regional elections across the Russian Federation.
By planning on holding elections in annexed areas of Ukraine on the same day, it "highlights the leadership's ambition to present the areas as integral parts of the Federation," the ministry said on Twitter Monday.
"This follows continued efforts to 'Russify' the occupied areas, which include revision of the education, communication, and transport systems," it noted.
"While meaningful democratic choices are no longer available to voters at even regional level elections in Russia, leaders will likely make the self-vindicating argument that new elections further justify the occupation."
Russia held illegal referendums in four areas of Ukraine (Kherson, Zaporizhzhia, Donetsk and Luhansk) last fall asking residents whether they wanted to join Russian territory. The votes, widely seen as rigged, saw the four regions vote to join Russia. Ukraine and its international allies scorned the sham referendums, saying they would not recognize the votes.
— Holly Ellyatt
Canada's Leopard 2 tanks for Ukraine arrive in Poland
The first of four Leopard 2 battle tanks that Canada is giving to Ukraine has arrived in Poland, the country's National Defence Minister Anita Anand said on Twitter overnight.
"The first Canadian Leopard 2 main battle tank that we've donated to Ukraine has now arrived in Poland. Alongside our allies, we'll soon be training the Armed Forces of Ukraine in the use of this equipment," Anand said.
Canada said late last month that it would send four such tanks to Ukraine, joining other international allies in sending heavy tanks to the country. It also said it would buy a U.S.-made National Advanced Surface-to-Air Missile System for Kyiv.
— Holly Ellyatt
Ukraine to replace defence minister in wartime reshuffle, top lawmaker says
Ukraine is set to replace Defence Minister Oleksii Reznikov with the chief of its military spy agency, a close ally of President Volodymyr Zelenskyy said on Sunday, in a reshuffle at the forefront of Ukraine's war campaign.
Reznikov would be transferred to another ministerial job and replaced by Kyrylo Budanov, head of the GUR military intelligence agency, said David Arakhamia, a senior lawmaker and chief of Servant of the People parliamentary bloc.
"War dictates changes in personnel policy," Arakhamia said on the Telegram messaging app.
Reznikov's reshuffle would be the highest profile government change in a slew of resignations and sackings following a corruption scandal late last month and Zelenskyy's pledge for Ukraine to meet Western standards of clean governance.
Arakhamia said that Ukraine's "force" agencies — like the defence ministry — should not be headed by politicians during wartime, but people with a background in defence or security. He added that Reznikov would be made minister of strategic industries.
Reznikov, who had said earlier on Sunday that any decision on a reshuffle was up to Zelenskyy, told the Ukrainian Fakty ICTV online media later in the evening that the transfer to the new ministry was news to him.
"If I suddenly received such an offer from the president of Ukraine or the prime minister, I would refuse it, because I do not have the expertise," Reznikov was cited as saying.
There was no immediate statement from Zelenskiy on replacing Reznikov, a former lawyer who became defence minister in November 2021, a few months before Russia launched its full-scale invasion on Feb. 24, 2022. Arakhamia did not say when the move would be formalised.
Budanov, 37, is an enigmatic intelligence operative decorated for his role in classified operations who rapidly rose through the ranks to head up Ukraine's Main Directorate of Intelligence.
The shakeup coincides with Ukrainian fears that Russia is planning a major new offensive this month. Ukraine is planning its own counter-offensive but is waiting on Western supplies of battle tanks and infantry fighting vehicles.
— Reuters
'Very difficult' situation in Donetsk where battles are raging, Zelenskyy says
Ukraine's President Volodymyr Zelenskyy said the area of Donetsk in eastern Ukraine continues to be a hot spot in the war, with the country now preparing for a Russian offensive aimed at seizing the entire eastern Donbas region.
"There are already many reports that the occupiers want to do something symbolic in February. To try to avenge their last year's defeats," Zelenskyy said in his nightly address Sunday evening, referring to Russia's expected offensive.
"We see this increased pressure in various areas of the frontline, as well as pressure in the information field," the president added.
Donetsk has been the scene of intense fighting for several months, with Ukrainian forces battling regular Russian army units as well as mercenaries belonging to the Wagner Group private military company. In recent weeks, Russian forces have been seen to have made gains around the area of Bakhmut, capturing which is a key aim for them.
Zelenskyy remarked Sunday that "it is very difficult in the Donetsk region - there are fierce battles. But no matter how hard it is and no matter how much pressure there is, we have to withstand it."
He added that every day has to be spent reinforcing "our defense at the front, to strengthen our international position, to increase pressure on Russia and to give our people new opportunities to get through this difficult time."
— Holly Ellyatt
Copyright CNBCs - CNBC