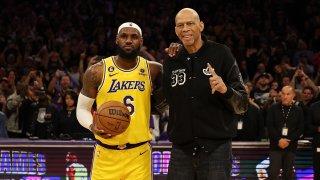 The NBA world came to a halt on Tuesday night to honor LeBron James when he became the league's all time leading scorer.
On hand in Los Angeles to witness the occasion was NBA legend Kareem Abdul-Jabbar, who had held the title for 39 years since dethroning then-champ Wilt Chamberlain in 1984.
Abdul-Jabbar, himself a former Los Angeles Laker, walked onto the court to present James with a commemorative basketball after the 38-year-old scored the 38,388th point of his 20-year career.
While fans on social media speculated that Abdul-Jabbar was unhappy seeing his record being broken, the 75-year-old on Wednesday said that he was "thrilled" to see James become the new No. 1.
"It's as if I won a billion dollars in a lottery and 39 years later someone won two billion dollars. How would I feel? Grateful that I won and happy that the next person also won," he wrote in a post published on his Substack. "His winning in no way affects my winning."
Abdul-Jabbar admitted that in the past he would have hated to see his record broken, and that as a younger and more competitive man he "might have hobbled out of retirement just to add a few more points on my record" if someone else had surpassed it a few years after he set it.
These days, though, his competitive streak is gone.
"That ain't me today. I'm 75. The only time I ever think of the record is when someone brings it up," he wrote. "I retired from the NBA 34 years ago."
Instead, Abdul-Jabbar says that the response to major sporting records being broken should be "celebration," not jealousy.
"It means someone has pushed the boundaries of what we thought was possible to a whole new level," he wrote. "And when one person climbs higher than the last person, we all feel like we are capable of being more."
Sign up now: Get smarter about your money and career with our weekly newsletter
Don't miss: LeBron James is officially a billionaire—this is the first money lesson he says he learned as a kid
Copyright CNBCs - CNBC