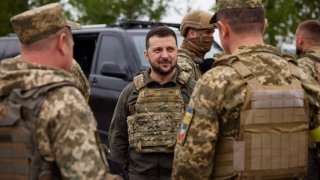 This has been CNBC's live blog covering updates on the war in Ukraine. [Follow the latest updates here.]
Ukraine's President Volodymyr Zelenskyy visited the frontlines and said the conditions in the Donbas are "indescribably difficult" as Ukrainian forces try to hold out in the face of Russia's onslaught.
The Donbas region refers to the Donetsk and Luhansk provinces in the easternmost part of Ukraine. It is a major strategic, political and economic target for the Kremlin.
The Institute for the Study of War, a U.S. think tank, says Russian progress around the eastern city of Severodonetsk results largely from the fact that the Kremlin has concentrated forces, equipment and material from all other axes on this one objective.
Analysts at ISW said Ukrainian forces in Severodonetsk are facing their most serious challenge since the isolation of the Azovstal steel plant in Mariupol.
Ukraine's Donbas 'unconditional priority' for Moscow, Russia's Lavrov says
The "liberation" of Ukraine's Donbas is an "unconditional priority" for Moscow, while other Ukrainian territories should decide their future on their own, RIA news agency cited Russia's Foreign Minister Sergei Lavrov as saying on Sunday.
"The liberation of the Donetsk and Luhansk regions, recognized by the Russian Federation as independent states, is an unconditional priority," Lavrov said in an interview with French TV channel TF1, according to RIA.
For the rest of the territories in Ukraine, "the people should decide their future in these areas," he said.
— Reuters
EU fails to reach agreement on Russia oil embargo
The European Union failed to reach an agreement on a Russian oil embargo, a senior EU official told Reuters.
Diplomats will still try to make progress ahead of a Monday-Tuesday summit on an exemption for pipeline deliveries to landlocked Central European countries, officials told the news agency.
The proposed sanctions, which would be the EU's sixth package in response to Russia's invasion of Ukraine, are facing oil supply concerns from countries including landlocked Hungary.
Talks have been going on for a month, and would continue Monday, Reuters said.
— Leslie Josephs
All critical infrastructure in Ukraine's Sievierodonetsk destroyed, Zelenskyy says
Russian shelling has destroyed all of the critical infrastructure in the Ukrainian city of Sievierodonetsk, President Volodymyr Zelenskyy said on Sunday, describing the taking of the city as Russia's "principal aim" right now.
"As a result of Russian strikes on Sievierodonetsk, all the city's critical infrastructure is destroyed... More than two-thirds of the city's housing stock is destroyed," Zelenskyy said in a televised speech.
"Taking Sievierodonetsk is the principal aim of the occupying contingents," he added.
— Reuters
Erdogan: Turkey remains opposed to Finland, Sweden joining NATO
Turkey remains opposed to Finland and Sweden joining NATO, President Recep Tayyip Erdogan said, according to reports from Reuters and The Washington Post.
The two countries applied to join NATO in response to Russia's invasion of Ukraine.
Turkey and Erdogan have raised concerns over the presence of activists from the separatist Kurdistan Workers' Party, or PKK, and other groups living in the Nordic countries. He said in remarks made public Sunday that "We cannot repeat the mistakes made in the past on [admitting] countries that embrace and feed such terrorists into NATO, which is a security organization."
The PKK is listed as a terrorist group by the European Union, the U.S., and Turkey.
Last week, Sweden denied that it was providing any "financial assistance or military support" to Kurdish groups. U.S. Secretary of State Antony Blinken said on Friday that he believes Turkey's concerns can be overcome.
Admitting new members into NATO requires a unanimous vote from all 30 member nations. NATO is scheduled to hold a summit in Madrid at the end of June.
— Ian Thomas
Lithuania says it raised $5.4 million to buy combat drone for Ukraine
Lithuania said this weekend it had raised EUR5 million ($5.4 million) to buy a combat drone to help Ukraine, a fellow former Soviet nation, in its war against Russia.
"We did it in 3 days!" the official Lithuania Twitter account said Saturday. Most of the donations were between EUR10 and EUR500, the tweet added.
Ukraine hailed the announcement. "We will never forget what you did for us on so many fronts," the nation's official account said in a quote tweet, vowing to Lithuanians that "your present will be put to good use."
Turkish-made Bayraktar TB-2 drones have helped Ukraine's forces target Russian tanks and have shown up in Ukrainian propaganda videos. The drones are also the subject of a song in Ukraine.
– Mike Calia
Ukraine holding off attempts to capture Severodonetsk, officials say
Ukrainian forces are holding off Russian attempts to capture Severodonetsk, enduring heavy artillery barrages on Sunday, according to Ukrainian officials cited by Reuters.
Luhansk Gov. Serhiy Gaidai said on Telegram that Russian forces had dug into a hotel on the city's northern edge and "cannot advance further into the city."
He added that the Russian forces "are taking casualties, but we are not able right now to push them out of the hotel," he wrote.
— Ian Thomas
Poland president says country will boost defense spending
Poland President Andrzej Duda said his country will boost its defense budget and that the only way a Russia-Ukraine peace agreement could happen is if Ukrainian leaders are at the negotiating table.
Duda, in an interview with CNN's Fareed Zakaria that aired Sunday, said that Russia "wants to expand its sphere of influence," and that the Polish society "is afraid of Russia."
As a result, the Polish government will be raising its defense budget from 2% of GDP, the standard set by NATO, to 3% of GDP next year with plans to "going to go above that threshold" in the following years.
"We wanted to increase our army to 250,000 professional soldiers and 50,000 soldiers of territorial defense force, volunteers in other words, so we want to also strengthen the infrastructure of our armed forces," he said.
Duda acknowledged that there are 10,000 U.S. Army soldiers stationed in Poland but Poland wants to make sure "that the U.S. armed forces are only an auxiliary force."
"I hope that we will have time to strengthen our armed forces over the next couple of years so that it does not pay off to attack us," he said. "I believe when we are stronger, they will be afraid to attack us."
Duda also said peace talks must take into consideration the conditions of Ukraine's leaders and people if there's to be a true peace.
"Nothing can happen above the heads of the Ukraine authorities, nothing can happen above the heads of the Ukrainian people," Duda said. "It has to take place with their participation and such conditions must be taken and agreed up… only then can we talk about peace which has been worked out in an honest way and which can be stable peace."
— Ian Thomas
Russian forces hit residential area of Mykolaiv, mayor says
Russian forces launched attacks on a residential area in Mykolaiv, which is located in southern Ukraine, the city's mayor, Oleksandr Senkevych, said Sunday on Telegram.
The damage was still being investigated, he added.
Mykolaiv is located about 35 miles from Kharkiv, a major Ukrainian city that has been occupied by the Russians since March. More than 30 people have been injured by Russian attacks in Mykolaiv over the past day, regional council chief Hanna Zamazieieva said Sunday, according to The Washington Post.
– Mike Calia
Ukraine's Zelenskyy visits frontlines in first visit outside Kyiv region
Ukraine's President Volodymyr Zelenskyy visited Ukrainian troops on the front lines in Ukraine's northeastern Kharkiv region on Sunday, the President's office announced.
The visit marks his first official appearance outside Kyiv region since the start of Russia's full-scale invasion of Ukraine on Feb. 24.
"You risk your lives for us all and for our country," the president's office website cited him as saying to the soldiers, adding that he handed out commendations and gifts.
— Reuters
Ukrainian victims of sexual violence need reproductive health care: Sajjan
International Development Minister Harjit Sajjan says he told Canadian officials in Ukraine and neighboring countries to ensure that women sexually assaulted by Russian troops get the help they need — including access to abortions if they wish.
He said pregnant sexual assault victims who have fled Ukraine, where abortion is legal, to Poland, which last year outlawed abortion in most cases, could be helped to travel to elsewhere in Europe.
"We are very mindful of some of the laws in other European countries, especially Poland, so right now the department is working through our partners and figuring out how we can support these women," Sajjan said in an interview with The Canadian Press.
"We will make sure that, if we have to, we will even get them to another country where they can actually get the support."
Sajjan said Canada would respect the laws of other countries but noted "our people on the ground" are finding ways to "respectfully give the support for the women."
Sajjan said Ukrainian women could potentially even come to Canada to receive care and be fast-tracked through the immigration system if necessary.
He said Canadian officials were working with local organizations that have networks to support women who may have been victims of sexual violence.
Meanwhile, Canada has sent rape kits to Ukraine to help police compile evidence against Russian troops alleged to have sexually assaulted women and girls, as part of broader measures intended to address gender-based violence caused by the ongoing war.
Sajjan said the war-torn country requested the kits. They are used to conduct forensic medical examinations of sexual assault victims and collect evidence that help build a case against suspected perpetrators.
Canada announced last week it is committing an extra $1 million to help the international community investigate alleged sex crimes by Russian troops in Ukraine.
— Associated Press
Serbia's Vucic says agreed 3-year gas supply contract with Putin
Serbian President Aleksandar Vucic said he had agreed on a three-year gas supply contract in a phone call with Russian President Vladimir Putin.
"I can not speak about the price now, all details will be agreed with Gazprom," Vucic told reporters.
Serbia's 10-year gas supply contract with Gazprom expires on May 31.
Vucic also said that he had discussed with Putin the expansion of gas storage space in the Balkan country.
— Reuters
Images depict traces of Russia's onslaught in Ukraine over the last 24 hours
— Getty Images
Ukraine says EU has sent member states a revised proposal of Russia oil sanctions
Ukraine's head of presidential office Andriy Yermak says the European Commission, the EU's executive arm, has sent member states a revised proposal of sanctions against the Kremlin, including a ban on sea transportation of Russian oil.
The EU has also proposed to exclude the Druzhba oil pipeline from the draft embargo on Russian oil due to Hungary's position, Yermak said via Telegram.
A spokesperson for the European Commission declined to comment when contacted by CNBC.
Hungary has proven to be a stumbling block for the bloc's latest round of punitive measures against Moscow. The sanctions require unanimous support from EU member states.
— Sam Meredith
Ukrainian forces say 7 Russian attacks in Donetsk and Luhansk have been repulsed in the past 24 hours
Ukraine's armed forces said in an operational update that seven Russian attacks have been repulsed in Donetsk and Luhansk in the past 24 hours.
In a Facebook post, the General Staff of the Armed Forces of Ukraine also accused Russian authorities in Crimea of ordering hospitals to refuse civilian patients in order to free up beds for Russian troops.
"The enemy continues to suffer losses. In particular, sanitary, which necessitates the creation of additional opportunities for medical care. Thus, in the temporarily occupied territory of the Autonomous Republic of Crimea, the occupation administration ordered to stop accepting civilians in order to vacate the beds for the wounded. Donor blood is being collected intensively," Ukraine's armed forces said in a statement.
"For the past 24hrs, seven [Russian] enemy attacks have been repulsed in Donetsk and Luhansk only, one tank and six enemy vehicles have been destroyed. Air defense units destroyed Orlan-10 UAVs. [Russian] enemy has losses in other areas," they added.
— Sam Meredith
Russia prepared to leverage global food security for its own political aim, UK says
Russia has demonstrated it is prepared to leverage global food security for its own political aim and then present itself as the reasonable actor and blame the West for failure, according to the latest intelligence update from the U.K.'s Ministry of Defence.
"On 25 May, Russia's deputy foreign minister, Andrei Rudenko, said Russia is ready to provide a humanitarian corridor for vessels carrying food through the Black Sea in return for the lifting of sanctions. The minister also requested Ukraine de-mine the area around the port of Odesa to allow the passage of ships," the ministry said via Twitter.
"Rudenko's request for Ukraine to de-mine follows a core tenet of modern Russian messaging strategy: introducing alternative narratives, however unconvincing, to complicate audiences' understanding. In this instance, Ukraine has only deployed maritime mines because of the continued credible threat of Russian amphibious assaults from the Black Sea."
— Sam Meredith
Putin is inflicting 'unspeakable suffering' on Ukrainians in a bid to capture Severodonetsk, think tank says
The Institute for the Study of War, a U.S. think tank, says Russia's onslaught in Ukraine has become a "desperate and bloody offensive" to capture the eastern city of Severodonetsk while defending significant but limited gains in the south and east.
In its latest daily assessment of the war, analysts at ISW said Russian President Vladimir Putin "is inflicting unspeakable suffering on Ukrainians and demanding horrible sacrifices of his own people in an effort to seize a city that does not merit the cost, even for him."
"The Ukrainian military is facing the most serious challenge it has encountered since the isolation of the Azovstal Plant in Mariupol and may well suffer a significant tactical defeat in the coming days if Severodonetsk falls, although such an outcome is by no means certain, and the Russian attacks may well stall again," analysts at ISW said.
Russia's embassy in London was not immediately available to comment.
— Sam Meredith
Zelenskyy says conditions in Donbas are 'indescribably difficult'
Ukrainian President Volodymyr Zelenskyy has said the situation in the Donbas region is "indescribably difficult" as Russian forces continue to target the area, and thanked Ukrainian forces for withstanding Russia's onslaught.
The Donbas refers to two eastern Ukrainian regions of Luhansk and Donetsk — a major strategic, political and economic target for the Kremlin.
"The situation is very complicated. Especially in those areas in the Donbas and Kharkiv region where the Russian army is trying to squeeze at least some result for themselves," Zelenskyy said.
"The key areas of fighting on the frontline are still Severodonetsk, Lysychansk, Bakhmut, Popasna and other cities where the Russian offensive is focused. But our defenses are holding up. It's indescribably difficult there. And I am grateful to all those who withstood this onslaught of the occupiers," he added.
— Sam Meredith
Russia pummels eastern towns in bid to encircle Ukraine forces
Russian forces stepped up their assault on the Ukrainian city of Sievierodonetsk on Saturday after claiming to have captured the nearby rail hub of Lyman, as Kyiv intensified its calls for longer-range weaponry from the West to help it fight back in the Donbas region.
Slow, solid Russian gains in recent days point to a subtle momentum shift in the war, now in its fourth month. The invading forces appear close to seizing all of the Luhansk region of Donbas, one of the more modest war goals the Kremlin set after abandoning its assault on Kyiv in the face of Ukrainian resistance.
Russia's defense ministry said on Saturday its troops and allied separatist forces were now in full control of Lyman, the site of a railway junction west of the Siverskyi Donets River in the Donetsk region that neighbors Luhansk.
However, Ukraine's deputy defense minister, Hanna Malyar, said the battle for Lyman continued, the ZN.ua website reported.
Sievierodonetsk, some 60 km (40 miles) from Lyman on the eastern side of the river and the largest Donbas city still held by Ukraine, was under heavy assault from the Russians.
"Sievierodonetsk is under constant enemy fire," Ukrainian police posted on social media on Saturday.
Russian artillery was also shelling the Lysychansk-Bakhmut road, which Russia must take to close a pincer movement and encircle Ukrainian forces.
"There was significant destruction in Lysychansk," the police said.
— Reuters
Putin says Kyiv is to blame for stalled talks in call with Macron, Scholz
Russian President Vladimir Putin held a call with French President Emmanuel Macron and German Chancellor Olaf Scholz.
The group discussed stalled negotiations between Russia and Ukraine, with the Kremlin saying Kyiv was to blame for the current impasse. Putin "confirmed the openness of the Russian side to the resumption of dialogue," Russia said in a read-out following the 80-minute call.
Scholz and Macron called on Putin "to engage in serious direct negotiations with the President of Ukraine and to find a diplomatic solution to the conflict," according to a read-out from the German Federal Government.
Putin also said the West delivering weapons to Ukraine could risk "further destabilization of the situation and the aggravation of the humanitarian crisis."
— Jessica Bursztynsky
Read CNBC's previous live coverage here:
Pro-Moscow Kherson official sees decision 'toward next year' on joining Russia; Kremlin forces advance in the east of Ukraine
Copyright CNBC