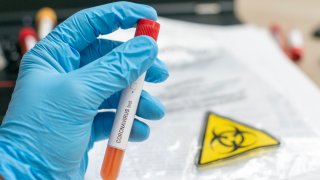 The number of both cases and deaths of the new coronavirus may actually be much higher than what's been reported by authorities so far, according to new a study out of the Massachusetts Institute of Technology.
Researchers at MIT's Sloan School of Management used a epidemiologist model for infectious diseases to estimate the spread of the coronavirus in 84 countries that together have a population of 4.75 billion -- more than half the world's total population.
In those countries hit hard by the coronavirus, the researchers found that case and death counts through June 18 were estimated to be 11.8 and 1.48 times official reports, respectively.
In the 57-page paper, researchers found that an estimated 88.5 million people worldwide may have had the virus by mid-June, leaving 600,000 dead. Those numbers are much higher than what's been reported by the World Health Organization and the U.S. Centers for Disease Control and Prevention.
A University of Virginia professor of not affiliated with the study, Stephen Eubank, told The Boston Globe that its conclusions seem well supported by the data, but fatality rate is generally difficult to determine "in the early days" after a new diseases arises.