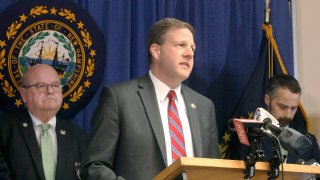 New Hampshire Gov. Chris Sununu said the future of the state's stay-at-home and non-essential business orders will be decided later this week. The current orders expire on May 4.
During his news conference on Wednesday, Sununu said he would make an announcement Friday on both orders in coordination with the Governor's Economic Reopening Taskforce.
"We are looking to flex certain areas around the state that we believe, in coordination with public health and the Governor's Economic Reopening Taskforce, can open in a smart, responsible phased approach that puts public health first," Sununu said.
The decisions will have to be signed-off on from the Department of Health and Human Services, the governor said.
Six more deaths in New Hampshire from COVID-19, the disease caused by the new coronavirus, were announced Wednesday by Department of Health and Human Services Commissioner Lori Shibinette. She said the total death toll in the state is now 66.
There were 50 new confirmed cases of COVID-19 reported Wednesday bringing the total number of cases to 2,054.
Shibinette said there were two more outbreaks of COVID-19 at long-term care facilities which include Hackett Hill Center in Manchester and Mountain Ridge Center in Franklin. Mainly residents tested positive but two staff members at each facility did as well, the health commissioner said.
More on the Coronavirus
On Monday, the governor announced that New Hampshire Public Health was embarking on a community-based campaign to increase testing to 1,500 residents a day amid the rising number of positive COVID-19 cases in the state.
Those five new testing locations in Claremont, Lancaster, Plymouth, Tamworth and Rochester opened Wednesday for residents who are not able to access hospital-based clinics or urgent care centers, Sununu said.
The governor said the new sites will help track potential community-transmission hot spots and help state officials go forward with making plans to reopen the economy.
For people without insurance or a medical provider, the state is working with ConvenientMd with is providing 11 telehealth screening and testing sites throughout the state. Those sites are in Bedford, Belmont, Concord, Dover, Exeter/Stratham, Keene, Littleton, Merrimack, Nashua, Portsmouth and Windham/Greater Salem.
In addition, there are two mobile teams working to identify cluster outbreaks around the state.
Sununu said it's important to make sure anyone who needs a test can get one.
"As we move ahead navigating these unchartered waters, it is important to have accurate, up-to-date information and data, and these efforts will help us make informed decisions for the people of this state," he said.
Also Wednesday, Sununu announced the release of $3 million in funds from the CARES Act to assist homeless shelters as they face increased demands during the COVID-19 pandemic.