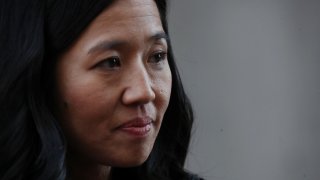 Mayor Michelle Wu is keeping her options open as Boston battles rising coronavirus cases and new variants like omicron, including more extensive vaccine mandates.
"Everything is on the table right now," Wu said when asked whether she'd consider a vaccine mandate for private sector employees during a press conference.
Wu introduced a new 17-member COVID-19 Advisory Committee Monday charged with advising city officials on how to address new variants like omicron and the anticipated winter surge.
"The goal of this group is to move quickly and to ensure that we are getting the best combination of science, lived experience, direct impact and how implementation of any policies would also affect the communities and residents in Boston," Wu said. "We are very much in an urgent situation in Boston."
Comprised of public health professionals and community, business and cultural leaders, the establishment of the new COVID-19 Advisory Committee comes after the omicron variant was first detected in Massachusetts over the weekend.
"The first omicron case has just been detected Massachusetts and we are seeing an anticipated holiday surge and COVID cases. We will continue monitoring the situation extremely closely and follow the science at every turn," Wu said. "Omicron unfortunately, will not be the last variant that we see."
The variant was detected in a fully vaccinated woman in her 20s who lives in Middlesex County and had recently traveled out of state. She has experienced only mild symptoms and hasn't needed to go to the hospital, the Massachusetts Department of Public Health said.
Local
In-depth news coverage of the Greater Boston Area.
Now that omicron is here -- and it's been detected in Connecticut, as well as several other states in the Northeast and across the country -- health experts say we're likely going to see it spread quickly in the coming days and weeks. They say it's also likely that it could surpass the delta variant, becoming the dominant strain.
Sign up for our Breaking newsletter to get the most urgent news stories in your inbox.
The new Committee is chaired by Dr. Bisola Ojikutu, executive director of the Boston Public Health Commission, who gave an update on the current scope of the disease in Boston Monday.
"We are currently in the midst of an anticipated COVID-19 winter surge. COVID-19 cases and hospitalization are up while vaccination among some of our most vulnerable populations is lagging behind," Ojikutu said.
About 67% of the city's population is fully vaccinated. Of those, 21% of fully vaccinated Bostonians have received a booster shot. More than half of individuals over age 65 or elderly population have not gotten a booster as well.
Meanwhile, emergency department visits have increased by 6% over the past week, positive tests are up 15% over the last two weeks, and hospitalizations have increased by 28% during the last two weeks. ICU capacity is at about 92%, but additional surge capacity is available, Ojikutu said.
The Commissioner outlined four initiatives the city is taking to address a rise in cases, including giving out 20,000 free at-home testing kits and masks, holding higher capacity vaccine clinics, extending its indoor mask mandate and an education campaign to get children vaccinated.
The city has purchased and plans to provide 20,000 free rapid antigen at-home tests in communities with the highest rates of COVID-19. The kits will be distributed prior to the holidays, officials said, and will include information on what to do if you test positive.
City officials are planning to "double down," on efforts to increase vaccination rate. Higher capacity vaccination sites will open in Boston ahead of the winter holidays on Dec. 11, Dec. 18 and two Saturdays in January. The first will be held at Vine Street Community Center in Roxbury. Additional locations will be announced throughout the week, city officials said.
Another public vaccination site will be set up on the third floor of Boston City Hall on Thursday from 10 a.m. to 5 p.m. Additionally, city officials are "redoubling," efforts to educate people about vaccines and boosters, especially children.
"I urge Bostonians to get tested, to get vaccinated, to get boosted and to work with us to close these gaps so that every person has easy access to the public health tools they need," Wu said.
Health officials and local leaders like Wu have been urging people to get vaccinated, or to receive their booster shots. But whether the vaccines protect against the new strain remains unclear.
Experts say they aren't sure if the omicron variant can evade the existing COVID-19 vaccines or natural antibodies.
"We just don't know," said Dr. David Hamer, an infectious disease specialist at Boston Medical Center, during the weekly "COVID Q&A" series. Hamer noted that, while omicron has been classified as a "variant of concern" by the World Health Organization, delta remains the predominant strain in the state and the country.
"A lot of the hospitalizations are people that have not been vaccinated," Hamer said. "And so it still remains our best tool to limit the spread of disease to decrease the risk of their disease, hospitalization and death. And we don't know whether these vaccines, as currently formulated, will protect against this new variant, but right now we're still dealing with delta primarily in the U.S."